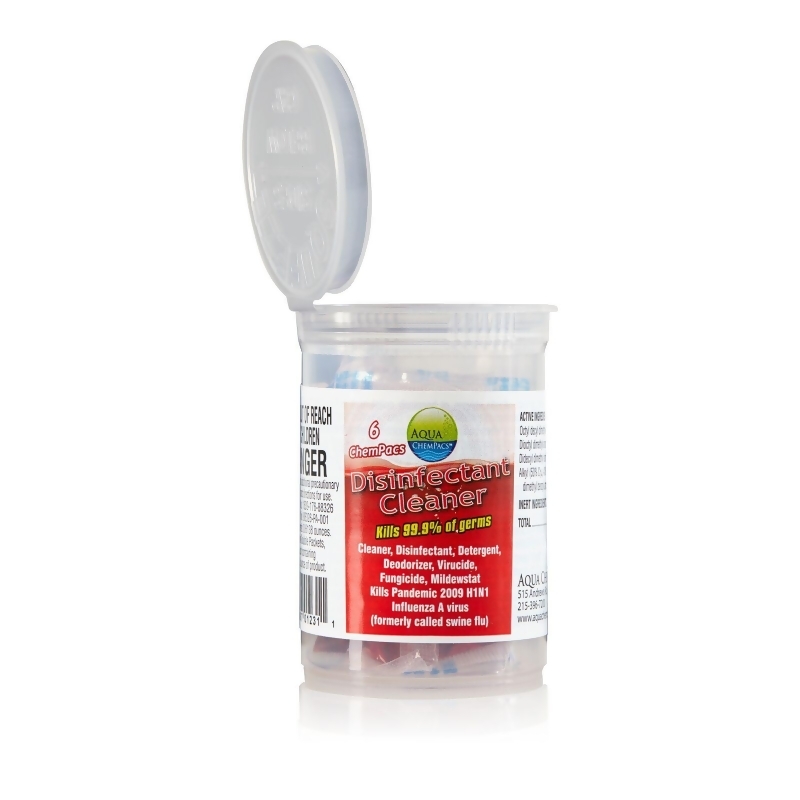 Also available
Disinfectant Cleaner Combo Kit
$15.79 USD
Earn $0.32 cash back!

Primary Benefits of Disinfectant Cleaner ChemPacs
The Disinfectant Cleaner ChemPacs (EPA Reg # 1839-176-88326) can be used against SARS-CoV-2 when used in accordance with the directions for use against Human Coronavirus on hard, non-porous surfaces. Refer to the CDC website (https://www.cdc.gov/coronavirus/2019-ncov/index.html ) for additional information.
Fights against several different bacteria, fungi, and viruses
Safe for most kitchen, bathroom, and other common area surfaces
1 ChemPac makes 32 ounces of Disinfectant Cleaner (Please note, additional dilution instructions are available upon peeling pack the primary label.)
Why Choose Disinfectant Cleaner ChemPacs?
With a phosphate-free formulation designed to provide effective cleaning, Disinfectant Cleaner ChemPacs is a powerful deodorization and disinfectant solution. Specifically intended to clean high traffic, common areas like households, nursing homes, schools, food service establishments, and office buildings, where controlling the hazard of cross-contamination is of prime importance. The Disinfectant Cleaner ChemPacs are EPA Registered (EPA Reg. No. 1839-176-88326; EPA Est. No,. 88326-PA-001). Make disinfecting convenient and efficient with the Disinfectant Cleaner ChemPacs!
Customer Ratings
Active Ingredients
Octyl decyl dimethyl ammonium chloride, Dioctyl dimethyl ammonium chloride, Didecyl dimethyl ammonium chloride, Alkyl (50% C14, 40% C12, 10% C16) dimethyl benzyl ammonium chloride
FAQ
How is this different from other cleaners?
This cutting edge formula is leading the way to the future of cleaning. All you have to do is drop a concentrated ChemPac into a 32 ounce spray bottle, add water and shake until the ChemPac is completely dissolved! The ChemPac will dissolve in any temperature and do not have to be cut open! In one minute the vial will dissolve - just give it a shake to disperse and mix the solution.
Does the bottle need to be empty before using another ChemPac?
For best results, use the complete contents of the bottle before dropping another ChemPac in. The concentrate is formulated to mix with the specified amount of water. Rinse the bottle with fresh water before using the next ChemPac.
---
Find Similar Products by:
* These statements have not been evaluated by the Food and Drug Administration.
* This product is not intended to diagnose, treat, cure or prevent any disease.
Shop Internationally