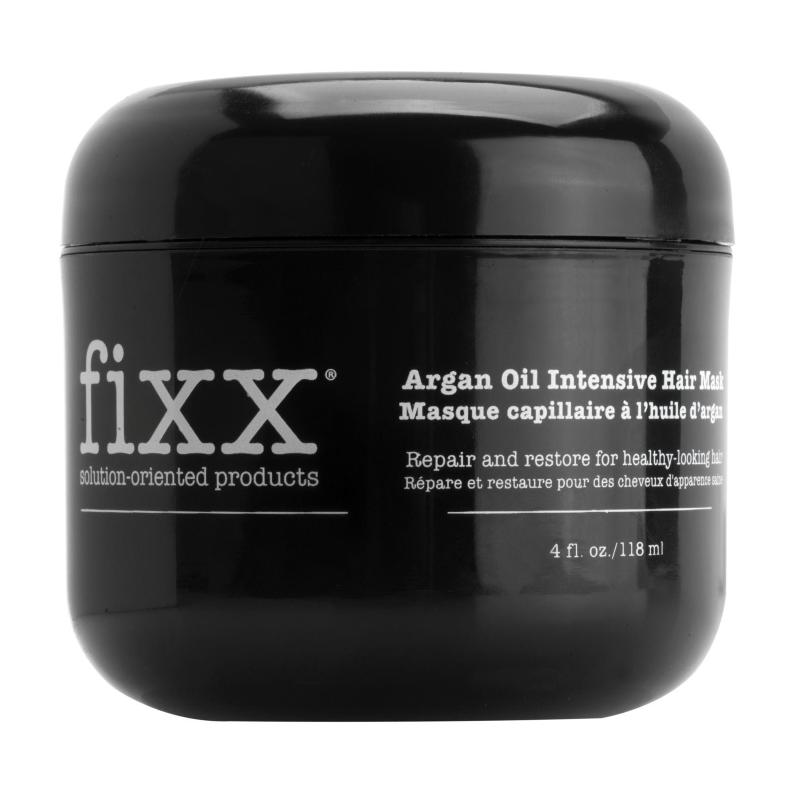 $24.95 USD
Earn $0.50 cash back!

Benefits
Repairs and smoothes damaged hair cuticles and fibers
Conditions and detangles for increased hair strength
Reduces loss of hair color and protects luminosity
Moisturizes for softer-looking hair and skin


Details
Repair and restore dry, damaged locks for healthier-looking hair with Fixx Argan Oil Intensive Hair Mask. Consistent heat styling, products and washing damages the hair cuticle and fiber leaving strands dull, broken and weak. Utilizing Fancorsil® LIM-2 and Botanisil ME-14, this deep-conditioning mask smoothes and repairs damaged hair for increased brilliance and strength. The reparative formula conditions and detangles hair for increased flexibility, texture and color.
Customer Ratings
FAQ
Who should use Fixx Argan Oil Intensive Hair Mask?
Fixx Argan Oil Intensive Hair Mask is ideal for individuals with dry, damaged hair that splits easily and has lost its luminosity. Restore moisture, detangle hair effortlessly and protect color with this concentrated mask.
How do I use Fixx Argan Oil Intensive Hair Mask?
Apply mask to clean, wet hair. If you have fine or oily hair, do not apply to the roots or scalp. For thicker or dry hair, apply all over. Massage gently. Comb or rake through starting at hair tips until mask is distributed evenly. Let sit for 2 to 5 minutes. Rinse with warm water to seal the hair cuticle.
Does Fixx Argan Oil Intensive Hair Mask have a smell?
Yes, this product has a light fragrance that leaves hair with a pleasant scent.
Will Fixx Argan Oil Intensive Hair Mask weigh down my hair, especially if it is fine?
No, this product is designed to deeply condition hair without leaving residue that can weigh it down. From fine to thick strands and normal, oily or dry hair, restore moisture for healthier-looking shine and color.
How often should I use Fixx Argan Oil Intensive Hair Mask?
Use this intensive mask 2-3 times each week for optimal results. Condition strands regularly in between to maintain moisture for the healthiest of hair.
---
Find Similar Products by:
* These statements have not been evaluated by the Food and Drug Administration.
* This product is not intended to diagnose, treat, cure or prevent any disease.
Shop Internationally