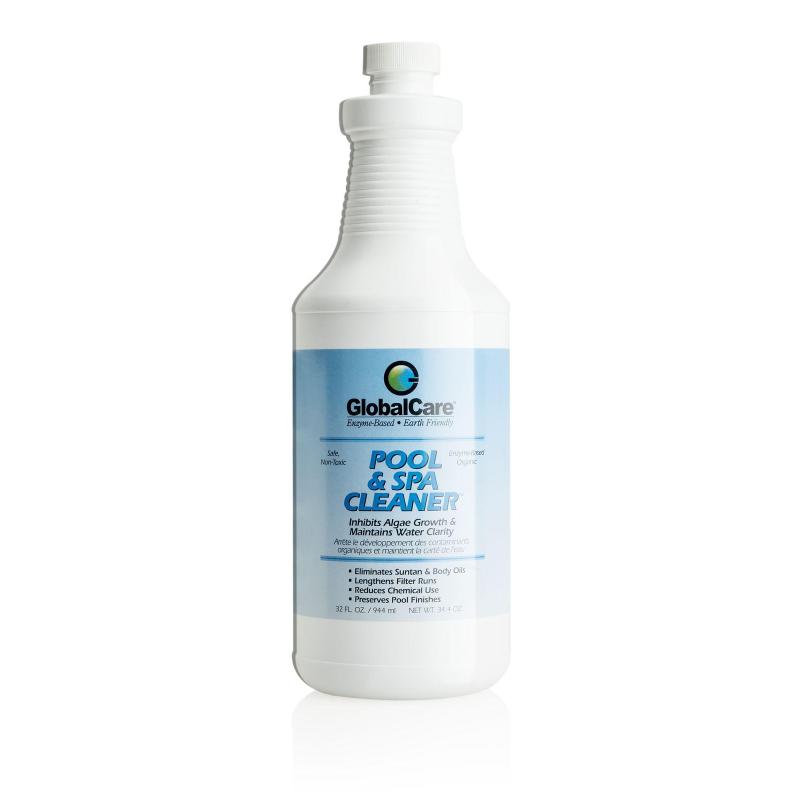 $25.95 USD
Earn $0.52 cash back!

Benefits
Virtually eliminates suntan lotion, body oils and grease deposits
Maintains water clarity
Lengthens filter runs
Inhibits algae growth
Preserves pool finishes
Eliminates need for acid washing
Reduces maintenance labor
Non-toxic
Biodegradable
Made with naturally-occurring enzymes
Details
GlobalCare Pool & Spa Cleaner is a multi-enzymatic formula that emulsifies and assimilates suntan lotion, body oils, grease deposits and other swimming pool, hot tub and spa contaminants. GlobalCare Pool & Spa cleaner helps inhibit algae growth by breaking down the greasy environment needed for algae to grow. By addressing algae growth and emulsifying lotions, oils and grease, Pool & Spa Cleaner increases the filter's effectiveness, and significantly reduces the need for additional chemicals and pool additives. In addition to being an effective pool and spa cleaner, GlobalCare Pool & Spa will also clean surrounding pool surfaces, decks, and locker and cabana areas. Pool & Spa Cleaner will clean the filter lines and filter, reducing the amount of backwashing necessary to maintain a clean and clear pool. GlobalCare Pool & Spa Cleaner is an environmentally-friendly approach to cleaning pools and spas, with non-toxic, biodegradable, enzyme-based ingredients. Pool & Spa Cleaner is non-irritating to the skin and contains no known allergens. No two pools are exactly alike; they will vary in size, water chemistry, location, equipment and number of users. The recommended application of GlobalCare Pool & Spa Cleaner has been designed to assure optimum performance in the average public pool. It is important that pool water be kept in proper chemical balance. GlobalCare Pool & Spa Cleaner will virtually eliminate the problems caused by undissolved lotions, oils and grease, but it cannot prevent clouding or other undesirable situations caused by such things as excessive hardness, unbalanced pH, improper filtering, etc.
Customer Ratings
Ingredients
A concentrated solution of naturally fermented enzymes, water and organic stabilizers
FAQ
How much chlorine reduction can be expected when using Pool and Spa?
The reduction can be as much as 50 percent.

Is Pool and Spa compatible with Baquacil?
Yes, it is.

Will the enzymes in Pool and Spa break down bubbles from shampoos and bubble bath?
Pool and Spa contains an anti-foaming agent. It should break them down and keep them at a minimum.

Directions for Use:
GlobalCare Pool & Spa Cleaner should be added monthly directly into the pool or circulating system at a rate of ¾ of an ounce per 1000 gallons of pool water. For spas, add ¾ of an ounce to each 500 gallons of capacity. Pool & Spa Cleaner is compatible with all filtration systems and other chemicals when applied in correct concentrations.

Afterfirst application, pool should be vacuumed and filter-cleaned, since residue will fall to the bottom. For best results after first application, run filter for 24 hours, then vacuum-backwash the pool.

When first adding GlobalCare Pool and Spa Cleaner pool or spa, a slight foaming may occur; this is a harmless reaction and will dissipate quickly.

Directions for Use in Dormant Pools: Prior to draining the pool to winter level, add 2 ounces of GlobalCare Pool & Spa Cleaner per 1000 gallons of pool water. Circulate through the system for at least 20 minutes before backwashing. Allowing the Pool & Spa Cleaner to remain in the pool during the dormant period will help eliminate the need for draining and washing down with acid at the beginning of the next season.
---
Find Similar Products by:
* These statements have not been evaluated by the Food and Drug Administration.
* This product is not intended to diagnose, treat, cure or prevent any disease.
Shop Internationally