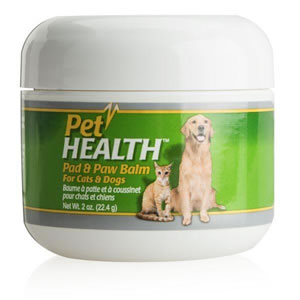 $16.95 USD
Earn $0.34 cash back!

Outside the United States:

Benefits
Helps in the care of minor skin irritations
Promotes natural healing properties
Helps maintain skin elasticity
Cleanses and moisturizes
Contains essential lipids to protect skin's lipid barrier
Sulfate-free
Phosphate-free
Alcohol-free
Preservative-free
Paraben-free
Details
Harsh weather conditions, such as salt in cold climates and hot pavement can damage a dogs pads. Cracking and calluses can lead to excessive licking and biting, which increases rawness in the paw that can lead to infection. PetHealth Pad & Paw Balm, enriched with jojoba oil, sweet almond oil and sunflower oil to soothe and protect the pad and paw. PetHealth Pad & Paw Balm is sulfate-free, phosphate-free, alcohol-free, preservative-free and paraben-free. The vegetable-based ingredients help to condition and moisturize without depleting the skin's natural lipid barrier. PetHealth™, Advanced Solutions for Optimal Health!
Customer Ratings
Ingredients
Simmondsia Chinensis (Jojoba) Seed Oil, Prunus Amygdalus (Sweet Almond) Oil, Helianthus Annuu (Sunflower) Seed Oil, Petrolatum, Copernica Cerifera (Carnauba) Wax, Beeswax, BHT
Ingredients Label
(click image to expland)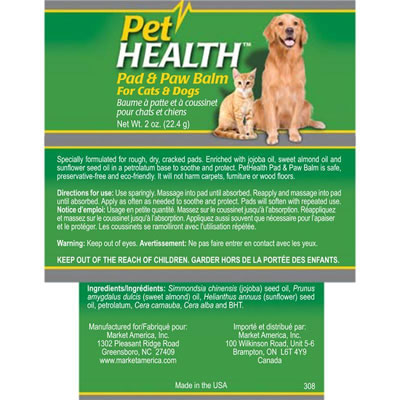 ---
Find Similar Products by:
* These statements have not been evaluated by the Food and Drug Administration.
* This product is not intended to diagnose, treat, cure or prevent any disease.
Shop Internationally