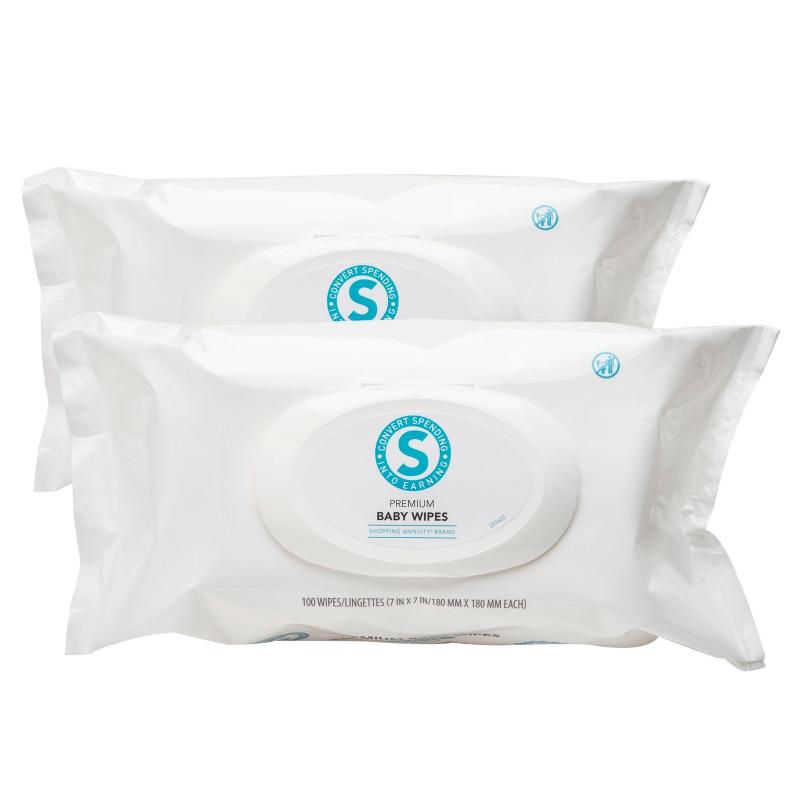 $9.99 USD
Earn $0.20 cash back!

Benefits
Suitable for sensitive infant skin
97% water and plant-based ingredients
Hypoallergenic and Dermatologist Tested
Contains organic coconut oil
Free of alcohol, fragrance, elemental chlorine and parabens
Durable and thick cloth
Cruelty-free
Details
Parents: we know there's nothing more important than the health of your little one – and that includes preserving the pure and delicate, smooth skin that they were born with. We also know that among the long list of baby care items you use every day, baby wipes are a necessity to keep your child clean – from their bum to their face and hands.
Shopping Annuity® Brand keeps the purity of your child in mind with Premium Baby Wipes. Our dermatologist-tested Premium Baby Wipes use a mild formula that is free of harmful chemicals, alcohol-free, unscented, hypoallergenic, and contain plant-based chemicals, like organic coconut oil. Perfect for cleaning and wiping babies' sensitive skin! These gentle cleansing baby wipes are also made with a durable, thick cloth so you're not left with a holey rag, or a pile of more dirty wipes than you care to use at one time.
At the end of the day, you want to feel confident in knowing you're using a quality product that works best for you and your family. The Shopping Annuity® Brand recognizes that and we don't fall short with our Premium Baby Wipes.
Convenient for use at home, or store in your diaper bag when you and your little love bug are on the go!
Ingredients
Water (Aqua), Glycerin, Sorbitan Caprylate, Tetrasodium Glutamate Diacetate, Sodium Benzoate, Citric Acid, Sodium Citrate, Caprylyl/Capryl Glucoside, Xanthan Gum, Cocos Nucifera (Coconut) Oil
FAQ
Why is infant skin so sensitive?
Skin is of the utmost importance to protect. It is the first line of defense against exterior elements. The functions of skin also include supporting regulation of body temperature, fluids and sensory perception. Younger skin is generally thinner, more permeable, more sensitive, and more susceptible to dryness. As skin matures from infancy through the early years, it builds up stronger barriers.†
Who can use Shopping Annuity® Brand Baby Wipes?
This product was made with children in mind, but can be used by anyone, especially those with sensitive skin.
Can I flush Shopping Annuity® Brand Baby Wipes?
No. Do not flush Shopping Annuity® Brand Baby Wipes. Discard wipes using a waste bag or container.
Is this product fragrance-free?
Yes. Shopping Annuity® Brand Premium Baby Wipes are unscented.
How do I use Premium Baby Wipes?
Pull out one wipe and gently clean the baby. Carefully reseal packaging flap to preserve wipe freshness.
What should I do if my child's skin becomes irritated?
Our wipes are designed to be gentle enough for babies' sensitive skin. If irritation does occur, discontinue use and consult with your child's primary care physician.
Are these wipes sustainably produced?
Our wipes use fiber from responsible sources. Premium Baby Wipes are also cruelty free and contain no elemental chlorine, or parabens.
---
Find Similar Products by:
* These statements have not been evaluated by the Food and Drug Administration.
* This product is not intended to diagnose, treat, cure or prevent any disease.
Shop Internationally