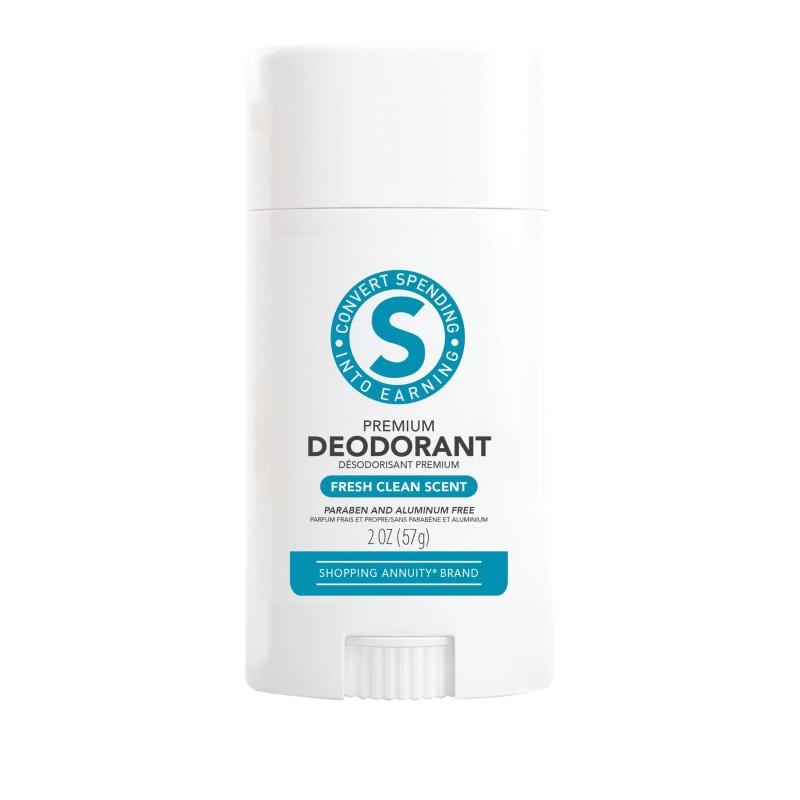 $9.95 USD
Earn $0.20 cash back!

Benefits
• Fresh Clean Scent
• Free of aluminum, parabens and silicones
• Safe for all skin types
• Cruelty free
• For men and women
Details
Body odor is not pleasant and something we all try to contain. That's why underarm care is one of our most important daily routines. When you're feeling less than fresh it can take away your confidence. Don't stress! Prevent odor and moisturize your underarms with our fresh, clean scented Shopping Annuity Brand Premium Deodorant.

Our one of a kind formula helps neutralize odor, keeping you fresh throughout the day without the use of harsh chemicals. It's free of aluminum, parabens and silicones, and smoothly glides onto the skin without leaving a sticky residue. By using the Shopping Annuity Brand Premium Deodorant, you can feel assured in knowing that you are using a safe, quality product.

Add Shopping Annuity Premium Deodorant to your personal care collection at home and help prevent odor using a more natural approach.


Ingredients
Maranta Arundinacea Root Powder, Cocos Nucifera (Coconut) Oil, Sodium Bicarbonate, Beeswax, Theobroma (Cocoa Butter) Seed Butter, Butyrospermum Parkii (Shea Butter), Fragrance, Hydrolyzed Jojoba Esters, Jojoba Esters, Water, Melaleuca Alternifolia (Tea Tree) Leaf Oil
FAQs
What is the difference between deodorant and an antiperspirant?
Deodorant and antiperspirants tackle the effects of apocrine sweat glands. Antiperspirants use chemicals -- like aluminum – to stop sweat, while deodorant works to contain odor.

Does sweat cause body odor?
Sweat itself does not cause body odor. The body's apocrine sweat glands in the skin, mostly in the armpit locale, "excrete fats and proteins which feed bacteria and cause body odor."1

I have only ever used antiperspirants. How do I make an easy transition using the Shopping Annuity Brand Premium Deodorant?
If you are making the complete transition from an antiperspirant (which is great!), it may be helpful for some to try our Premium Deodorant before the weather gets hot so you can ease into it. Also, note that it may take your body up to a few weeks to regulate its sweat production – your body is detoxing the antiperspirant in your skin.

I have sensitive skin. Is this safe for me to use?
Yes, Shopping Annuity Brand Premium Deodorant is safe for all skin types.

Is this deodorant for both men and women?
Yes, Shopping Annuity Premium Deodorant is gender neutral with a fresh, scent that does not lean towards a traditional male or feminine fragrance.

Can children use this deodorant?
Body odor is common in young children and teenagers, especially during puberty. Practicing good hygiene is a great first step. As with anything you purchase for your family, deciding whether to let your child use this deodorant is a personal choice based on what each parent feels is best for their child's health and wellness.

What is the texture of Shopping Annuity Brand Premium Deodorant?
Our deodorant has a smooth, white texture that glides onto your skin effortlessly.

Is Shopping Annuity Brand Premium Deodorant cruelty-free?
Yes, this product has not been tested on animals.
---
Find Similar Products by:
* These statements have not been evaluated by the Food and Drug Administration.
* This product is not intended to diagnose, treat, cure or prevent any disease.
Shop Internationally