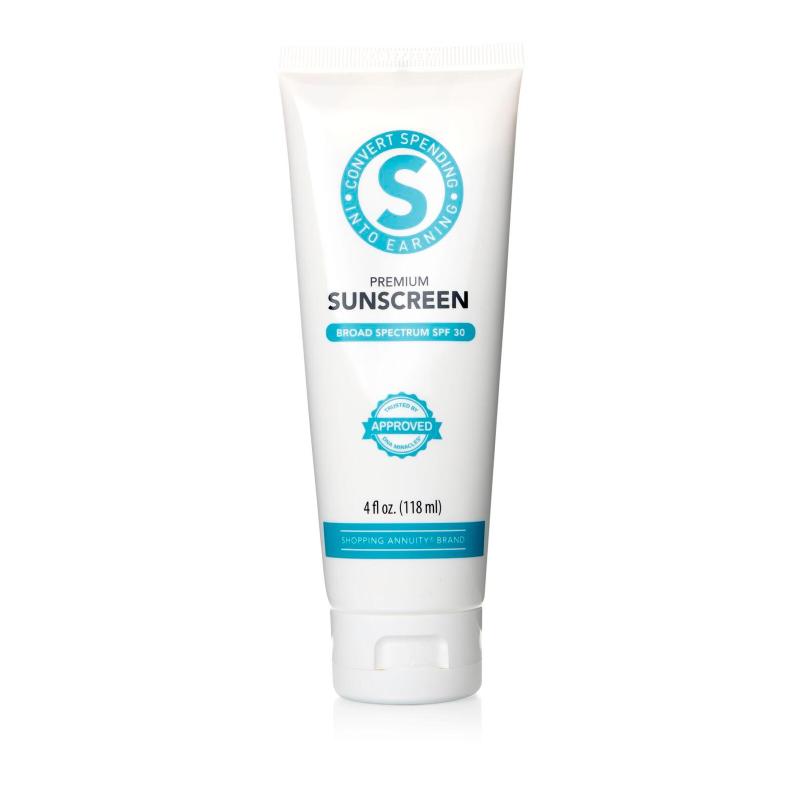 $10.99 USD
Earn $0.22 cash back!

Benefits
Helps prevent sunburn
If used as directed with other sun protection measures (see Directions), protects skin from damaging rays that can cause burning and decreases the risk of pre-mature aging
Protects against UVA and UVB rays
Non-sticky and moisturizing formula for a comfortable wear
Details
Skin is our body's greatest protector. It is the first line of defense against exterior elements, like germs, weather or moisture. Skin also functions as a regulator for body temperature, fluids and sensory perception (i.e. cold, health, touch, pain).1 This is why it's so important to take care of your skin.
On those picturesque days when you're out enjoying activities under blue skies, and even on cloudier days, never ending sun rays can do damage in no time! Shopping Annuity Brand Premium Sunscreen aims to shield your skin from the sun's harsh rays.
Our SPF 30 sunscreen is mineral-based and contains zinc oxide, an ingredient providing effective protection mild enough even for most people with sensitive skin. Mineral sunscreens, also known as physical sunscreens, contain mineral compounds such as zinc oxide that sit on top of the skin, reflect, scatter, and absorb ultraviolet rays.2 According to the EPA, these mineral compounds do not typically cause allergic reactions.2
No matter your age, race or ethnicity, everyone is subject to the potential dangers of sun exposure – UV radiation. UVA rays penetrate the skin and contribute to premature aging, while UVB rays primarily affect the surface of the skin and are the main culprits of sunburn.2 When you go outside unprotected – whether the sun is blazing or it is cloudy, hot or cold – you risk the chance of exposure to UV rays. Sunburns increase the risk of developing skin cancer.
Add our Premium Brand Sunscreen to your skincare routine to help provide an important layer of defense against the sun!
Ingredients
Zinc Oxide
Zinc oxide is a white powdered, mineral compound. When used topically, it acts as a protective layer for skin. It is sometimes used in cosmetics, and may also be used as an active ingredient in over-the-counter topical products, such as diaper rash cream. It is also used in as a sunscreen ingredient.
Aqua, Coco-Caprylate/Caprate, Glycerin, Caprylic/Capric Triglyceride, Cetearyl Alcohol, Cetearyl Glucoside, Glyceryl Caprylate, Glyceryl Undecylenate, Polyhydroxystearic Acid, Microcrystalline Cellulose, Xanthan Gum, Tocopheryl Acetate, Citrullus Lanatus (Watermelon) Fruit Extract, Sodium Hydroxide, Lens Esculenta (Lentil) Fruit Extract, Phytic Acid, Allantoin, Pyrus Malus (Apple) Fruit Extract, Sodium Lactate, Sodium PCA, Sodium Benzoate, Potassium Sorbate, Citric Acid.

FAQ
Who can use this sunscreen?
Shopping Annuity Brand Premium Sunscreen is safe for all ages over 6 months to use. Ask a doctor before using this product on children under 6 months of age.
Is this sunscreen broad spectrum?
Yes, our SPF 30 sunscreen is broad spectrum – UVA + UVB protection.
Is this sunscreen waterproof or water-resistant?
No.
Do I need sunscreen even though it's cloudy outside?
Yes. Many experts, including the American Academy of Dermatology, recommend the use of sunscreen every day you are outside, because you can still be negatively impacted by sun rays.3
When else should I use sunscreen?
According to the World Health Organization, physical surfaces can reflect sun rays. Snow can reflect up to 80% of UV radiation, dry beach sand about 15% and sea foam about 25%.4 Which means your skin will benefit from wearing sunscreen anywhere you go outside.
Is your sunscreen mineral-based or chemical-based?
Our sunscreen is mineral-based and uses zinc oxide as its active ingredient. Mineral sunscreens sit on top of the skin, reflect, scatter, and absorb ultraviolet rays. Instead of acting as a barrier, chemical sunscreen agents absorb ultraviolet rays and change them into heat. The benefit of an active mineral sunscreen is that they work instantly once you are exposed to the sun, because they block sunrays. Whereas chemical sunscreens need time to be absorbed by the skin prior to working.
How do I use this product?
Apply liberally 15 minutes before sun exposure. Reapply: at least every 2 hours; immediately after towel drying. Use a water resistant sunscreen if swimming or sweating. Children under 6 months: ask a doctor. Sun protection measures: Spending time in the sun increases your risk of skin cancer and early skin aging. To decrease the risk, regularly use a sunscreen with a broad spectrum SPF value of 15 or higher and other sun protection measures including: limit time in the sun, especially from 10 am - 2 pm; wear long-sleeved shirts, pants, hats and sunglasses.
What is the best way to store this product?
Store in a cool, dry place. Keep away from excessive heat and direct sun.
---
Find Similar Products by:
* These statements have not been evaluated by the Food and Drug Administration.
* This product is not intended to diagnose, treat, cure or prevent any disease.
Shop Internationally