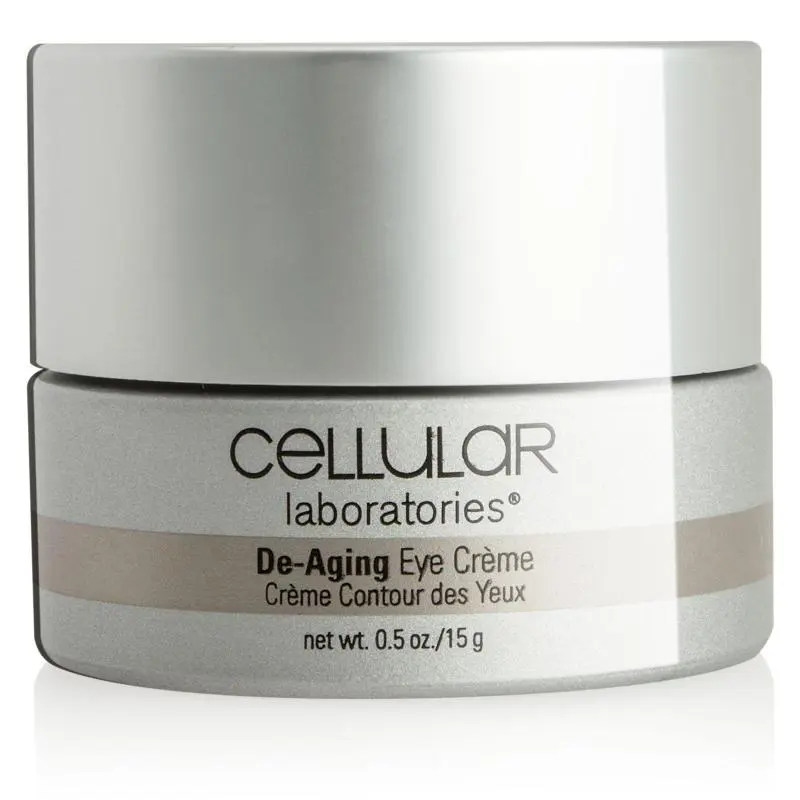 $67.95 USD
Single Jar (0.5 oz./15 g)
Earn $1.36 cash back!

Benefits
Reduces the appearance of the signs of aging
Firms the skin, promoting appearance of a "lift"
Plumps and brightens skin, lessening the appearance of wrinkles and dark circles under the eye
Reduces the puffiness around the eyes
Moisturizes and refreshes delicate skin around the eyes
Paraben-free formula
Details
Pamper the most delicate skin on your face - your eyes - daily to ensure a vibrant, rested appearance. Eye crème is important, especially as we age, to help restore moisture to the area around the eyes. When you are tired, it shows in these areas. The skin begins to sag and darken. Help refresh the skin, and support skin firmness and elasticity through the nightly application of Cellular Laboratories Eye Crème.

Cellular Laboratories De-Aging Eye Crème reduces the appearance of dark circles as it smoothes and firms the area around the eye. The skin is very delicate; savor your youthful look with help from this moisture-rich, anti-aging eye crème. Give the sensitive skin the appearance of a lift every night as you sleep.

Formulated with Matrixyl 3000, Renovage and our bioengineered Human Growth Hormone for cellular vitality, this advanced treatment targets skin around the eye, helping reduce the appearance of dark circles, and promoting collagen production as it smoothes and firms for a younger, more rested appearance.

Why We Love Cellular Laboratories De-Aging Eye Crème?

Cellular Laboratories De-Aging Eye Crème is a rich eye treatment that hydrates the skin, lightens dark circles, and reduces puffiness, reducing the appearance of wrinkles; but lightweight to the touch to be used under your makeup.

Customer Ratings
Ingredients
Renovage (Caprylic/ Capric Triglyceride and Teprenone)
Anti-aging and protective effect against stress by promoting normal telomere s">Human Oligopeptide-9 Bio-engineered HGH that helps to minimize the visible signs of aging. Human Oligopeptide-9 is carefully encapsulated in nano-liposomes which help with skin penetration. Human Oligopeptide-9 reduces the appearance of lines and wrinkles, and promotes cellular vitality.

Matrixyl 3000 (Palmitoyl Oligopeptide & Palmitoyl Tetrapeptide-7)
Peptide blend that acts in synergy to refresh and maintain skin's youthful appearance. Promotes collagen and elastin production by supporting the cells of the extracellular matrix (fibroblasts), thereby reducing the appearance of lines and wrinkles. The peptides work as messengers of cutaneous restructuration, and repair and activate the neosynthesis of extracellular matrix.
Niacinamide
Derivative of vitamin B3 that suppresses melanin from reaching the surface of the skin. Helps to reduce the appearance of existing discoloration (hyperpigmentation) of the skin.
Glucosyl Hesperidin
Supports blood flow in the eye area to help reduce the appearance of dark circles and under-eye bags.
Shea Butter and Mango Butter
Moisturizes skin, leaving skin feeling soft and without being greasy.
Honeysuckle Flower Extract, Jujuba Fruit Extract, Portulaca Extract and Licorice Root Extracts
Calm and soothe, while providing nutrients necessary for the protection and retention of healthy skin. Help to support skin elasticity and firmness.
Dipotassium Glycyrrhizate
Anti-irritant extracted from licorice root that improves skin appearance by supporting suppleness and reducing the visible signs of skin imperfections.

FAQ
How do I use Cellular Laboratories De-Aging Eye Crème?
Gently pat Eye Crème to the orbital area using ring finger until absorbed. Avoid direct contact with the eye. May be used anytime day and/or night.
What is Cellular Laboratories De-Aging Eye Crème?
The Eye Crème is a rich eye treatment cream that lightens dark circles, while plumping the skin and reducing the appearance of wrinkles. It is wrinkle-smoothing, moisture-intense treatment for reducing the appearance of dark circles, wrinkles and puffiness.
Do I need to use an eye crème if I use a moisturizer already under my eyes?
While the Cellular Laboratories De-Aging Day Crème with SPF 20 and the De-Aging Crème are meant to be used on the face, the Eye Crème is specially formulated to be used in that precise, delicate area around the eye. Heavier creams are not absorbed so well in this area because the skin is thinner. Loose skin, fine lines and wrinkles are targeted by the eye crème, so use can help maintain your youthful look.
What causes dark, under-eye circles?
There is no bone directly under the under-eye area, nor are there oil glands. Lacking these two structures, the area tends to get dry, wrinkled and dark when neglected. The skin is very delicate and special attention can help you get a bright, alert and rejuvenated look that promotes a more youthful appearance.
Who needs eye crème?
Why wait until it is too late? Start now. Everyone can benefit from the use of eye crème. The area under the eye is one of the first to show our age. Deliver moisture to maintain your youthful look. Even if you do not have wrinkles yet, it is wise to start early.
How do you get the best results from the eye crème?
The point of the eye crème is to maintain a youthful appearance. Be sure to apply properly to get optimal results. Gently pat a small amount of crème under the eye. Do not rub or smudge onto skin. Tugging and pulling at the skin will only result in stretching the skin, making for more mature-looking skin.
What type of package does the eye crème come in?
The eye crème comes in a 0.5 fl. oz./15 mL jar.
Why are antioxidants so important in an eye crème?
Antioxidants work to maintain healthy balance between radicals and antioxidants. As we age, we are exposed to more free radicals and fewer antioxidants. One of the essential antioxidants for topical skincare is jojoba oil. It contains antioxidants found in vitamin E that work to fight off free radicals. In our anti-aging formula, the oil defends the delicate skin of the under-eye area that is so prone to show signs of premature aging.

Besides the key ingredients, what else goes into the eye crème?
Water, Butylene Glycol, Pentaerythrityl Tetraoctanoate, Mangifera Indica (Mango) Seed Butter, Glycerin, C12-20 Acid PEG-8 Ester, Cetearyl Alcohol, Caprylic/Capric Triglyceride, C10-18 Triglycerides, Butyrospermum Parkii (Shea Butter), Niacinamide, Sodium Hyaluronate, Squalane, Dimethicone, Human Oligopeptide-9, Palmitoyl Oligopeptide, Palmitoyl Tetrapeptide-7, Teprenone, Portulaca Oleracea Extract, Glucosyl Hesperidin, Dipotassium Glycyrhhizate, Lonicera Caprifolium (Honeysuckle) Flower Extract, Zizyphus Jujuba Fruit Extract, Glycyrrhiza Glabra (Licorice) Root Extract, Hydroxyethyl Acrylate/Sodium Acryloyldimethyl Taurate Copolymer, Acrylates/C10-30 Alkyl Acrylate Crosspolymer, Polysorbate 20, Polysorbate 60, Carbomer, Coco Glucoside,TocopherylAcetate, Lecithin, Sodium Phosphate, Sodium Chloride, EDTA, Disodium EDTA, Triethanolamine, Phenoxyethanol, Caprylyl Glycol
Is this product tested on animals?
This product has not been tested on animals.

---
Find Similar Products by:
* These statements have not been evaluated by the Food and Drug Administration.
* This product is not intended to diagnose, treat, cure or prevent any disease.
Shop Internationally