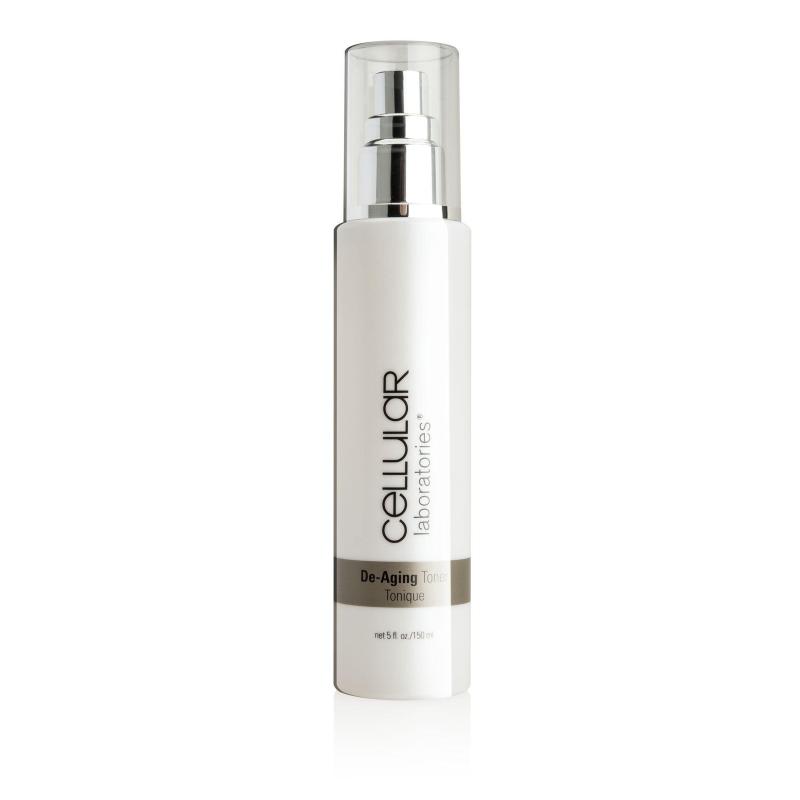 $54.50 USD
Earn $1.09 cash back!

Benefits
Gets rid of residue and excess dirt on the skin
Soothes, softens and hydrates the skin
Helps protect the skin for a more youthful appearance
Prepares skin for more effective moisturization and lubrication
Ideal for normal, dry, mature and uneven complexions
Paraben-free formula
Details
Cellular Laboratories De-Aging Toner gently cleanses excess dirt and residue while balancing and preparing skin for optimal retention of treatments and moisturizer. This multi-functional formula helps protect and soothe skin, while effectively moisturizing for more hydrated, softer skin. Achieve a youthful, healthier look and feel with this anti-aging toner.
Customer Ratings
Ingredients
Phyllanthus Emblica Fruit Extract
Also known as Indian Gooseberry, emblica fruit extracts consist of low molecular weight tannins. It is a multi-functional ingredient that contains antioxidants to help the skin maintain a youthful appearance.
Honeysuckle Flower, Jujuba Fruit and Licorice Root Extracts
These natural plant-derived ingredients have antioxidant and soothing properties that might help protect and soothe the skin, leaving it looking softer, smoother, and nicely conditioned.
Sodium hyaluronate is the sodium salt of hyaluronic acid. Hyaluronic acid is a vital moisturizer and lubricant found naturally in our skin. It provides superior, long term moisturization, helping to keep the skin hydrated and supple.
Water (Aqua), Butylene Glycol, Propylene Glycol, Glycerin, Sodium Hyaluronate, Panax Ginseng Root Extract, Phyllanthus Emblica Fruit Extract, Gynostemma Pentaphyllum Extract, Zizyphus Jujuba Fruit Extract, Glycyrrhiza Glabra (Licorice) Root Extract, Lonicera Caprifolium (Honeysuckle) Flower Extract, Yeast Extract, Sodium PCA, Hydroxypropyl Bis-Hydroxyethyldimonium Chloride, PEG-6, Bis-PEG-18 Methyl Ether Dimethyl Silane, PEG-40 Hydrogenated Castor Oil, Jojoba Wax PEG-120 Esters, Caprylic/Capric Triglyceride, Anhydroxylitol, Xylitol, Xylitylglucoside, Teprenone, Sorbitol, Trideceth-9, Caprylyl Glycol, Chlorphenesin, Disodium EDTA, Phenoxyethanol, Fragrance (Parfum), Hydroxyisohexyl 3-Cyclohexene Carboxaldehyde, Limonene, Linalool.
FAQ
How to Use Cellular Laboratories De-Aging Toner?
Apply to cleansed skin with a cotton pad. Sweep over face and neck. Avoid direct contact with the eyes. For optimal results, apply daily morning and evening, leaving until dry; do not wash off. Follow with a moisturizer.
What is toner?
Toner is a gentle skin-softener that balances your skin.
Do I really need to use a toner?
Toner is one of the most under-rated products on the market. It is designed to complete the cleansing process, but it also prepares the skin for the application of moisturizers and treatments.
How does a toner work differently than a cleanser?
Facial toner is a liquid that promotes normal pH level and helps the skin stay clean and healthy. It also serves as a second cleanser to ensure optimal residue and debris removal. As we age, our pores enlarge due to environmental exposure. When makeup is applied to skin that has not been properly cleaned, pores are further enlarged.
Why do you recommend application of toner with a cotton swab?
Cotton swabs are made up of more tightly woven fibers that are less likely to come off on the skin than tissue. It makes for a better, smoother application.
Why should I use a toner?
Everyone may benefit from the regular use of toner. Those people who wear a lot of makeup, have visibly large pores, people with oily skin, acne prone skin or anyone who wants clean, calm and smooth skin. Toner promotes normal hydration.
How do I get the most out of the use of toner?
For optimal results, apply to freshly cleansed skin daily morning and evening with a cotton swab. Avoid direct contact with eyes. Do not wash off. Leave on to dry. Follow with a moisturizer.
Is this product tested on animals?
Cellular Laboratories does not conduct or commission animal testing of any finished product.
---
Find Similar Products by:
* These statements have not been evaluated by the Food and Drug Administration.
* This product is not intended to diagnose, treat, cure or prevent any disease.
Shop Internationally