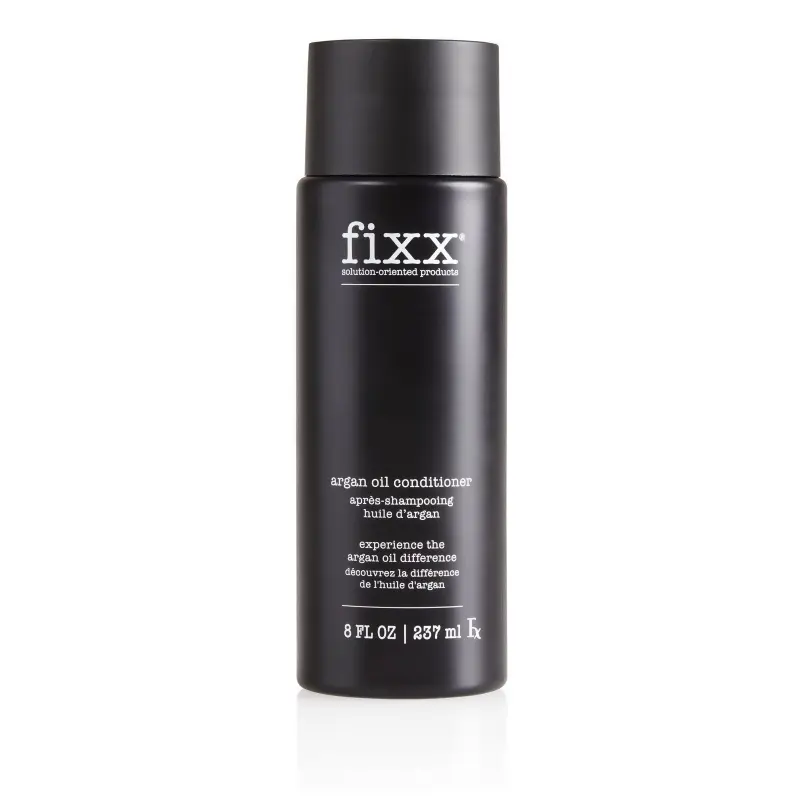 $22.95 USD
Single Bottle (8 fl oz/237 ml)
Earn $0.46 cash back!

Outside the United States:

Benefits
Contains Moroccan argan oil, one of the rarest and most sought-after ingredients in the personal care industry.
Helps to moisturize your hair and scalp.
Helps to keep hair manageable.
Helps to keep hair healthy with a unique blend of vitamins and oils.
Helps restore moisture to dry, damaged hair.
Details
Put life, moisture and body back into hair with Fixx™ Argan Oil Conditioner. This superior formula infused with argan oil deeply conditions and moisturizes for healthier, shinier hair with each use. Get ready to experience the argan-oil difference.
Customer Ratings
Ingredients
Argan Oil
Argan oil is derived from the seeds of the fruit of the argan tree found in Morocco. Obtaining the seeds is a difficult process which involves breaking the shells and toasting the seeds, therefore making argan oil one of the rarest in the world due to the small supply and the limited growing area. Argan oil is highly valued for its nutritive properties, which makes it a valued ingredient for a conditioner. It is exceptionally rich in natural tocopherols (vitamin E), phenols and phenolic acid, carotenes, squalene, and essential fatty acids — all contributing to its high antioxidant value. These components replenish nutrients to the hair while restoring strength, shine and softness.
Cetyl + Stearyl Alcohols
These long-chain fatty alcohols are known for the conditioning benefits. These fatty alcohols provide an emollient after-feel to hair, helping hair to feel softer and smoother.
Ingredients: Aqua/Water/Eau, Cetyl Alcohol, Stearyl Alcohol, Glycerin, Fragrance (Parfum),
Potassium Sorbate, Limonene, Guar Hydroxypropyltrimonium Chloride, Benzyl Benzoate, Linalool, Argania Spinosa Kernel Oil.
FAQ
How do I use Fixx Argan Oil Conditioner?
After cleansing hair with Fixx Argan Oil Shampoo, remove excess water from hair by gently squeezing. Apply Fixx Argan Oil Conditioner from the ends up, keeping product away from scalp for best results. Leave in hair for two minutes and rinse with cold water.
Should I use Fixx Argan Oil Shampoo with Fixx Argan Oil Conditioner?
Absolutely. You should take the same approach when caring for your hair as you do your skin. It's important to add moisture back to the hair just as you would add moisture back to the skin. Shampoos help to cleanse and remove oil and product buildup, while conditioners help hydrate hair and add shine.
What is Argan Oil?
Argan oil is produced from the kernels of the argan tree native to Morocco that is valued for its nutritive and cosmetic properties. Over the years, the number of argan trees has dwindled, making harvested argan oil rare and sought-after. Argan oil is exceptionally rich in nutrients, including vitamin E, phenolic acid, carotenes and fatty acids.
Is this product tested on animals?
Fixx does not conduct or commission animal testing of any finished product.
---
Find Similar Products by:
* These statements have not been evaluated by the Food and Drug Administration.
* This product is not intended to diagnose, treat, cure or prevent any disease.
Shop Internationally