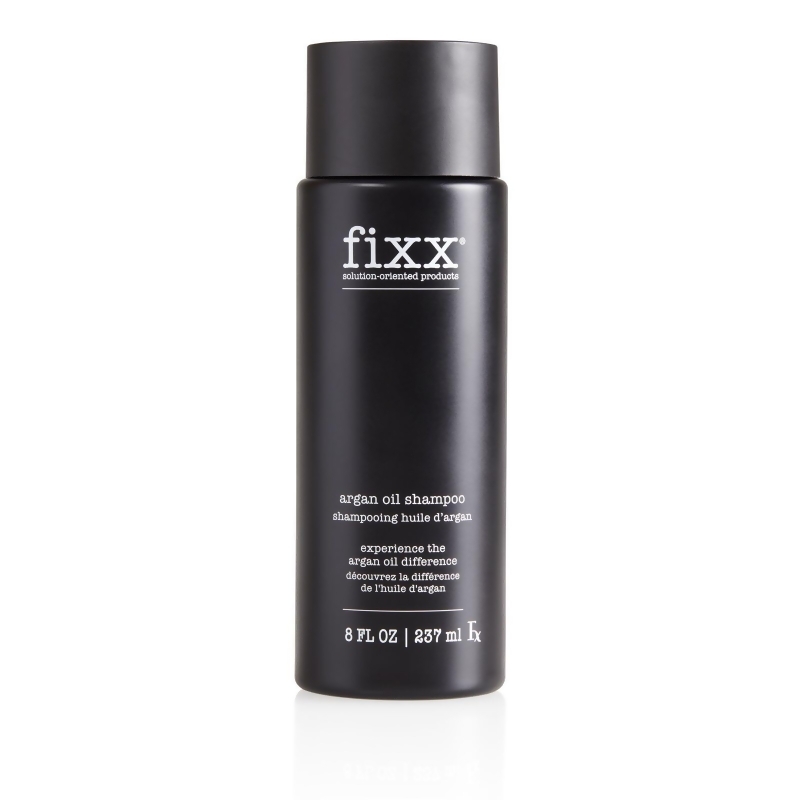 $22.95 USD
Earn $0.46 cash back!

Benefits
Contains Moroccan argan oil, one of the rarest and most sought-after ingredients in the personal care industry
Helps fortify each strand for visibly healthy-looking hair
Gently cleanses while infusing hair with rich argan oil, omega fatty acids and other nutrients
Restores dry, damaged hair
Rich, delicious scent
Details
Keep up appearances with Fixx Argan Oil Shampoo. Don't just wash your hair with the first product in arm's reach; treat your hair from root to end with the moisturizing nutrients and antioxidants found in Fixx Argan Oil Shampoo. Promote strong, weightless hair and lasting shine with silk amino acids and hydrolyzed wheat protein, and make your hair irresistibly soft to the touch with rarely used, nutrient-rich argan oil. Forget dry, damaged and frizzy hair, and gently restore it to healthy, sleek and manageable hair with Fixx Argan Oil Shampoo.
Customer Ratings
Ingredients
Aloe Barbadensis Leaf Juice
Aloe barbadensis leaf juice contains natural conditioners that make hair soft, healthy and strong. Aloe contains amino acids, which can penetrate and nourish the hair, while also depositing a protective film on the hair that helps to retain moisture, body, shine and smoothness. Sulfur molecules found in cysteine bind to sulfur molecules in keratin (primary protein found in hair), creating disulfide bonds which strengthen and support the quality of the hair.
Argan Oil
Argan oil is derived from the seeds of the fruit of the argan tree, found in Morocco. Obtaining the seeds is a difficult process which involves breaking the shells and toasting the seeds, therefore making argan oil one of the rarest in the world due to the small supply and the limited growing area. Argan oil is highly valued for its nutritive properties, which makes it a valued ingredient for a shampoo. It is exceptionally rich in natural tocopherols (vitamin E), phenols and phenolic acid, carotenes, squalene and essential fatty acids, all contributing to its high antioxidant value. These components replenish nutrients to the hair, while promoting strength, shine and softness.
Silk Amino Acids
Silk amino acids, also known as silk protein or sericin, are often used in hair care products because of their ability to penetrate hair. The amino acids bind with the keratin in the hair, thereby creating a protective layer that helps seal in moisture while adding luster. Silk amino acids can provide extra protection and shine without weighing down hair, and their low molecular weight allows them to be easily absorbed through the skin. Silk amino acids also have some antioxidant properties.
Anthemis Nobilis (Chamomile) Flower Extract
Anthemis Nobilis is a perennial herb in the aster family with an apple-like aroma. The extract is used as a fragrance and skin conditioning agent in cosmetics products, sometimes to highlight yellows in blond hair or as a skin freshener.
Rosmarinus Officinalis (Rosemary) Leaf Extract
Not only has Rosmarinus Officinalis (rosemary) leaf extract been used as a hair tonic, but it's also used to enhance the natural color of hair. The leaves of Rosmarinus Officinalis are known to have relatively high levels of antioxidants.
Melaleuca Alternifolia (Tea Tree) Flower/Leaf/Stem Extract
Tea tree oil is an essential oil obtained by steam distillation of the leaves of Melaleuca alternifolia, a plant native to Australia. It has soothing properties that help the skin remain healthy and smooth.
Salix Alba (Willow) Bark Extract
Salix alba (willow) bark extract is an excellent astringent.
Hydrolyzed Wheat Protein
Hydrolyzed wheat protein is a moisturizing and conditioning protein derived from whole wheat. It increases the hair's ability to retain moisture and impart shine and gloss to damaged and dull hair. Due to its low molecular weight, it easily penetrates the hair shaft, allowing it to attract and retain moisture, build body and reduce porosity, all of which improves hair manageability, and improve luster and smoothness.
FAQ
How do I use Fixx Argan Oil Shampoo?
During shower or bath, massage shampoo into scalp until lather forms. Rinse thoroughly. For best results, follow with Fixx Argan Oil Conditioner.
What is argan oil?
Argan oil is produced from the kernels of the argan tree, native to Morocco, that is valued for its nutritive and cosmetic properties. Over the years, the number of argan trees has dwindled, making harvested argan oil rare and sought after. Argan oil is exceptionally rich in nutrients, including vitamin E, phenolic acid, carotenes and fatty acids. The oil has been used as a skin treatment and is becoming popular within the cosmetics industry.
---
Find Similar Products by:
* These statements have not been evaluated by the Food and Drug Administration.
* This product is not intended to diagnose, treat, cure or prevent any disease.
Shop Internationally