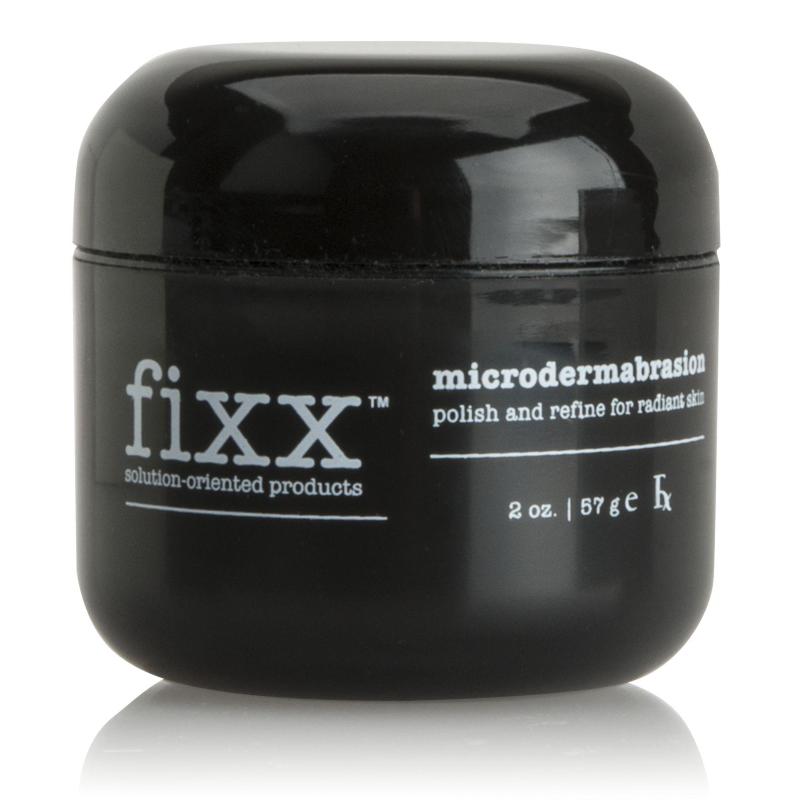 $26.95 USD
Earn $0.54 cash back!

Benefits
Supports normal skin cell renewal for radiant-looking skin
Polishes and soothes skin with skin-revitalizing exfoliators and natural extracts, which gently buff away dead skin and unclog pores
Contains the marine-derived complex Coralline to help soothe skin
Contains calming chamomile and brightening licorice to promote a more even-toned complexion
Details
Polish away dead skin and unclog pores to reveal radiant, smooth skin with Fixx Microdermabrasion, featuring Coralline, a powerful marine-derived complex. Fixx Microdermabrasion promotes cell turnover and oxygenation and soothes the skin for a more youthful appearance. Get bright and beautiful skin with Fixx Microdermabrasion Complex.
Fixx Microdermabrasion Complex gently exfoliates the skin without causing the skin irritation that is common to other methods of exfoliation. Soothing natural extracts like aloe vera and chamomile moisturize skin, while buffing away dead skin and clogged pores. Fixx Microdermabrasion Complex uses potent marine-derived Coralline extract and Kelp to keep skin nourished and protected.
Customer Ratings
Ingredients
Corallina Extract
An extract of Corallina Officinalis, a pink algae, Corallina extract is contains minerals, such as calcium and magnesium. Corallina extract helps soothe skin by promoting oxygenation. Corallina extract has also been shown to give antioxidant properties to promote firmer-looking skin and provide moisture.
Aloe Vera Juice
Aloe helps calm and reduce the redness that can occur during exfoliation. The high levels of natural enzymes found in aloe help dissolve dead skin cells, aiding in effective exfoliation. Aloe vera also acts to soothe the skin and may help regenerate new skin cells.
Kelp
Kelp is a detoxifying seaweed that contains 23 minerals, including iodine, folic acid, and Vitamins A, B12 and D; helping the skin to stay nourished, healthy, conditioned and moisturized.
Chamomile
Chamomile is an herb containing antioxidants that helps soothe the skin to combat irritation. It is also known for its skin conditioning properties. It reduces dry flaking and restores suppleness to the skin.
Licorice
Licorice promotes brightening of the skin to reduce the appearance of blotchy skin and hyper-pigmentation. It also helps soothe skin irritation, and helps provide moisture and skin nourishment.
Vitamin E
Vitamin E is a powerful antioxidant that helps promote smooth, healthy-looking skin. It's extremely important as sun exposure and age deplete vitamin E levels. Without vitamin E's cell protection, oxidative damage occurs.
FAQ
How do I use Fixx™ Microdermabrasion Complex?
Apply a small amount of Fixx Microdermabrasion Complex to damp facial skin and gently massage using circular motion. Rinse with warm water.
Who should use Fixx™ Microdermabrasion Complex?
Fixx Microdermabrasion Complex is great for all skin types. Exfoliation is a necessary step in any skin routine in order to clear away dead skin and unclog pores. Restore your skin's smoothness and radiance by getting rid of dull, dead skin.
Why should I exfoliate?
Exfoliation is important to remove dead cells to reveal fresh, younger skin. The skin continuously generates new skin cells and at the end of the cycle, the old, dead cells on the surface are shed. You can improve your complexion by exfoliating and helping remove this dead skin. If these old cells are not removed, they can clog pores and lead to blackheads or spots.
How often should I use Fixx™ Microdermabrasion Complex?
Fixx Microdermabrasion Complex can be used 2-3 times per week to exfoliate and cleanse skin.
Why should I use Fixx™ Microdermabrasion Complex?
Fixx Microdermabrasion Complex combines soothing, natural extracts to ward off redness and irritation sometimes caused by exfoliation so you can exfoliate gently and effectively. Fixx Microdermabrasion Complex effectively polishes away dead skin and unclogs pores to reveal fresh, radiant skin.
---
Find Similar Products by:
* These statements have not been evaluated by the Food and Drug Administration.
* This product is not intended to diagnose, treat, cure or prevent any disease.
Shop Internationally