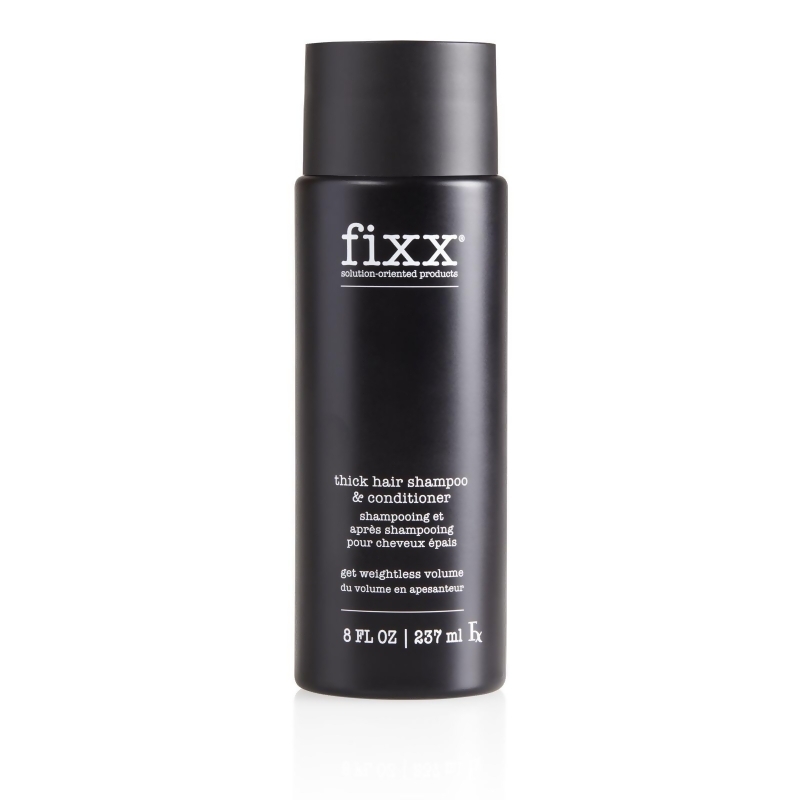 $19.95 USD
Earn $0.40 cash back!

Outside the United States:

Benefits
Stinging nettle extract:

Cleans and stimulates the scalp
Helps retain healthy hair
Provides optimum conditions for follicle rejuvenation

Makes hair look thicker and fuller
Enhances shine and manageability
Perfect for men and women
Details
Turn to Fixx Thick Hair Shampoo & Conditioner for a more gentle solution to get softer, fuller-looking hair. Enhanced with natural ingredients, such as Stinging Nettle Extract and Tea Tree leaf oil, which combat pollutants while promoting luster and shine, Fixx Thick Hair Shampoo & Conditioner treats hair from root to end. Go above and beyond the wash and rinse of basic hair products, and get healthier, better-looking hair without adding unnecessary steps to your daily routine. Stronger, more manageable hair with undeniable shine can be yours with Fixx Thick Hair Shampoo & Conditioner.
Customer Ratings
Ingredients
Urtica Dioica (Nettle) Extract
Urtica dioica (nettle), also known as stinging nettle, is a common weed native to Europe, Asia, North America and North Africa. Externally, it has been used to improve the appearance of the hair and is said to be a remedy against oily hair.
Collagen
Collagen is a very important protein for our whole body, including our hair. In the case of hair care, when you apply collagen to the hair shaft, you are able to promote healthy hair growth. Collagen helps strengthen hair and increase the diameter of individual hairs, which helps give thinning hair an overall fuller hair appearance.
Hydrolyzed Wheat Protein
Hydrolyzed wheat protein is a moisturizing and conditioning protein derived from whole wheat. It increases the hair's ability to retain moisture, and impart shine and gloss to damaged and dull hair. Due to its low molecular weight, it easily penetrates the hair shaft, allowing it to attract and retain moisture, build body and reduce porosity, all of which improves hair manageability, luster and smoothness.
Melaleuca Alternifolia (Tea Tree) Leaf Oil
Tea tree oil is an essential oil obtained by steam distillation of the leaves of Melaleuca alternifolia, a plant native to Australia. It is said to have soothing properties that help the skin remain healthy and smooth.
FAQ
How do I use Fixx Thick Hair Shampoo & Conditioner?
During shower or bath, massage Fixx Thick Hair Shampoo & Conditioner into damp hair. Leave in for two (2) minutes. Rinse well with cold water.
---
Find Similar Products by:
* These statements have not been evaluated by the Food and Drug Administration.
* This product is not intended to diagnose, treat, cure or prevent any disease.
Shop Internationally