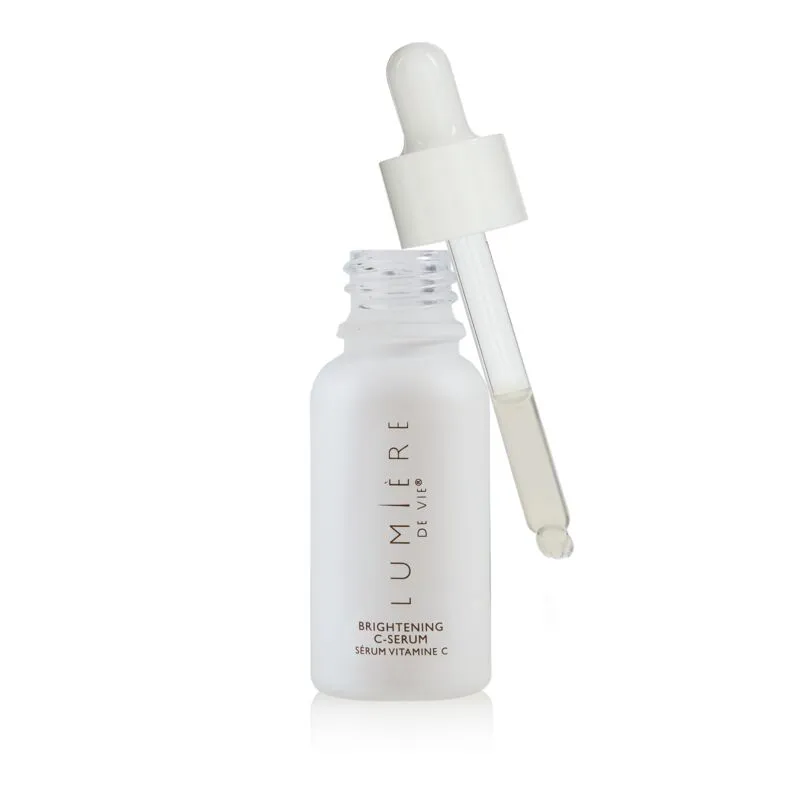 $70.00 USD
Single Bottle (1.0 fl. oz./30 ml)
Earn $1.40 cash back!

Outside the United States:

Benefits
Reduces the appearance of fine lines and wrinkles.
Reduces the appearance of dark spots.
Brightens the skin for a healthier looking complexion.
Helps maintain skin elasticity/suppleness.
Promotes a healthy-looking complexion.
Strong antioxidant properties.
Details
Lumiere de Vie Brightening C-Serum delivers a healthy dose of Vitamin C to the skin to help brighten and give a youthful-looking complexion. This formula's strong antioxidant properties help to fight the signs of aging and oxidative stress, while helping to reduce the appearance of fine lines, wrinkles and dark spots. Other skin-loving ingredients help to maintain skins elasticity while moisturizing and smoothing skin for a soft-to-the touch feel.*
*Please note vitamin C products may darken over time due to exposure to air and light. This is a normal occurrence and does not affect the effectiveness of this product.
Customer Ratings
Ingredients
Ascorbic Acid (vitamin C)
Ascorbic acid is one of the most abundant antioxidants found in human skin, where it plays an important role in protecting the skin from oxidative free radicals and supporting healthy skin proteins like collagen and elastin. Topical application of vitamin C (ascorbic acid) can help reduce the appearance of fine lines and wrinkles; help the skin feel firmer and more supple and provide a smoother, more even and brighter-looking complexion.
Glyceryl glucoside is a small sugar derivative found in certain plants and blue-green algae. It has strong water-binding properties that help keep the skin moisturized, supple and smooth.
Ectoin is an organic molecule that occurs widely in nature and has strong water-binding properties as well as antioxidant properties. These properties help ectoin to moisturize and soothe the skin and reduce the appearance of wrinkles.
Propanediol, Aqua/Water/Eau, Ascorbic Acid, Propylene Carbonate, Glyceryl Glucoside, Ectoin, PPG-5-Ceteth-20, Fragrance (Parfum), Dimethylmethoxy Chromanol, Limonene.
FAQ
How do I use Lumière de Vie® Brightening C-Serum?
For best results apply 3-5 drops to freshly cleansed and dried face, décolletage and back of hands; use morning or night. Allow to dry fully before adding additional products (remember to apply skincare products thinnest to thickest).
How often should I use Lumière de Vie Brightening C-Serum?
It is recommended to add this serum into your regimen slowly, starting with once a day or every other day depending on your skin sensitivity. Eventually build up to twice a day. Remember that everyone's skin is different, and frequency and amount of use should be adjusted based on your specific skin needs.
How long will it take to see results from Lumière de Vie Brightening C-Serum?
On average, if used consistently, users will begin seeing results within a few weeks.
Why is the Lumière de Vie Brightening C-Serum in an opaque bottle?
Vitamin C is highly susceptible to oxidation which is accelerated by exposure to light. Our vitamin C is packaged in an opaque bottle to reduce light exposure on the serum itself.
How much ascorbic acid is in this product?
This serum offers 10% ascorbic acid for ultimate brightening, anti-aging, and antioxidant benefits.
Is Lumière de Vie Brightening C-Serum tested on animals?
Lumière de Vie does not conduct or commission animal testing of any finished product.
---
Find Similar Products by:
* These statements have not been evaluated by the Food and Drug Administration.
* This product is not intended to diagnose, treat, cure or prevent any disease.
Shop Internationally