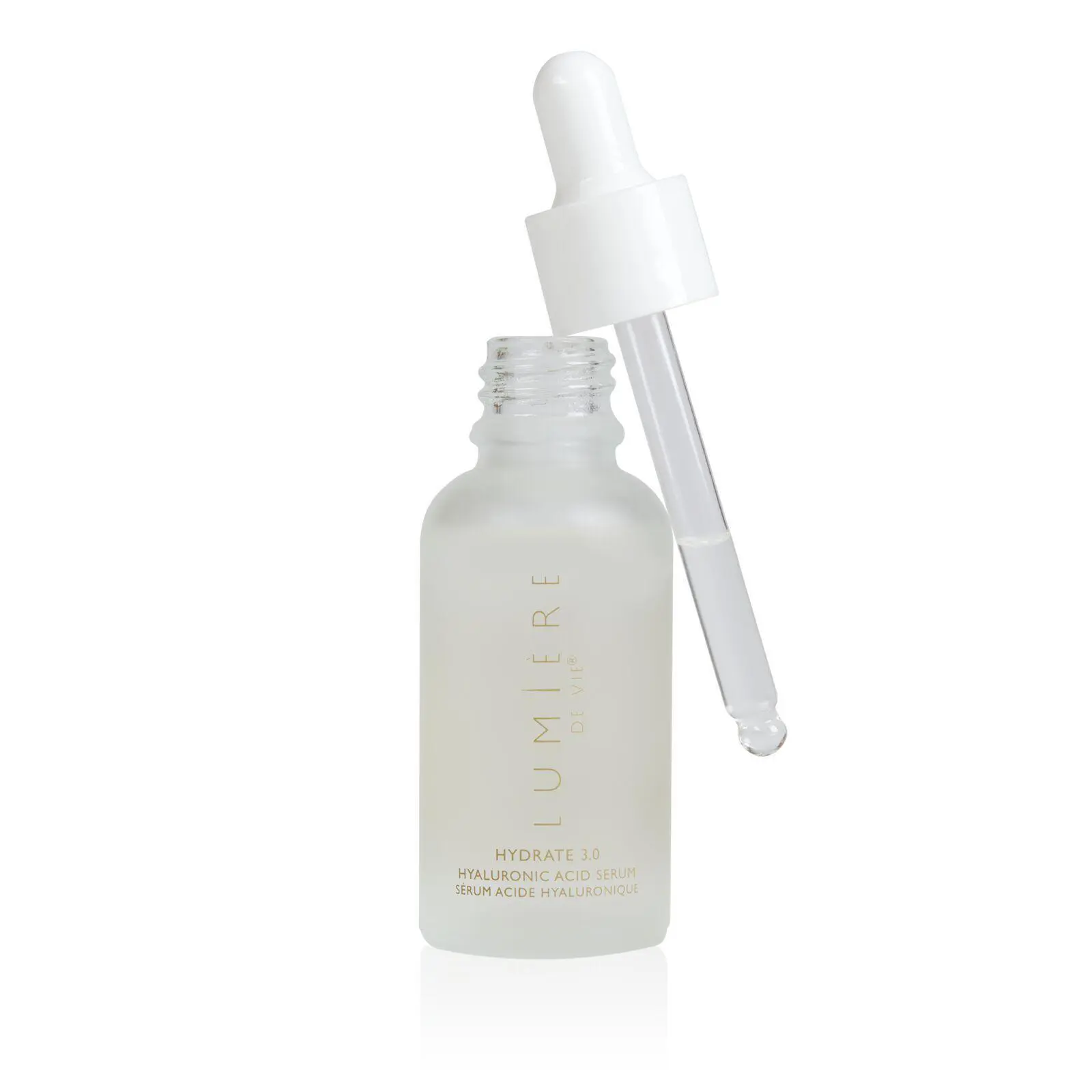 $42.00 USD
Single Bottle (1.0 fl oz/30 ml)
Earn $0.84 cash back!

Benefits
Formulated with three molecular weights of hyaluronic acid for a superior multi-level hydration
Helps maintain deeply moisturized skin, reducing the appearance of fine lines and wrinkles
Soothes skin for a calm complexion
Helps maintain elasticity for skin that is supple and smooth to the touch
Lightweight formula absorbs quickly for layering with your favorite moisturizer
Vegan, paraben-free and gluten-free
Details
Lumière de Vie® Hydrate 3.0 — the ultimate hydrating must-have — is formulated with three molecular weights of hyaluronic acid for superior hydration to multiple layers of the skin. Hyaluronic acid is capable of holding 1,000 times its weight in water, making it one of the most sought-after ingredients for any skincare lover. Hyaluronic acid supplies vital hydration to the skin, helping to smooth and soothe, support elasticity and reduce the appearance of fine lines and wrinkles. This advanced serum has a lightweight texture that absorbs quickly into the skin, making it easy to layer with other treatments. Get ready to experience an undeniably beautiful, plump and supple complexion with Lumière de Vie Hydrate 3.0.

Customer Ratings
Ingredients
Sodium Hyaluronate (Hyaluronic Acid)
Sodium hyaluronate is the sodium salt of hyaluronic acid. Hyaluronic acid is a vital moisturizer and lubricant found naturally in skin. This unique blend of three molecular weights of hyaluronic acid provides long-term moisturization, supports the skin's elasticity and reduces the appearance of wrinkles.
Aqua/Water/Eau, Ethoxydiglycol, PEG-12 Dimethicone, Phenoxyethanol, Sclerotium Gum, Sodium Hyaluronate, Caprylyl Glycol, Xylitylglucoside, Anhydroxylitol, Ethylhexylglycerin, Hexylene Glycol, Phytic Acid, Xylitol, Sodium Hydroxide, Glucose, Vitis Vinifera (Grape) Seed Extract, Camellia Sinensis Leaf Extract, Echinacea Purpurea Extract, Centella Asiatica Extract, Cymbopogon Citratus Extract, Epilobium Angustifolium Flower/Leaf/Stem Extract, Chamomilla Recutita (Matricaria) Flower Extract, Cucumis Sativus (Cucumber) Fruit Extract, Lavandula Angustifolia (Lavender) Flower Extract, Rosa Damascena Flower Extract, Tocopheryl Acetate.
FAQ
How do I use Lumière de Vie® Hydrate 3.0?
Apply one full dropper of serum onto cleansed face and décolletage. For best results, apply to a slightly damp face. Use morning and evening. Follow with other treatments and moisturize.
Can I use Lumière de Vie Hydrate 3.0 every day?
Absolutely! We recommend using this serum every day, both morning and night, for maximum hydration and anti-aging benefits.
What skin type does Lumière de Vie Hydrate 3.0 work best for?
We know you hear this a lot, but Lumière de Vie Hydrate 3.0 is great for all skin types! Whether your skin is dry, oily, combination, sensitive or even blemish-prone, it can benefit from a dose of hyaluronic acid. That being said, we have found that dry skin types will find this product especially beneficial as it draws moisture into the skin.
Can I add Lumière de Vie Hydrate 3.0 to my moisturizer or foundation?
Definitely! Lumière de Vie Hydrate 3.0 is super versatile and can be applied before moisturizer/foundation or mixed into your product for that extra hydration boost you're looking for. For best results, we recommend adding a few drops of Hydrate 3.0 to your desired amount of moisturizer/foundation for a single use.
Can I use Lumière de Vie Hydrate 3.0 under my eyes?
Yes! Hydrate 3.0 can be used for hydration of the skin underneath the eyes. Always remember to avoid applying close to the waterline and any direct contact with the eye to prevent irritation.
How much hyaluronic acid is in this product?
This serum features a 3% hyaluronic acid solution in three different molecular weights along with other skin-loving ingredients for supporting deep hydration that lasts.
Is Lumière de Vie Hydrate 3.0 tested on animals?
Lumière de Vie does not conduct or commission animal testing of any finished product.
---
Find Similar Products by:
* These statements have not been evaluated by the Food and Drug Administration.
* This product is not intended to diagnose, treat, cure or prevent any disease.
Shop Internationally