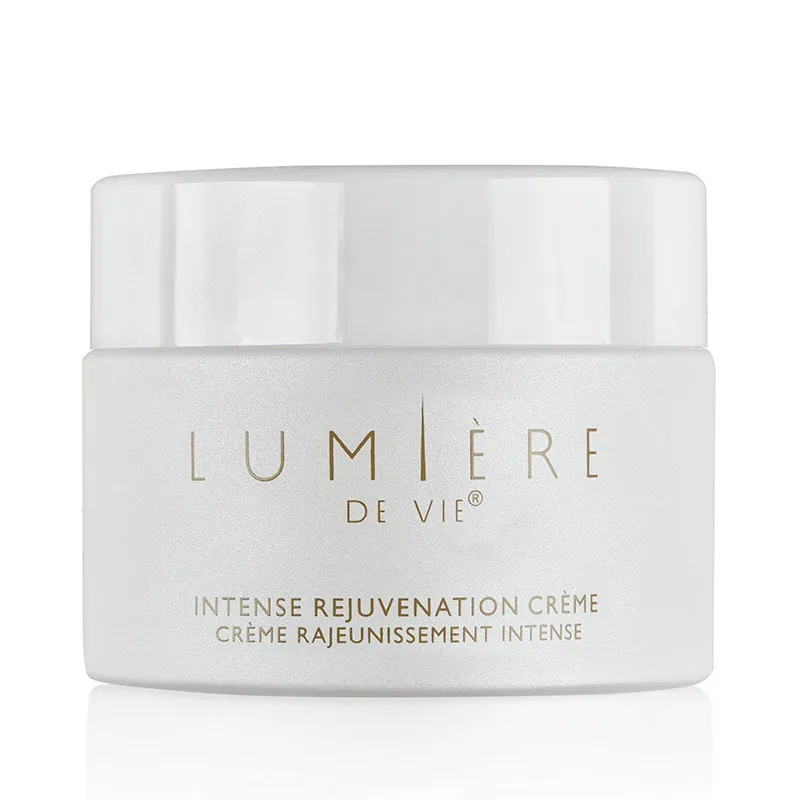 $62.50 USD
Single Jar (1.5 oz/43 g)
Earn $1.25 cash back!

Benefits
Supports normal, healthy collagen and elastin in the skin to keep the skin feeling supple and looking youthful
Reduces the appearance of wrinkles for a smoother, younger-looking appearance
Helps reduce the appearance of dark spots for a brighter-looking complexion
Hydrates the skin with essential lipids and other moisturizing ingredients for softer, smoother-feeling skin
Details
Lumière de Vie Intense Rejuvenation Crème is a super hydrating intensive repair treatment developed for chronically stressed skin and designed to work with the skin's renewal process. An ultra rich, fast absorbing formula specifically formulated to reduce the appearance of lines, wrinkles and age spots as it imparts skin with the look of improved radiance and newly found firmness.
Customer Ratings
Ingredients
Matrixyl synthe'6™ is a cutting-edge peptide ingredient that promotes the normal production of six major components of the skin's matrix and dermal-epidermal junction and hyaluronic acid. This helps to ensure optimal skin support and hydration, and dramatically reduces the appearance of wrinkles on the forehead and around the eyes.
Bakuchiol is a multi-functional, anti-aging ingredient that promotes healthy collagen and elastin in the skin, and helps protect the skin from oxidative stress. Bakuchiol may also help support normal skin barrier function to keep the skin hydrated, soothe the skin, and promote healthy, normal sebum production for a healthy-looking complexion.
A novel blend of red and green teas for antioxidant protection, boswellia and honey to soothe the skin, and a cutting-edge peptide (tetrapeptide-14) to reduce the appearance of redness for a more even, radiant skin tone.
Glycerin is a naturally-occurring ingredient that helps balance the water levels in skin to facilitate moisture. In other words, glycerin attracts water to skin, and helps skin to feel smoother and softer.
Acetyl glucosamine is a multi-functional, skincare ingredient. In addition to promoting healthy skin, hyaluronic acid and hydration, it has been reported in several studies to reduce the appearance of dark spots. These benefits help even skin tone and promote a younger-looking complexion.
A vital moisturizer and lubricant found naturally in our skin. Hyaluronic acid provides superior, long term hydration through its ability to hold up to 1,000 times its weight in water. This property of sodium hyaluronate also helps promote healthy skin elasticity and flexibility.
Tocopheryl Acetate (Vitamin E)
Vitamin E is a family of related compounds called tocopherols and tocotrienols. The vitamin E family is well known for its antioxidant capabilities, protecting the skin by neutralizing oxidative free radicals.
Aqua/Water/Eau, Glycerin, Caprylic/Capric Triglyceride, Octyldodecyl Myristate, Dicaprylyl Ether, Hydrogenated Palm Kernel Glycerides, Candelilla/Jojoba/Rice Bran Polyglyceryl-3 Esters, Glyceryl Stearate, Cetyl Alcohol, Magnesium Aluminum Silicate, Cetearyl Alcohol, Sodium Stearoyl Lactylate, Hydroxypropyl Cyclodextrin, Palmitoyl Tripeptide-38, Hydrogenated Palm Glycerides, Butylene Glycol, Camellia Sinensis (Tea) Extract, Aspalathus Linearis (Rooibos) Extract, Boswellia Serrata Extract, Honey Extract, Tetrapeptide-14, Sodium Benzoate, Acetyl Glucosamine, Phenoxyethanol, Ethylhexylglycerin, Tocopheryl Acetate, Bakuchiol, Citrus Aurantium Bergamia (Bergamot) Fruit Oil, Lactic Acid, Xanthan Gum, Caffeine, Disodium Edta, Sodium Hyaluronate, Hydrogenated Lecithin, Ethyl Linoleate, Limonene, Linalool, Citral.
FAQ
How do I use Lumière de Vie® Intense Rejuvenation Crème?
Gently massage a generous amount onto face and upper jawline using light, upward motions.
I have sensitive skin will this product irritate it?
No, Lumière de Vie Intense Rejuvenation Crème is made for all skin types and should not produce any irritation. However, each person's skin has different sensitivities.
Will Lumière de Vie Intense Rejuvenation Crème reduce the appearance of dark spots?
Yes, Lumière de Vie Intense Rejuvenation Crème is formulated to help reduce the appearance of dark spots and give your skin a brighter-looking complexion.
Will this crème cause my skin to flake or peel?
When your skin starts to flake or peel that means it is time to moisturize! Lumiere de Vie does just that! This product is formulated to penetrate deep into your skin's layers to not only moisturize but to create smooth, even skin as well.
Why is there a white disk under the cap?
The disk helps maintain constant moisture content in the product. To preserve the velvety texture of your Lumière De Vie product, please replace the disk after each use.
Is the Lumière de Vie Intense Rejuvenation Crème tested on animals?
Lumière de Vie does not conduct or commission animal testing of any finished product.
---
Find Similar Products by:
* These statements have not been evaluated by the Food and Drug Administration.
* This product is not intended to diagnose, treat, cure or prevent any disease.
Shop Internationally