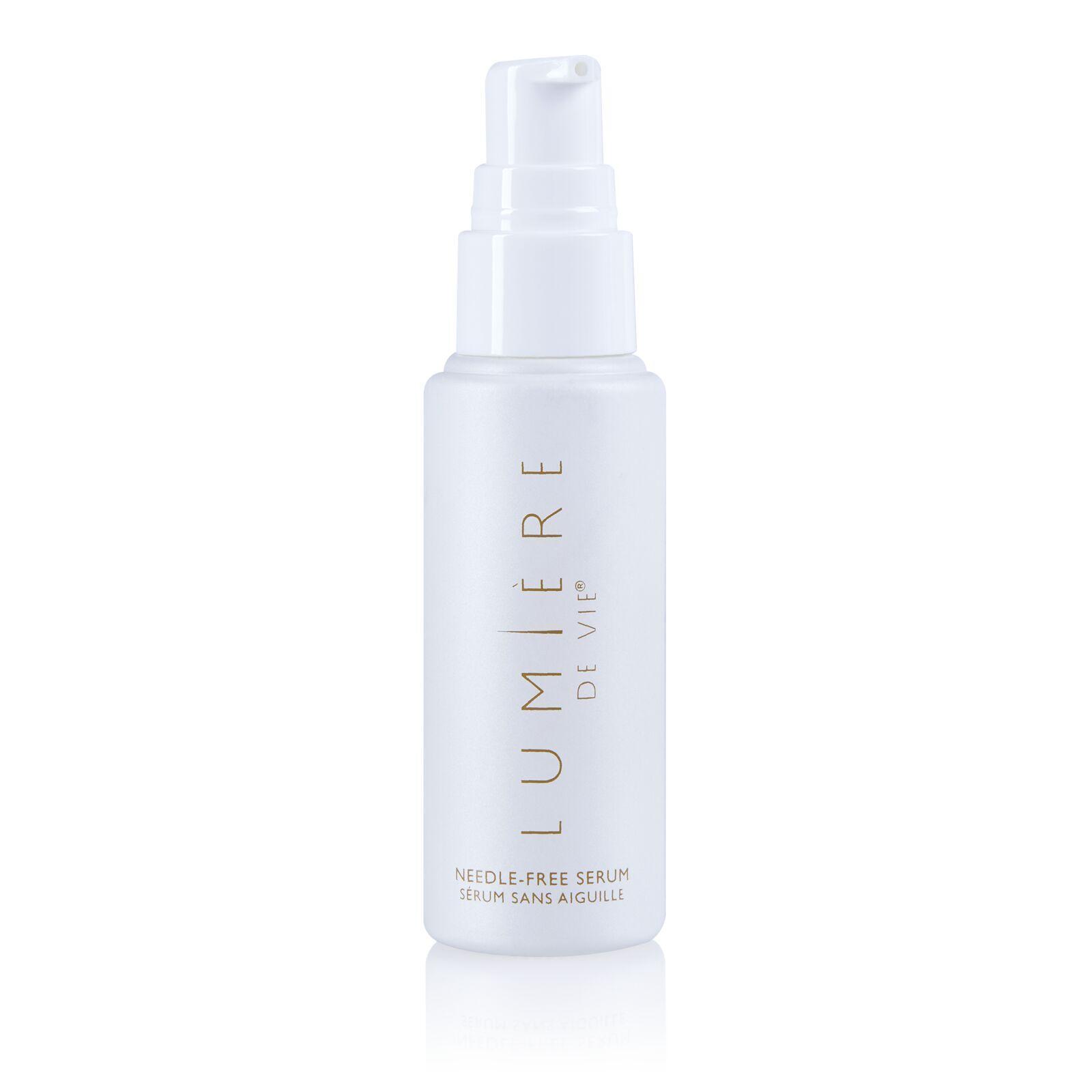 $99.95 USD
Earn $2.00 cash back!

Benefits
Helps skin look firm
Reduces the appearance of wrinkles
Provides a quick tightening effect for taut-looking skin
Helps calm and soothe sensitive skin
Hydrates skin so it looks smoother and more supple
Details
Lumière De Vie Needle-Free Serum gives you the look of an instant lift without the needles and the expense. This gentle, lightweight, concentrated serum gives a tightening effect, while hydrating and soothing sensitive complexions. But there's more! Needle-Free Serum also improves the appearance of fine lines and wrinkles, revealing softer, firmer-looking, supple skin. Give your beauty routine a boost.
Customer Ratings
Ingredients
Neodermyl® (Glycerin, Water, Methylglucoside Phosphate, Copper Lysinate/Prolinate)
Neodermyl® is a novel skincare ingredient that is a combination of a glucose-based compound, amino acids and copper. This unique combination of components helps the skin to look firmer and more supple, while helping to reduce the appearance of fine lines and wrinkles.
Liftonin®-Xpress (Hydroxypropyl Methylcellulose, Pullulan, Porphyridium cruentum Extract)
Liftonin®-Xpress is a blend of polysaccharide-based, film-forming polymers and a red algae extract. This polymer matrix blend has been optimized to give a rapid and noticeable physical tightening effect. This tightening effect minimizes the appearance of fine lines and wrinkles for a smoother-looking complexion.
Zanthalene® (Oleyl Alcohol, Zanthoxylum bungeanum Fruit Extract)
Zanthalene® is an extract from the fruit husks of Zanthoxylum bungeanum, a perennial plant of Chinese origin that is widely used in Asia as a spice (Sichuan pepper). The unique properties of this extract help soothe the skin, while also temporarily reducing the appearance of wrinkles for smoother and softer-looking skin.
CeraFluid (Olive Glycerides, Ceramide 3)
CeraFluid consists of ceramide 3 solubilized in olive oil glycerides. Ceramides are lipid molecules that are found naturally within the cell membrane of stratum corneum cells and are essential components of the skin barrier. This blend of fatty acid glycerides and ceramide 3 helps moisturize the skin for a smoother and softer-looking complexion.
FAQ
How do I use Lumière De Vie Needle-Free Serum?
Use a dime-sized amount of product on a freshly cleansed face and neck once or twice daily after Lumière de Vie Illuminating Fading Fluid or before moisturizer. Allow the serum to completely absorb prior to the application of other products.
Will I see results immediately?
Pretty quickly, yes. Lumière De Vie Needle-Free Serum is designed to provide a rapid tightening effect, so your skin looks smoother and more firmed.
Will this product reduce the appearance of fine lines and wrinkles?
Yes, this product is formulated to moisturize the skin, and make fine lines and wrinkles appear less visible.
Will this product make my skin too tight?
No, Lumière De Vie Needle helps hydrate and promote healthy skin as it increases softness.
---
Find Similar Products by:
* These statements have not been evaluated by the Food and Drug Administration.
* This product is not intended to diagnose, treat, cure or prevent any disease.
Shop Internationally