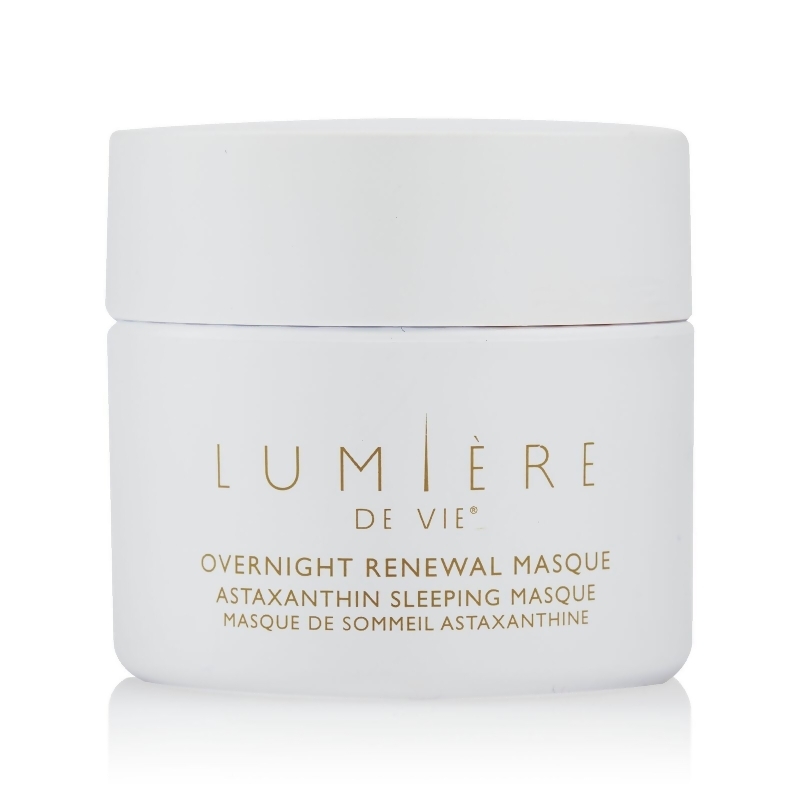 $60.00 USD
Earn $1.20 cash back!

Benefits
Gently exfoliates, revealing radiant looking skin that's smooth to the touch
Helps reduce the appearance of blemishes
Helps reduce the appearance of fine lines and wrinkles
Brightens to help reduce the appearance of dark spots while increasing skin luminosity
Adds moisture to the skin for a hydrated and supple complexion
Paraben-free
Details
Don't just dream of radiant skin; make it a reality with Lumière de Vie® Overnight Renewal Masque. Formulated with AstaReal®† astaxanthin (Haematococcus pluvialis extract), lactic acid and a unique blend of lipids, this luxurious masque melts into skin while you're sleeping for the ultimate overnight facial. The skin-loving formula gently exfoliates, brightens unwanted dark spots, and softens fine lines and wrinkles while replenishing moisture to your skin — so you can awaken to a smooth, hydrated and glowing complexion. Achieve true "I woke up like this" radiance with Lumière de Vie® Overnight Renewal Masque.
Our skin is the largest and one of the most complex organs of the body, so it's important to take special care of it. AstaReal® astaxanthin is a powerful antioxidant that helps enhance the health and radiance of your complexion. You can boost the benefits of Lumière de Vie® Overnight Renewal Masque when you use a dietary supplement that contains AstaReal® astaxanthin. We have two incredible sister brand dietary supplements that would work great for this purpose: Isotonix® Astaxanthin and Prime™ Astaxanthin Cardio and Visual Vitality Formula.** Shop them on our partner website, SHOP.COM!
†AstaReal® is a registered trademark of Fuji Chemical Industries Co., Ltd.
Customer Ratings
Ingredients
Lactic Acid
Lactic acid is an alpha hydroxy acid and a part of the skin's natural moisturizing factor. Lactic acid and the other alpha hydroxy acids are well known as effective exfoliants that help remove dead skin cells from the skin's surface. Lactic acid also helps to keep the skin hydrated, even skin tone, and reduce the appearance of fine lines and wrinkles for a smoother, more radiant-looking complexion.
Astaxanthin (Haematococcus pluvialis Extract)
Haematococcus pluvialis is a freshwater microalga that contains astaxanthin. Astaxanthin has been reported to have multiple actions. but is probably best known for its powerful antioxidant properties. In addition to being an antioxidant, astaxanthin can help moisturize the skin when applied topically. And when combined with oral supplementation, astaxanthin has been reported to reduce the appearance of fine lines and wrinkles, reduce the appearance of dark spots, and help the skin look smoother.
Ceramosides HP (Glycosphingolipids + Glycolipids)
This unique blend of lipids consists of both ceramides and omega-3, -6 and -9 fatty acids, all of which are components of the skin. These lipids can help support the skin's complexion and radiance and support a more even skin tone.
Acetyl Glucosamine
Acetyl glucosamine is a multi-functional skincare ingredient. In addition to promoting healthy skin hydration, acetyl glucosamine can help reduce the appearance of flakiness for smoother and softer-looking skin.
Hexylresorcinol
Hexylresorcinol is an organic compound with antioxidant properties and a long history of use in multiple applications. When used topically for skincare, hexylresorcinol helps the skin look brighter and reduces the appearance of dark spots.
Aqua/Water/Eau, Caprylic/Capric Triglyceride, Lactic Acid, PEG-8 Beeswax, PEG-8, Sodium Hydroxide, Bis-Diglyceryl Polyacyladipate-2, Dimethicone, Glycerin, Cetyl Alcohol, Sodium Acrylate/Sodium Acryloyldimethyl Taurate Copolymer, Acetyl Glucosamine, Butylene Glycol, Isohexadecane, Phenoxyethanol, Glyceryl Stearate, PEG-100 Stearate, Sodium Acrylates Copolymer, Hexylresorcinol, Isosorbide Dicaprylate, Potassium Azeloyl Diglycinate, Polysorbate 80, Lecithin, Fragrance (Parfum), Tocopheryl Acetate, Xanthan Gum, Disodium EDTA, Ethylhexylglycerin, Glycolipids, Glycosphingolipids, Sorbitan Oleate, Haematococcus Pluvialis Extract, Citronellol, Benzyl Benzoate , Linalool, Limonene, Alpha-Isomethyl Ionone, Geraniol.
FAQ
How do I use Lumière de Vie® Overnight Renewal Masque?
As the last step of your evening skincare regimen, apply a thin, even layer of masque over face and neck, avoiding the immediate eye area. Leave on overnight and rinse thoroughly in the morning. For best results use 2–3 times a week.
What skin type does Lumière de Vie® Overnight Renewal Masque work best for?
Dry skin types will find our Overnight Renewal Masque especially beneficial, as it locks in all the great hydrating benefits of the formula and creates a barrier on your skin to prevent excess drying while sleeping. The intense brightening and anti-aging benefits this formula offers will also suit mature skin and those who want to minimize the appearance of dark spots.
Why is Lumière de Vie® Overnight Renewal Masque peach-colored?
Lumière de Vie® Overnight Renewal Masque is formulated with astaxanthin, which is red in color. The combination of the red pigment with the other skin-loving ingredients in our masque creates a peachy hue.
What is an overnight masque?
Overnight masques are formulated to deliver a concentrated treatment to your skin while you sleep. This type of masque sits on top of your skin and works as a seal to keep out dirt and other grime you don't want in your pores while locking in the key ingredients and moisture you do want. As you sleep, the masque gradually penetrates your skin for an intense treatment.
Should I moisturize before using the Lumière de Vie® Overnight Renewal Masque?
Yes! Our Lumière de Vie® Overnight Renewal Masque should be used as the last step of your regimen, even after applying your moisturizer and facial oils.
What tool do you recommend for applying this masque?
We recommend using the masque tool that comes in our Lumière de Vie® Skincare Brush Collection. Using a tool/brush is a great way to keep your masque free from germs and oils. Even clean hands have natural oils that, when put into your products, can decrease their effectiveness over time. All the brushes in our Skincare Brush Collection are reusable and can be used in many of your products as long as they are washed between uses!
Is it normal for the product color to change overtime?
Yes, heat can cause the coloring to darken over time. We recommend storing your masque in a cool, dry place and making sure to replace the inner seal after each use to slow the color-changing process.
What serving size of astaxanthin supplements do I need to take to get the combined benefits of both topical and oral use?
Based on clinical studies, the recommended serving size is 4mg per day in combination with the morning and evening use of a topical astaxanthin product.**
Do you have any astaxanthin supplements you would recommend taking along with the Lumière de Vie® Overnight Renewal Masque?
Yes! Available on SHOP.COM, as part of our sister brands, we offer both Isotonix® Astaxanthin and Prime™ Astaxanthin Cardio and Visual Vitality Formula. Both products are highly rated and offer wonderful benefits that would partner great with Lumière de Vie® Overnight Renewal Masque. Learn more and shop them at SHOP.COM!
Is Lumière de Vie® Overnight Renewal Masque tested on animals?
Lumière de Vie® does not conduct or commission animal testing of any finished product.
---
Find Similar Products by:
* These statements have not been evaluated by the Food and Drug Administration.
* This product is not intended to diagnose, treat, cure or prevent any disease.
Shop Internationally