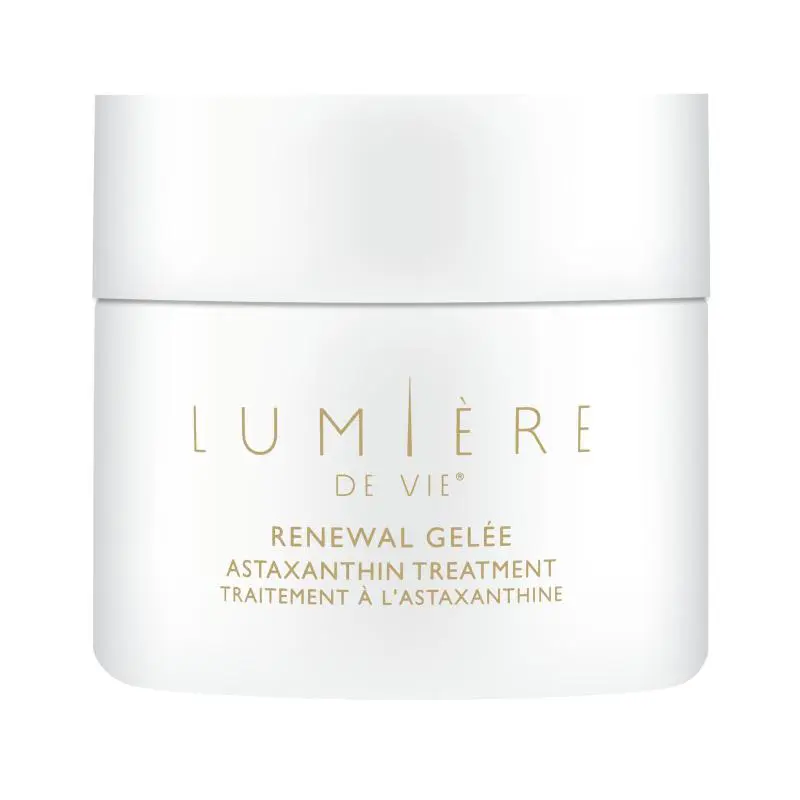 $65.95 USD
Single Jar (2.0 Oz./ 56 g)
Earn $1.32 cash back!

Benefits
Intensely moisturizes for refreshingly hydrated skin
Smooths and evens skin tone for a renewed complexion
Helps reduce the appearance of fine lines and wrinkles
Helps reduce the appearance of redness while increasing skin luminosity
Provides advanced antioxidant protection
Paraben-free
Details
The secret solution to renewed radiance, Lumière de Vie® Renewal Gelée is the ultimate astaxanthin treatment, powered by advanced science and research. AstaReal®* (astaxanthin) works synergistically with a unique blend of lipids and algae polysaccharides to penetrate the skin to help improve hydration, provide advanced antioxidant protection and help maintain and renew the skin's texture and complexion. Delivered in a unique, jelly-like texture, this cutting-edge formula glides across skin effortlessly, allowing the skin to quickly absorb all the benefits this treatment has to offer. Experience a new way to do skincare with Lumiere de Vie Renewal Gelée.
Our skin is the largest and one of the most complex organs of the body, so it's important we take special care of it. AstaReal® astaxanthin is a powerful antioxidant that helps enhance the health and radiance of your complexion. You can boost the benefits of Lumière de Vie® Renewal Gelée when you use a dietary supplement that contains AstaReal® astaxanthin. We have two incredible sister brand dietary supplements that would work great for this purpose: Isotonix® Astaxanthin and Prime™ Astaxanthin Cardio and Visual Vitality Formula.** Shop them on our partner website, www.shop.com!
*AstaReal® is a registered trademark of Fuji Chemical Industries Co., Ltd.
Customer Ratings
Ingredients
Astaxanthin (Haematococcus pluvialis Extract)
Haematococcus pluvialis is a freshwater microalga that contains astaxanthin. Astaxanthin has been reported to have multiple actions but is probably best known for its powerful antioxidant properties. In addition to being an antioxidant, astaxanthin can help moisturize the skin when applied topically and when combined with oral supplementation, astaxanthin has been reported to reduce the appearance of fine lines and wrinkles, reduce the appearance of dark spots and help the skin look smoother.
Ceramosides HP (Glycosphingolipids + Glycolipids)
This unique blend of lipids consists of both ceramides and omega-3, -6, and -9 fatty acids, all of which are components of the skin. These lipids can help support the skin's complexion and radiance and support a more even skin tone.
AesthiGel (Water + Carrageenan + Sea Salt)
Carrageenans are a family of polysaccharides obtained from marine algae. This particular carrageenan is derived from the red sea algae Furcellaria lumbricalis. It has been reported to help moisturize the skin and help it to look smooth.
PhytoSpherix (Glycogen)
This natural form of glycogen is a highly branched, multi-functional polysaccharide that is used for its humectant and film-forming properties. It helps revitalize the skin's appearance by moisturizing the skin and reducing the appearance of wrinkles for a smoother look. It also helps brighten the skin and even skin tone for a more radiant-looking complexion.
Aqua/Water/Eau, Methylpropanediol, Polyacrylate Crosspolymer-6, Xylitylglucoside, Anhydroxylitol, Sodium Benzoate, Citric Acid, Glycogen, Xylitol, Potassium Sorbate, Glycolipids, Glycosphingolipids, Haematococcus Pluvialis Extract, Phenoxyethanol, Carrageenan, Maris Sal/Sea Salt/Sel Marin, Fragrance (Parfum), Citronellol, Benzyl Benzoate, Linalool, Limonene, Alpha Isomethyl Ionone, Geraniol.
FAQ
How do I use Lumière de Vie® Renewal Gelée?
Using the included spatula, scoop out desired amount of gelée and massage onto face, neck and décolletage using gentle, upward strokes. For best results, use morning and night.
Why is Lumière de Vie® Renewal Gelée pink?
Lumière de Vie® Renewal Gelée is formulated with astaxanthin which is a red color. The combination of the red pigment with the other skin loving ingredients in our gelee creates a pinkish red hue.
What is a Gelée?
Gelée is French for Jelly, which is a super lightweight hybrid between a gel and a cream. This unique texture absorbs almost instantly into the skin providing immediate hydration without any of the greasiness of a cream.
Do I have to use the included spatula to scoop out the Lumière de Vie Renewal Gelée?
While you do not have to use the included spatula, we definitely recommend it! Skincare spatulas are a great way to keep your treatments & crèmes free from germs and oils. Even clean hands have natural oils which when put into your products can decrease their effectiveness over time. These spatulas are also reusable and can be used in many of your products if they are washed between uses! No matter how you look at it skincare spatulas are a win-win!
Is it normal for the product color to change overtime?
Yes, heat can cause the coloring to darken overtime. We recommend storing your gelée in a cool dry place and make sure to replace the inner sealing disk after each use to slow the color changing process.
What serving size of astaxanthin supplements do I need to take to get the combined benefits of both topical and oral use?
Based on clinical studies the recommended serving size is 4mg per day in combination with the morning and evening use of a topical astaxanthin product.**
Do you have any Astaxanthin supplements you would recommend taking along with the Lumière de Vie® Renewal Gelée?
Yes! Available on shop.com, as part of our sister brands, we offer both Isotonix® Astaxanthin and Prime™ Astaxanthin Cardio and Visual Vitality Formula. Both products are highly rated and offer wonderful benefits that would partner great with the Lumière de Vie® Renewal Gelée. Learn more and shop them at shop.com!
Is Lumière de Vie Renewal Gelée tested on animals?
Lumière de Vie does not conduct or commission animal testing of any finished product.
---
Find Similar Products by:
* These statements have not been evaluated by the Food and Drug Administration.
* This product is not intended to diagnose, treat, cure or prevent any disease.
Shop Internationally