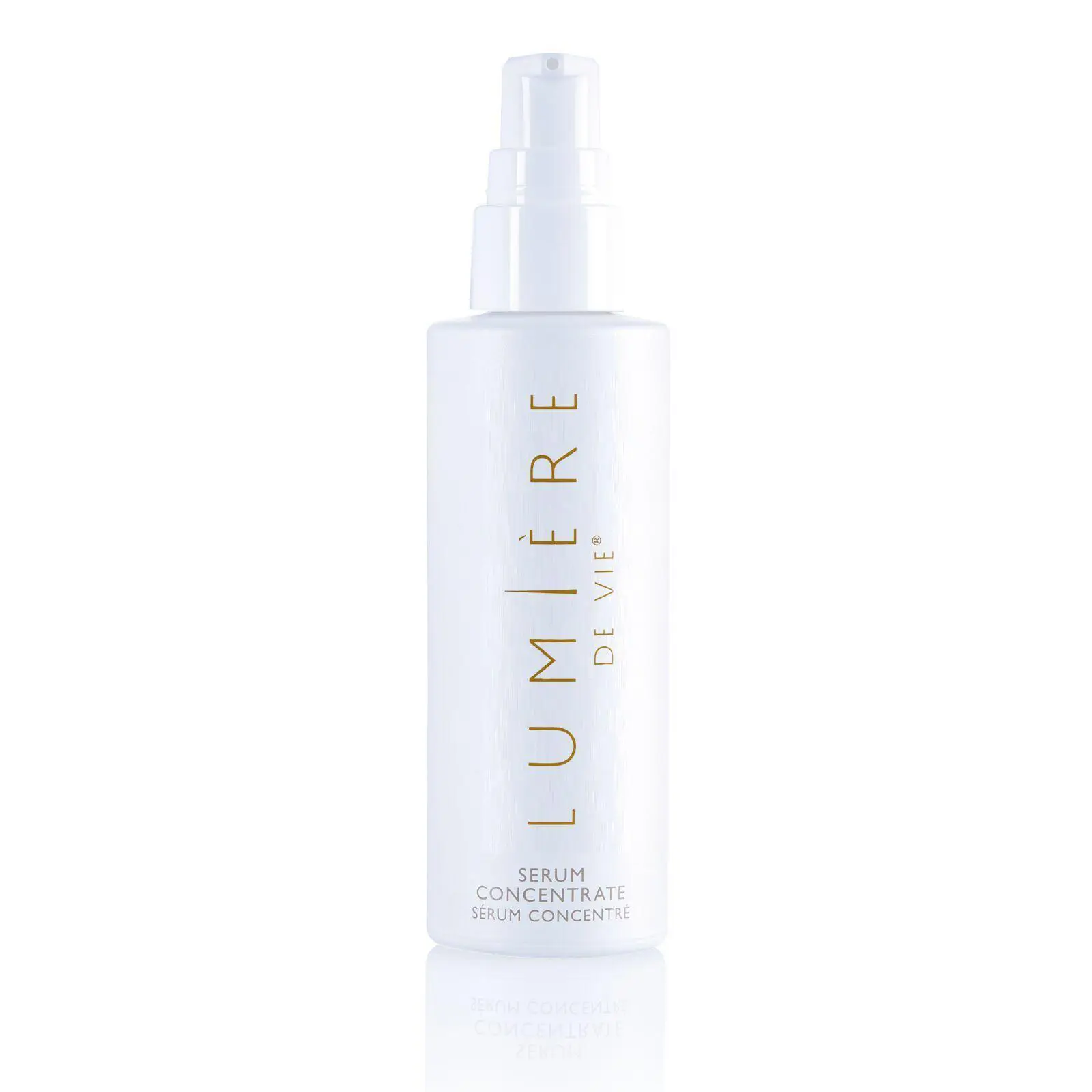 $86.95 USD
Single Bottle (2 fl oz/60 ml)
Earn $1.74 cash back!

Benefits
Promotes normal, healthy collagen and elastin to help the skin feel firmer and smoother
Reduces the appearance of fine lines and wrinkles
Helps brighten the skin for a more radiant complexion
Contains antioxidants help reduce the effects of oxidative stresses
Supports a healthy skin barrier function to keep the skin hydrated
Promotes a clear, healthy-looking complexion
Details
Nature meets science in Lumière de Vie® Serum Concentrate. Effective brighteners, antioxidants and the power of the sea come together in this potent treatment to deliver lasting radiance for a complexion that looks as young as it feels. Formulated to help treat the visible signs of aging by reducing the appearance of fine lines and wrinkles, brightening unwanted dark spots and imparting essential moisture to the skin. This concentrated serum promotes healthy collagen for firmer, smoother-looking skin while also reducing the effects of oxidative stressors for a healthier-looking complexion.
Customer Ratings
Ingredients
Juvenessence® (Algae Extract)
A novel brown algae extract that helps protect the skin from oxidative stress caused by the environment and supports the skin barrier function to keep the skin hydrated. These properties of Juvenessence® help the skin to feel firmer and smoother and thus reduce the appearance of premature skin aging.
Bakuchiol is a multi-functional anti-aging ingredient that promotes healthy collagen and elastin in the skin and helps protect the skin from oxidative stress. Bakuchiol may also help support normal skin barrier function to keep the skin hydrated, soothe the skin, and promote healthy, normal sebum production for a healthy looking complexion.
Synovea® HR (Hexylresorcinol)
A potent skin brightening ingredient that has been shown to reduce the appearance of dark spots. In addition to its skin brightening benefits, Synovea® HR helps support the skin's natural antioxidant system to help protect the skin from oxidative stress.
Tetrahexyldecyl Ascorbate
Tetrahexyldecyl ascorbate is a lipid soluble form of vitamin C. Like vitamin C, it has been reported to promote healthy skin collagen and help brighten the complexion.
Squalane is a hydrogenated version of squalene. Squalene is an oily liquid that is part of other oils like wheat germ oil, olive oil, rice bran oil, and more. Squalene has excellent moisturizing benefits and acts as a lubricant on the skin's surface to help the skin maintain a smooth and soft appearance.
Acetyl glucosamine is a multi-functional skin care ingredient. In addition to promoting healthy skin hyaluronic acid and hydration, it has been reported in several studies to reduce the appearance of dark spots. These benefits help even skin tone and promote a younger-looking complexion.
Caffeine has antioxidant and skin soothing properties that can help protect your skin from oxidative stress while also making your skin feel invigorated.
Allantoin has anti-irritant properties, which help to protect and soothe your skin, leaving it feeling softer and smoother.
Centella asiatica (Gotu Kola) Extract
Also known as gotu kola and Indian pennywort, Centella asiatica is a vine-like plant native to India and Southeast Asia that contains several antioxidant compounds and has been used as a part of the Ayurvedic culture for thousands of years.
Tocopheryl Acetate (Vitamin E)
Vitamin E is a family of related compounds called tocopherols and tocotrienols. The vitamin E family is well known for its antioxidant capabilities, protecting the skin by neutralizing oxidative free radicals.
Aqua/ Water/Eau, Cyclopentasiloxane, Butylene Glycol, Peg-8, Dimethicone, Polysilicone-11, PEG-10 Dimethicone, Polyacrylate-13, Acetyl Glucosamine, Decyl Glucoside, Phenoxyethanol, Polyisobutene, Polysorbate 20, Caffeine, Squalane, Ethylhexylglycerin, Lavandula Angustifolia (Lavender) Oil, Bakuchiol, Hexylresorcinol, Tetrahexyldecyl Ascorbate, Caprylic/Capric Triglyceride, Algae Extract, Allantoin, Panthenol, Tocopheryl Acetate, Mentha Arvensis Leaf Oil, Citrus Limon (Lemon) Peel Oil, Cupressus Sempervirens Leaf/Nut/ Stem Oil, Lavandula Hybrida Oil, Cistus Ladaniferus Oil, Carbomer, Centella Asiatica Extract, Disodium EDTA, Sodium Hyaluronate, Triethanolamine, Magnesium Aspartate, Zinc Gluconate, Copper Gluconate.
FAQ
Will I see results immediately?
No, Lumière de Vie Serum Concentrate is designed to reduce the appearance of dark spots and promote a more even-looking skin tone.
Will this product reduce the appearance of fine lines and wrinkles?
Yes, this product is formulated to moisturize the skin, and to make fine lines and wrinkles appear less visible
Will the Serum Concentrate make my skin too tight?
No, Lumière de Vie Serum Concentrate helps to moisturize and promote healthy skin. This product will hydrate your skin and help to increase its softness.
How does this product reduce the daily stresses of environmental factors?
Various environmental factors like pollutants can cause oxidative stress through the formation of free radicals. Lumière de Vie Serum Concentrate contains antioxidants that help protect against oxidative stress to maintain normal skin health.
What are antioxidants, and what do they do?
Antioxidants are molecules that reduce or block the oxidation of other molecules. While oxidation is normal biological process, it can also result in the formation of reactive oxygen species and free radicals that can negatively impact normal skin health. Exposure to oxidative stressors and environmental pollutants can lead to oxidative stress in the skin, an imbalance between the oxidation process and our skin's normal antioxidant defenses. Antioxidants interact with free radicals and reactive oxygen species to minimize the negative effects of oxidative stress; therefore, using skincare products that contain antioxidants can help maintain normal skin health and keep it more youthful looking.

---
Find Similar Products by:
* These statements have not been evaluated by the Food and Drug Administration.
* This product is not intended to diagnose, treat, cure or prevent any disease.
Shop Internationally