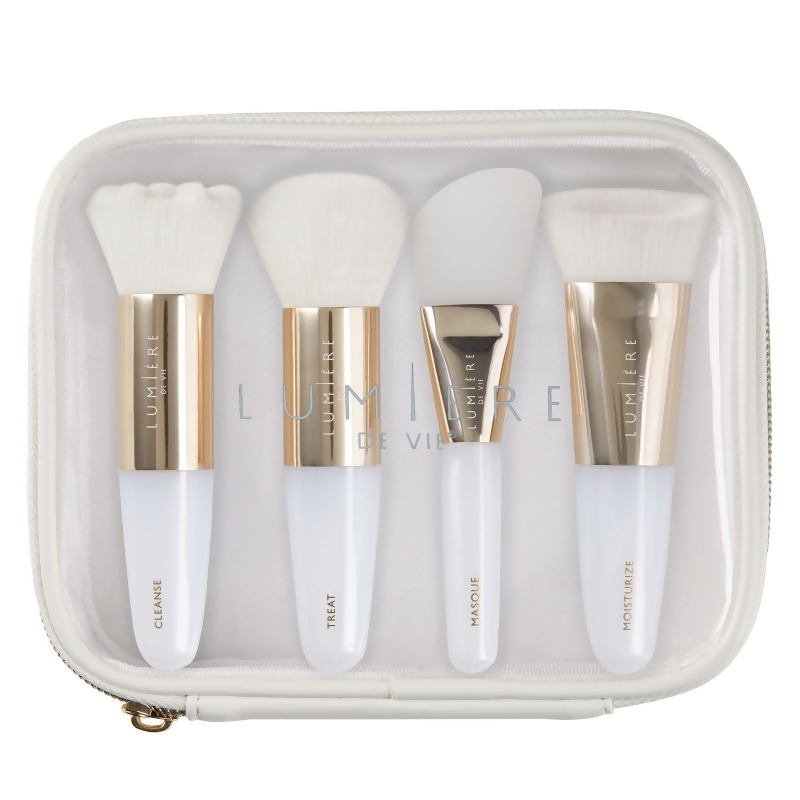 $45.00 USD
Earn $0.90 cash back!

Benefits
Allows for totally hands-free skincare application
Includes four luxe brushes for use at each step of your regimen
Fully synthetic brush fibers are soft yet dense to maximize skincare product benefits
Silicone masque brush applies masque formulas evenly without waste
Packaged in a chic case ready for travel
Details
It's time to level up your skincare routine. With its innovative, hands-free approach, the Lumière de Vie® Skincare Brush Collection offers an elevated, more hygienic way to apply your skincare products. This collection includes four unique brushes designed to expertly cleanse, treat, masque and moisturize your skin. They are cruelty-free and created with the softest, fully synthetic fibers for the most refreshing experience ever.
Customer Ratings
FAQ
What brushes come with the Lumière de Vie® Skincare Brush Collection?
Each brush collection comes with the four mini skincare brushes listed below, for each step of your regimen — all packaged in a chic zipper pouch. Each brush is labeled for its corresponding step for easy reference.
Cleansing Brush:

This scalloped cleansing brush design helps clear pores while gently washing away dirt and excess oil.

Treatment Brush:

This rounded brush design gives you a gentle, touch-free way to pat in treatments.

Masque Tool:

The specially angled silicone design is the perfect, mess-free way to evenly apply cream, clay and mud masques.

Moisturizer Brush:

This unique dome-shaped brush design allows you to easily scoop/pick up product and massage moisturizer into the skin.
How do I use the Lumière de Vie® Skincare Brush Collection?
Cleanse:

Wet your face with warm water. Apply cleanser to the brush and gently buff your face and neck in a circular motion. Then, rinse.

Treat:

Apply a few drops of your desired treatment onto the brush or into your palm. Gently stipple the brush onto the face or desired treatment area. Then, allow the treatment to soak into the skin.

Masque:

Apply your favorite masque to the silicone brush. Using soft, swiping motions, apply an even layer to the skin.

Moisturize:

Scoop up desired amount of moisturizer and apply it to the face and neck in a sweeping motion until the product is fully absorbed.
How do I care for my brushes?
Daily Cleanse: Rinse brushes thoroughly after each use and let them dry on a clean towel with bristles facing down. When brushes are dry, store them in the provided pouch.
Monthly Cleanse: Deep-clean your brushes once a month by washing them with soap and rinsing with warm water. Let them dry on a clean towel with the bristles facing down.
*Use Tip: Always use gentle motions when using your skincare brushes on skin. This will be better for the skin and will help your brushes last longer.
Is the Lumière de Vie® Skincare Brush Collection tested on animals?
Lumière de Vie® does not conduct or commission animal testing of any finished product.
---
Find Similar Products by:
* These statements have not been evaluated by the Food and Drug Administration.
* This product is not intended to diagnose, treat, cure or prevent any disease.
Shop Internationally