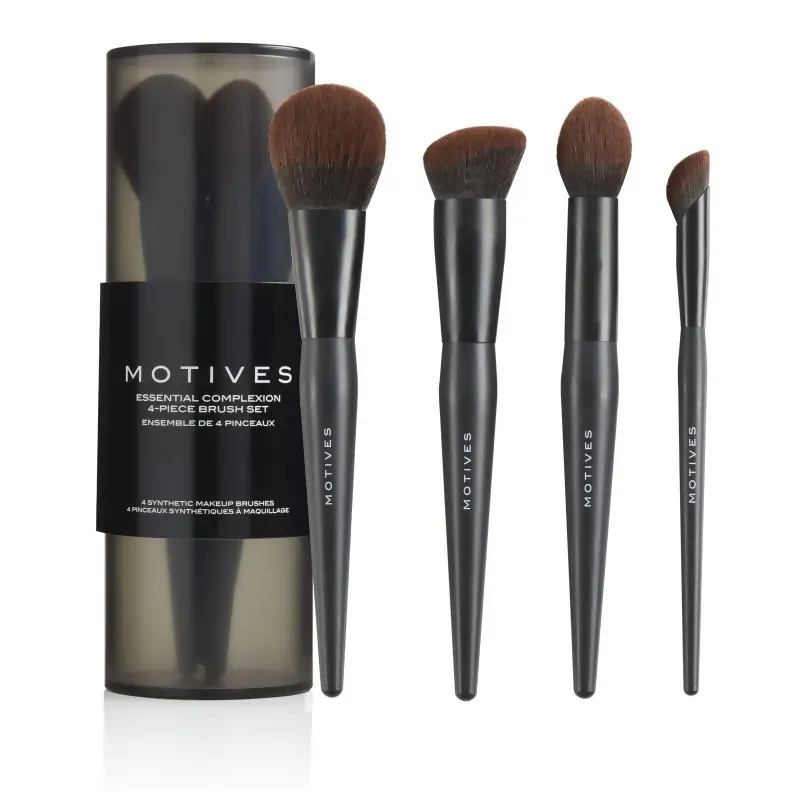 $52.00 USD
Includes four synthetic makeup brushes and one storage case
Earn $1.04 cash back!

Benefits
Includes four luxe brushes to create flawless full-faced looks
Made with super soft, vegan and cruelty-free synthetic bristles
Sleek and comfortable handles are thoughtfully made with 20% PCR material
Hard shell cup style holder is perfect for storage and travel
Details
Sweep on a flawless complexion with the Motives® Essential Complexion 4-Piece Brush Set. This tag team of brushes is incredibly plush, soft and flexible with just the right amount of density for a smooth, luxurious application of liquid, cream and powder formulations. Whether you are a beginner or pro, these four luxe brushes will help you take your artistry and complexion to the next level. This set includes a medium-sized powder brush; angled, buffing foundation brush; tapered highlighter brush; and angled concealer brush.
Bristles:
Designed with elegant two-tone black and dark brown 100% synthetic bristles. Soft, flexible and created for optimal performance for beginners or pros.
Handle:
Created with comfort in mind, our sleek matte-black handles fit perfectly in the hand for easy application and expert execution. Thoughtfully made from 20% post-consumer recycled material.
Case:
Packaged in a durable, frosted black plastic container that is great for travel and for storing your brushes. The hard shell keeps brushes safe and clean. Sit the cup on your vanity or makeup table; both the top and bottom become containers to hold your favorite brushes, allowing easy access while applying makeup.
The Motives Essential Complexion 4-Piece Brush Set includes all the essential makeup brushes to create a flawless, full-faced look:
Powder Brush:

Gripping gently toward the bottom of the handle, lightly sweep on powders, blushes and bronzers. This medium-sized, rounded powder brush gives you a gentle application and is perfect for creating buildable coverage.

Foundation Brush:

This angled foundation brush will allow you to apply liquid formulas like a dream. With the perfect amount of softness and density, this brush will help pick up, place and evenly distribute product to all contours of the face.

Highlighter Brush:

Get your glow on with just a few sweeps when using this incredibly lush brush featuring a tapered head, which allows you to apply as much or as little product at a time as you would like.

Concealer Brush:

Applying concealer just got more exciting with this innovative, angled, fan-like concealer brush. With a 40°-angle cut ferrule, this brush has the perfect shape and density to blend and reach in the smallest areas and contours of the face.
Customer Ratings
Motives Cosmetics
Through cutting-edge technology and attention to quality, Motives is a world leader in the cosmetics industry. Motives is worn by some of today's hottest celebrities and is a favorite of makeup artists, models and photographers. We strive to empower people everywhere to look and feel beautiful inside and out, and provide people with an opportunity to live the lifestyle they have always dreamed of. Motives has been featured in industry-leading publications, such as Vogue, Allure, Lucky, People Style Watch, and InStyle.
Motives by Loren Ridinger | Best Sellers | Gift Sets and Palettes
FAQ
What does the Motives® Essential Complexion 4-Piece Brush Set include?
The Motives Essential Complexion 4-Piece Brush Set includes four luxe makeup brushes: powder brush, angled foundation brush, tapered highlighter brush and angled concealer brush. This perfectly curated set includes all the essential face brushes you need to create flawless look.
How do I care for the brushes in the Motives Essential Complexion 4-Piece Brush Set?
Squeeze a few drops of brush cleaner or gentle soap/shampoo into a glass or mug and fill with warm water. Swirl your brushes in the cup and gently massage against the bottom/side to loosen any built-up makeup. Rinse brushes with water until it becomes clear and no makeup or soap is left. Squeeze out excess water and reshape bristles if needed before laying flat to dry. We recommend cleaning brushes at least once a week for best results.
We are so glad you asked! PCR is short for post-consumer recycled, which means that plastic from existing sources are recycled to create "new" PCR plastic resin. This process helps repurpose resources that already exist and transform them into new products for consumers. The brush handles of our Essential Complexion Brush Set are thoughtfully made from 20% PCR plastic.
Is the case good for travel?
Absolutely! Our hard shell, cup style holder was made to be on the move as it protects your brushes from being flattened in your luggage and helps keep unwanted germs out. This chic case is also a great place to store your brushes on your vanity when you return from your adventures!
Is the Motives Essential Complexion 4-Piece Brush Set cruelty-free?
The Motives Essential Complexion 4-Piece Brush Set is made with 100% cruelty-free synthetic bristles.
---
Find Similar Products by:
* These statements have not been evaluated by the Food and Drug Administration.
* This product is not intended to diagnose, treat, cure or prevent any disease.
Shop Internationally