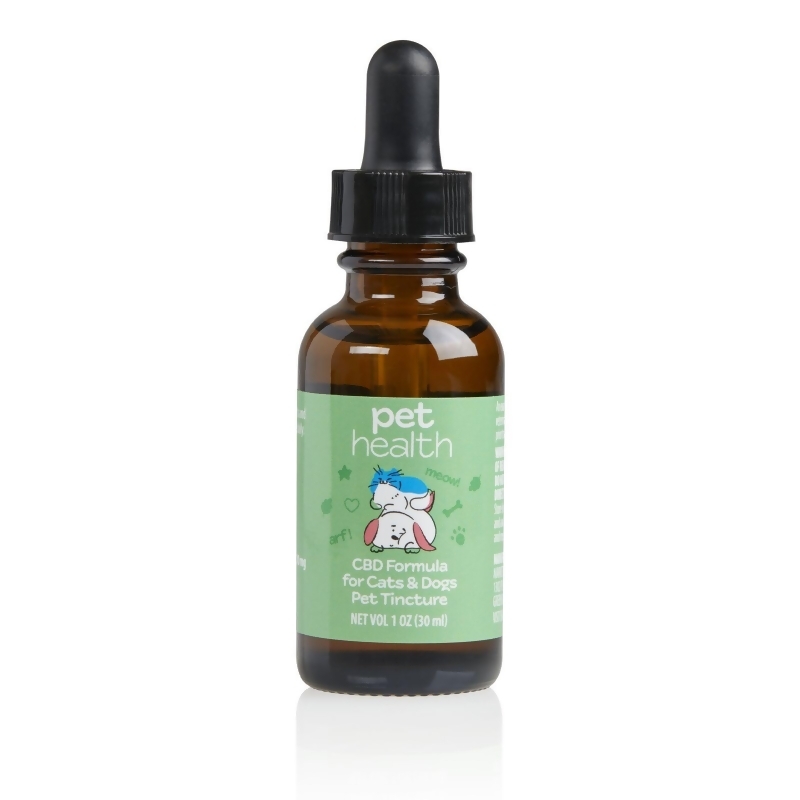 $27.95 USD
Earn $0.56 cash back!

Primary Benefits
May help maintain your pet's natural calmness
May support healthy joint function
What Makes This Product Unique?
From foods with all-natural ingredients to new innovative supplements, apparel and grooming services, research shows that pet owners are going above and beyond to keep their BFFs (best furry friends) content. As your pet's best friend, you can usually tell when something seems off with them. For example, they may be showing signs of discomfort, cowering in a corner during thunderstorms, or acting up at the sight of suitcases knowing you will be leaving. Pet Health CBD Formula for Cats & Dogs Pet Tincture is purrfect for pet owners seeking to support their pet's joint comfort and activity or looking to help support calmness in their pets. Pet Health CBD Formula for Cats & Dogs is formulated with 10 mg of CBD (cannabidiol) per dropper, THC free, and enhanced with a tasty salmon flavor that both cats and dogs will enjoy.
Statistics show that cats and dogs are the most prevalent among pet owners in the U.S., which has led to the creation of a huge market for dog and cat products. A 2021 survey conducted by the American Pet Products Association reported that as many as 70% of U.S. households have pets with 54% of those respondents being dog owners and 35% being cat owners. Proper care and regular visits to the vet have enabled many cats and dogs to live up to even 14 years, making them another member of the family. Like humans, as pets age, their bodies change, and mobility and activity may become limited or more challenging for them. For this reason, many pet owners are seeking out CBD-infused oil, which may help support joint comfort and activity for their pets.
Studies show that CBD helps support the Endocannabinoid System (ECS), which can influence appetite, memory and comfort by calming endocannabinoid receptors. The CBD provided in Pet Health CBD Formula for Cats & Dogs Pet Tincture is the purest form of CBD and does not contain any THC or other compounds from the hemp plant, making it one of the safest CBD products your cats and dogs can enjoy without the unwanted side effects of excessive appetite or psychoactive effects. Evidence shows that consumption of CBD oil had joint comfort benefits and helped support active dogs.
As much as 80% of people in the U.S. consider their pets to be beneficial to their health and you can reciprocate by aiding their quality of life. Pet Health CBD Formula for Cats & Dogs comes in a tincture that makes it easier to put on your pet's favorite treat or administer directly by mouth. Your pet may begin to experience positive effects of the product within 30 minutes of administering. Put the wag back in their tail and the purr back into their day.
Delivering 10 mg of CBD per dropper to support a sense of calm and comfort! Your pet will thank you.
Key Ingredients
CBD (Cannabidiol from hemp): 10 mg per dropper
CBD, short for cannabidiol, is an industrial hemp flower from the botanical source Cannabis sativa. CBD is the non-psychoactive constituent of cannabis, meaning it does not have mind-altering effects. It is available in multiple forms, including full spectrum and isolates. Although minimal, full spectrum CBD may contain trace amounts of THC, the psychoactive constituent that many identify marijuana by. In contrast, this product contains a CBD isolate – quite literally meaning it has been isolated – which contains no THC.
FAQs
What is the difference between CBD isolate, full-spectrum and broad-spectrum?
CBD isolate is separated from other CBD compounds, meaning it does not contain any THC or other terpenes that full spectrum products have in them. While full-spectrum products should not contain more than 0.03% THC, by law, many people still want a THC free option. Broad-spectrum CBD products contain terpenes which are known to cause the "entourage effect", meaning it may enhance the effects associated with CBD. Broad-spectrum products may also contain very small trace amounts of THC, but generally not enough to contribute to the feeling that the THC may provide in full-spectrum products. Many pet owners want the focused support of cannabidiol for their furry friends.


What are the directions for use?
This CBD Tincture can be administered to your pet daily or as needed orally or mixed with food. The amount you give your pet is based on your pet's (cats and dogs only) weight. Shake before use. As with any tincture, the dropper will not be filled. It will contain an air bubble at the top. One dropper is equivalent to 24 drops.

Cats and dogs 1-25 pounds – 1 dropper
Dogs 26-50 pounds – 2 droppers
Dogs 51-74 pounds – 3 droppers
Dogs >75 pounds – 4 droppers
(1 dropper= 1 mL or 24 drops)
10 mg CBD (cannabidiol from hemp) per dropper


What are the benefits of tinctures for pets?
Unlike pills and powders, tinctures make it simple to give your pets an oral dose directly or add it to their food. Most tinctures contain pleasant flavors that encourage pets to cooperate.


What are the potential side effects may pet may experience from taking this product?
It's recommended that your pet be examined by a veterinarian before giving them this product to ensure it is safe for them to consume. Mild side effects may include drowsiness, panting, diarrhea, vomiting and/or urinary incontinence. If your pet experiences any of these side effects, they may be consuming too much of the product or may benefit from consuming less of the recommended dose.


What pets would benefit from using the Pet Health CBD Tincture?
CBD has been shown to maintain a feeling of calm and support joint health. Pet Health CBD Formula for Cats & Dogs Pet Tincture offers a natural alternative that may help support joint comfort and wellbeing in pets.


How is the Endocannabinoid System affected by cannabidiol (CBD)?
The Endocannabinoid System (ECS) contains neurotransmitters that send signals through the body and help maintain homeostasis for comfort and hunger. Endocannabinoids are found in many areas of the body and in various organs, including the brain and muscles. Cannabinoids, such as CBD, can help slow down cannabinoid receptors and may help maintain calmness.
---
Find Similar Products by:
* These statements have not been evaluated by the Food and Drug Administration.
* This product is not intended to diagnose, treat, cure or prevent any disease.
Shop Internationally