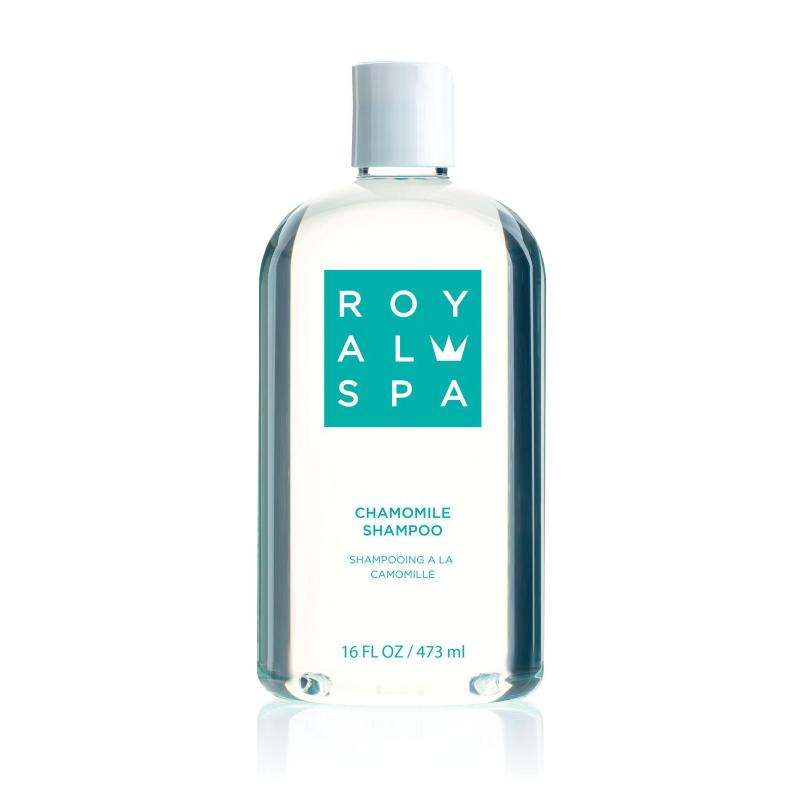 $18.95 USD
Earn $0.38 cash back!

Benefits
Frees hair of buildup without stripping its natural moisture Normalizes hair with enriched botanical extracts of chamomile, aloe vera, cherry bark, neutral henna and calendula Enhances your hair's natural beauty and volume, utilizing a special formulation of panthenol and wheat protein
Details
Enrich your hair with the botanical extracts of chamomile, aloe vera, cherry bark and more in this rich formula that gently cleanses away buildup. Unlike other shampoos, this formula is effective without stripping the hair of elements that help maintain moisture balance. The combination of ingredients in Royal Spa Chamomile Shampoo, which include extracts of aloe, chamomile, calendula, in addition to pro-vitamin B5 and wheat proteins, moisturizes and nourishes the hair. In addition, Royal Spa Chamomile Shampoo enhances the hair's natural highlights, imparting an attractive sheen and enhancing the hair with flattering body.
Customer Ratings
Ingredients
Aloe Vera Extract
Aloe vera is rich in enzymes, amino acids and plant compounds. These constituents of aloe vera help nourish and protect the hair from environmental stresses. This helps keep the hair looking and feeling vibrant, healthy and manageable.
Cherry Bark Extract
Cherry bark extract comes from the bark of the wild cherry tree and is reported to have moisturizing and conditioning benefits.
Chamomile Extract (English chamomile)
Used for its soothing and calming properties, it accentuates natural highlights and leaves a healthy sheen. Chamomile extract is perfect for sensitive scalp.
Neutral Henna Extract (Dried leaves of the henna shrub)
A colorless material that thinly coats the hair shaft, giving hair a reflective quality without adding color to hair.
Goldenseal (Root) Extract
Derived from the goldenseal plant native to eastern North America; is used for its soothing properties.
Calendula Extract
Calendula extracts are derived from pot marigolds and are rich in antioxidant compounds and triterpenes. Additionally, calendula extracts can help accentuate the natural highlights of blonde and brown hair.
Hops Extract (Dried white flower of the hop vine)
Used for its body-building and cleansing properties.
Soap Bark Extract (Tree bark)
Derived from the bark of the Quillaja Saponaria tree native to South America. Soap bark has natural mild soap and astringent properties.
Panthenol (Pro-vitamin B5)
Penetrates the hair shaft to moisturize dry, damaged hair, helps prevent split ends and smoothes the cuticle. Panthenol makes hair appear fuller and thicker
Phytantriol™ (Vitamin E precursor)
Used as an emollient and protective shield, it works synergistically with panthenol for superior moisturizing effects.
Hydrolyzed Whole-Wheat Protein (Wheat)
Hydrolyzed wheat protein is a moisturizing and conditioning protein derived from whole wheat. It increases the hair's ability to retain moisture, and impart shine and gloss to damaged and dull hair. Due to its low molecular weight, it easily penetrates the hair shaft, allowing it to attract and retain moisture, build body and reduce porosity, all of which improves hair manageability, luster and smoothness.

FAQ
How do I use Royal Spa Chamomile Shampoo?
Apply a small amount to wet hair. Massage into a light lather. Rinse thoroughly, then repeat if necessary.
What other Royal Spa products can I use with this product?
It's recommended that you use Royal Spa Tri-Protein Plus Deep Conditioner after using this product. Using the two together will promote the clean, conditioned and moisturized hair with a nice sheen.
Will this product alter my hair color?
No. While Royal Spa Chamomile Shampoo will brighten the appearance of your natural highlights, it will not actually brighten the color of your hair.
Is this product safe for daily use?
Yes! In fact, it's recommended.
Is this product tested on animals?
No. Royal Spa products are not tested on animals.

---
Find Similar Products by:
* These statements have not been evaluated by the Food and Drug Administration.
* This product is not intended to diagnose, treat, cure or prevent any disease.
Shop Internationally