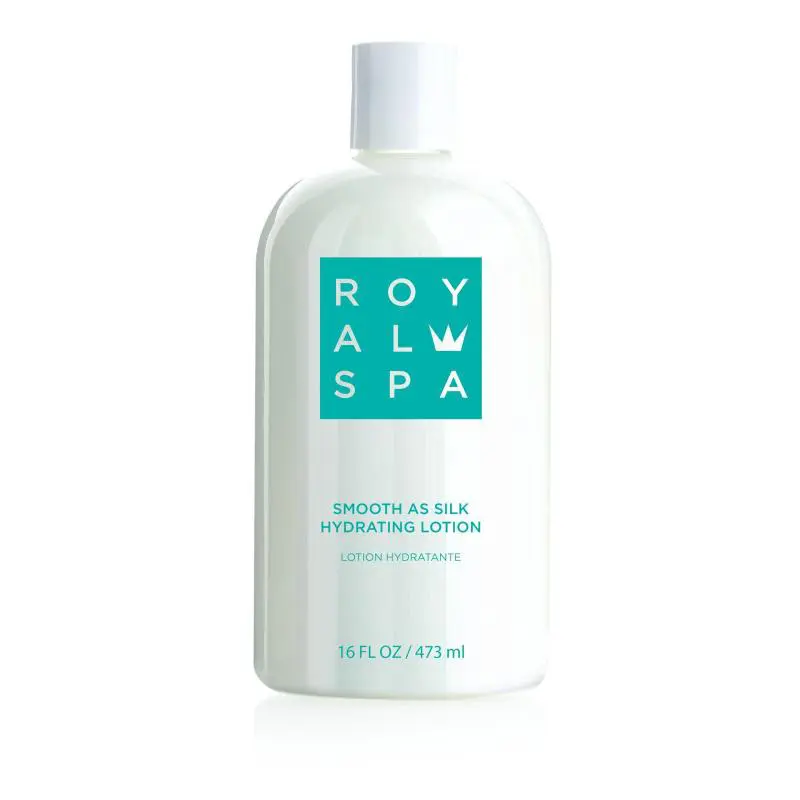 $29.75 USD
Single Bottle (16 fl. oz.)
Earn $0.60 cash back!

Benefits
Skin conditioner and moisturizer Delicious vanilla scent Softens and promotes skin elasticity by enhancing the skin's ability to hold moisture
Details
Royal Spa Smooth As Silk Hydrating Lotion is a skin conditioner and super-moisturizer, accented with the delicious scent of vanilla. Royal Spa Smooth As Silk Hydrating Lotion earned its name from the results it gives. With a combination of herbal blends and state-of-the-art ingredients, Royal Spa Smooth As Silk Hydrating Lotion soothes, softens and promotes elasticity of the skin by enhancing its ability to hold moisture.
Customer Ratings
Ingredients
Cetyl Ricinoleate
Cetyl ricinoleate is a fatty acid made from castor oil. It acts as an emollient to provide a light, silky miniaturization to the skin, helping to give the skin a smooth and soft appearance.
Aloe Vera Juice
Aloe helps calm and reduce the irritation that can occur during exfoliation. The high levels of natural enzymes found in aloe help dissolve dead skin cells, aiding in effective exfoliation. Aloe vera also acts to soothe the skin and may help regenerate new skin cells.
Squalene
Squalene is a natural component of human sebum, a mixture of lipids produced by glands in the skin. It is also found naturally in olive oil, wheat germ oil, rice bran oil, yeast and other foodstuffs. Squalene acts as a lubricant and conditioning agent to give your skin a smooth and soft appearance.

Ascorbyl Palmitate (Vitamin C)
Ascorbyl palmitate is a stable form of vitamin C that has similar vitamin C activity to ascorbic acid. Vitamin C is an important antioxidant vitamin that is essential for maintaining your skin's natural collagen. By supporting your skin's natural collagen, vitamin C helps your skin achieve a firmer, suppler and more youthful glow.
Carthamus Tinctorius (Safflower) Seed Oil
Safflower seed oil is obtained by pressing the seeds of the Carthamus tinctorius plant and is rich in linoleic acid, one of the essential fatty acids. Safflower seed oil acts as a protective barrier on the skin, keeping your skin moisturized, and imparting a smooth and soft appearance to your skin.
Glycerin
Glycerin is a naturally-occurring ingredient that helps balance the water levels in skin to facilitate moisture. In other words, glycerin attracts water to skin, and helps skin to feel smoother and softer. According to a study found in The Journal of Investigative Dermatology, glycerin makes skin look better by promoting healthy skin cells. It supports skin cells through their normal stages of maturity. This product helps maintain adequate moisture so the skin is soft and smooth as it should be.
Prunus amygdalus dulcis (Sweet Almond) Oil
A pale oil obtained from almonds ( Prunus amygdalus dulcis ). Rich in oleic and linoleic triglycerides, sweet almond oil is an excellent skin conditioning agent that helps keep your skin hydrated, and looking smooth and soft. Almond oil helps protect the surface of the skin, while conditioning the skin and promoting a clear young-looking complexion. Almond oil is also a great moisturizer that is appropriate for all skin types, but is especially effective on dry or irritated skin.
Retinyl Palmitate (Vitamin A)
Vitamin A is a natural antioxidant vitamin that helps to protect and nourish your skin. Vitamin A helps to maintain healthy collagen in your skin and protect your skin from free radicals, leaving more supple skin.
Tocopherol (Vitamin E)
Vitamin E is a powerful natural antioxidant vitamin that helps to protect and nourish your skin. Vitamin E helps to moisturize your skin while also protecting it from environmental factors, giving your skin a healthy and more youthful appearance.
FAQ
How do I use Royal Spa Smooth as Silk Hydrating Lotion?
Squeeze desired amount into your hands, and rub over your legs, arms and torso for smooth and hydrated skin.
Is this product safe to use on my face?
While you can, it's not recommended. Because Royal Spa Smooth as Silk Hydrating Lotion is formulated for the body, it is made to seep into thicker skin. The skin on your face is much more delicate than the skin on your body. For this reason, we recommend using a face moisturizer for your face instead.
Will using this product make my skin feel slippery?
This product is formulated to seep into your skin and hydrate from within, not stay on the surface. While there may be a thin layer on top of your skin to lock in moisture, it will not feel slippery. However, please note that every person's skin type and reaction to different products is different.
Will Smooth as Silk Hydrating Lotion alter the appearance of my skin?
To some extent, yes. While it will not color your skin in any way, it may make your skin look smoother and firmer. Because this product supplies the skin with moisture and locks it in, elasticity of the skin is improved making your skin look tighter.
Is this product tested on animals?
No. Royal Spa products are not tested on animals.
---
Find Similar Products by:
* These statements have not been evaluated by the Food and Drug Administration.
* This product is not intended to diagnose, treat, cure or prevent any disease.
Shop Internationally