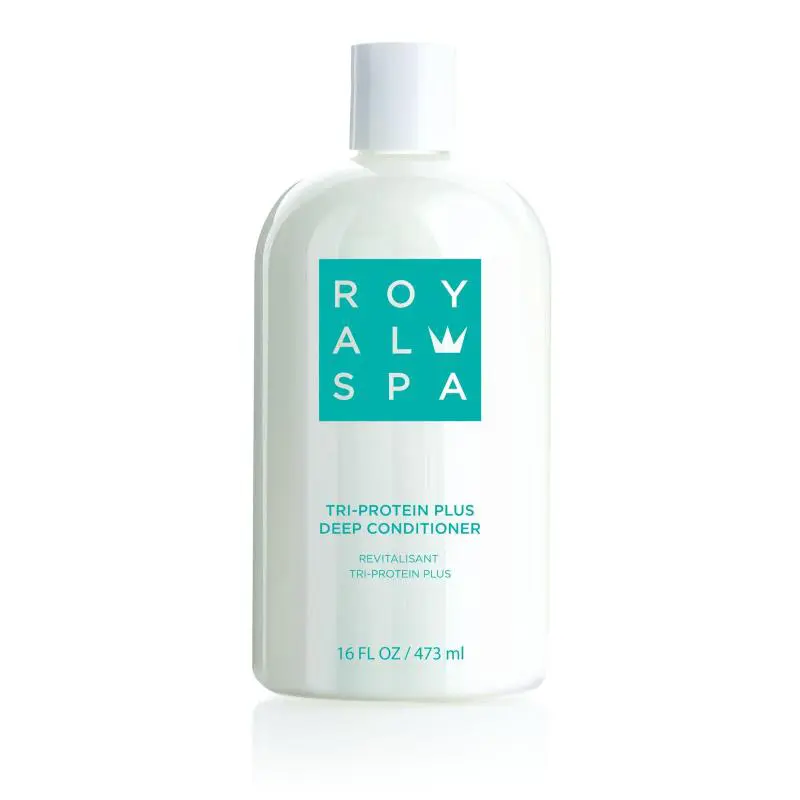 $22.75 USD
Single Bottle (16 fl. oz.)
Earn $0.46 cash back!

Benefits
Relaxes stressed hair Conditions and softens hair Fights flyaway hair and the frizz Deep penetrating conditioner for dry, damaged or chemically-treated hair
Details
Royal Spa Tri-Protein Plus Deep Conditioner is a deep penetrating conditioner perfect for dry, damaged or chemically-treated hair. Royal Spa Tri-Protein Plus Deep Conditioner is enriched with 19 amino acids, 14 essential vitamins, botanical extracts, and a special anti-static formula to relax stressed hair and fight flyaway hair and frizz. Royal Spa Tri-Protein Plus Deep Conditioner penetrates deep within the hair shaft to condition and soften hair.
Customer Ratings
Ingredients
Aloe Barbadensis Leaf Juice
Aloe barbadensis leaf juice contains natural conditioners that make hair soft, healthy and strong. Aloe contains amino acids, which can penetrate and nourish the hair, while also depositing a protective film on the hair that helps to retain moisture, body, shine and smoothness. Sulfur molecules found in cysteine bind to sulfur molecules in keratin (primary protein found in hair), which helps to strengthen and support hair quality.
Centella Asiatica (Gotu Kola) Extract
Also known as gotu kola and Indian pennywort, Centella asiatica is a vine-like plant native to India and Southeast Asia and has been used as a part of the Ayurvedic culture for thousands of years. Centella asiatica has been reported to support normal microcirculation and also has soothing benefits.
Hydrolyzed Wheat Protein
Hydrolyzed wheat protein is a moisturizing and conditioning protein derived from whole wheat. It increases the hair's ability to retain moisture, and impart shine and gloss to damaged and dull hair. Due to its low molecular weight, it easily penetrates the hair shaft, allowing it to attract and retain moisture, build body and reduce porosity, all of which improves hair manageability, luster and smoothness.
FAQ
How do I use Tri-Protein Plus Deep Conditioner?
After shampooing, work a quarter-sized amount through your hair from root to tip. For particularly long hair, you may want to put a bit more on the ends of your hair. Let the conditioner sit on your hair for about five minutes before washing it out to obtain the highest level of moisture and smoothness.
What other Royal Spa products can I use with this product?
It's recommended that you use Royal Spa Chamomile Shampoo before using this product. Using the two together will promote the optimal level of health for your hair.
I have thin hair. Will the Tri-Protein Plus Deep Conditioner make my hair greasy?
If you use a smaller amount of conditioner, it will not weigh your hair down. You may also want to avoid applying the conditioner on the roots of your hair, as your scalp is what produces the oils that make your hair feel greasy.
Will this conditioner control frizz?
Yes. Royal Spa Tri-Protein Plus Conditioner is formulated with special ingredients that hydrate and pacify your hair. When your hair is hydrated, there will be fewer flyaways and less frizz.
Is this product tested on animals?
No. Royal Spa products are not tested on animals.
Is this product safe for use on children?
Yes.
Is this product effective for curly hair?
Yes.
---
Find Similar Products by:
* These statements have not been evaluated by the Food and Drug Administration.
* This product is not intended to diagnose, treat, cure or prevent any disease.
Shop Internationally