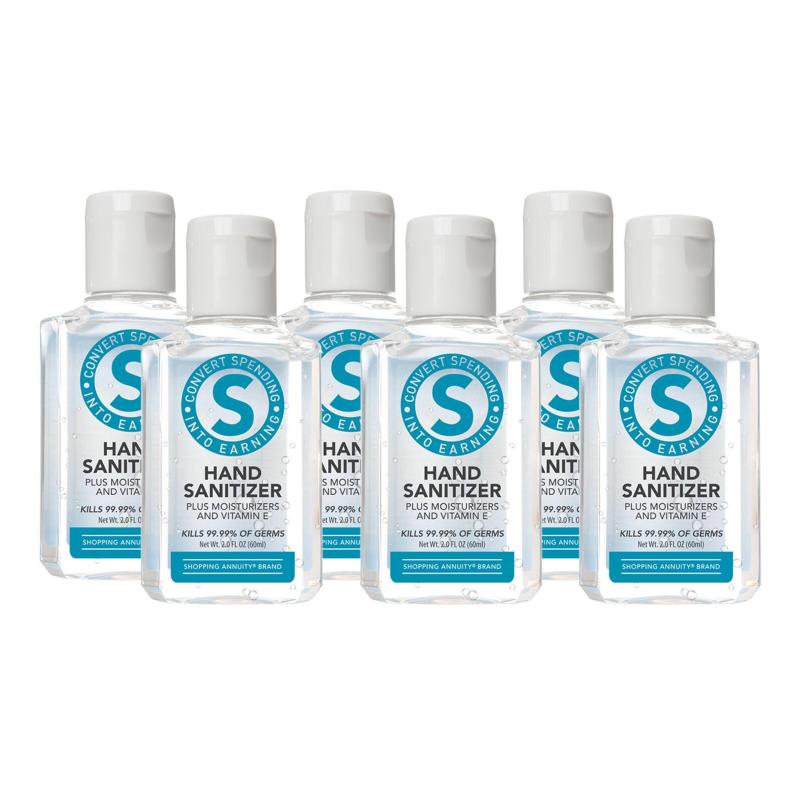 $10.99 USD
Earn $0.22 cash back!

Benefits
Kills 99.99% of most common germs that may make you sick
Pocketsize

Use anytime, anyplace without water or towels
Leaves hands feeling soft and smooth with moisturizers and Vitamin E

Leaves hands feeling refreshed without stickiness and residue
Details
Think about what you do in a normal day. Getting ready for work, getting the kids ready for their day, commuting to work, the long eight-plus hour workday – at your computer, talking on the phone, at the copy machine, out to lunch, trips back and forth to communal kitchen, socializing with co-workers – and so on. Now, think about everything you touch and come into contact with along the way. Are you feeling confident about how clean your hands are?
Five common ways to spread germs include1:
Nose, mouth, or eyes > hands > others
Hands > food
Food > hands > food
Infected child > hands to other children
Animals > people
Germs spread easily, but you can help make it harder by ensuring your hands are clean. Shopping Annuity® Hand Sanitizer is perfect to have on-hand for traveling, at work, or anytime you are on the go. Our hand sanitizer kills 99.99% of most common germs that may make you sick, and contains moisturizers and Vitamin E to keep your hands feeling soft and smooth, not rough and dry.
Keep your hands clean and fresh when you need it – without the stickiness and residue – with Shopping Annuity® Hand Sanitizer.

Sources:
1. Minnesota Department of Health. (n.d.). 5 Common Ways Germs are Spread. Retrieved from http://www.health.state.mn.us/handhygiene/why/5ways.html
2. (Found in FAQs) Centers for Disease Control and Prevention. (n.d.). When & How to Wash Your Hands. Retrieved from https://www.cdc.gov/handwashing/when-how-handwashing.html
3. (Found in FAQs)Centers for Disease Control and Prevention. (n.d.). Handwashing and Hand Sanitizer Use at Home, at Play, and Out and About [PDF]. Retrieved from https://www.cdc.gov/handwashing/pdf/hand-sanitizer-factsheet.pdf
Customer Ratings
Ingredients
Ethyl Alcohol (63% v/v), Carbomer, DMDM Hydantoin, Fragrance, Isopropanol, Propylene Glycol, Tocopheryl Acetate, Triethanolamine, Water
FAQ
Should I use a hand sanitizer over washing my hands?
To reduce the number of germs on your hands, the CDC says washing with soap and water is the best hand hygiene method. However, if soap and water is unavailable, an alcohol-based hand sanitizer containing at least 60% alcohol is a suitable substitute – unless your hands are visibly dirty or greasy.2
Shopping Annuity® Hand Sanitizer is perfect for use while out and about, especially when soap and water are not easily accessible.
How do I use this product?
Wet hands thoroughly with product and allow to dry without wiping – supervise children in the use of this product.
How often should I wash or sanitize my hands?
You should wash or sanitize your hands when you are exposed to germs or where you could possibly spread germs to others. For example3:
Before, during and after preparing food
Before eating food
Before and after caring for someone who is sick
Before and after treating a cut or wound
After using the toilet
After changing diapers or cleaning up a child who has used the toilet
After blowing your nose, coughing, or sneezing
After touching an animal, animal feed, or animal waste
After handling pet food or pet treats
After touching garbage
What is the shelf life of this product?
36 months
Are there any warnings or contraindications for this product?
For external use only.
Keep away from fire or flame.
Do not use in the eyes. In case of contact, rinse eyes thoroughly with water.
Stop use and ask a doctor if redness or irritation develops and persists for more than 72 hours.
Keep out of reach of children. If swallowed, get medical help or contact a Poison Control Center.
---
Find Similar Products by:
* These statements have not been evaluated by the Food and Drug Administration.
* This product is not intended to diagnose, treat, cure or prevent any disease.
Shop Internationally