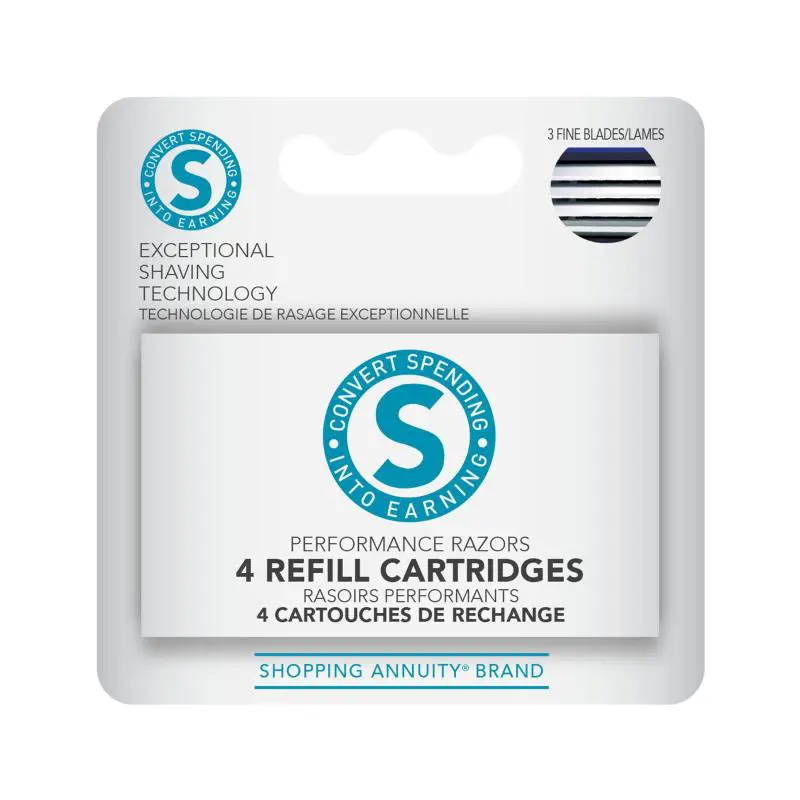 $9.99 USD
Includes 4 Refill Cartridges
Earn $0.20 cash back!

Benefits
Moisture Band
3 Fine Blades
Ergonomic design
Durable detachable razor head cartridges
Details
The Shopping Annuity Brand Performance Razors Refill Cartridges for Men includes four razor cartridges with soothing moisture protection. The moisture band, along with shaving cream, helps protect skin from dryness and irritation by gently lubricating, nourishing and conditioning for a more comfortable shave. The triple-blade cartridge helps you achieve close and precise shaves.
Our refill cartridges are conveniently designed to be compatible with our Shopping Annuity Brand Performance Razors Shaving System for Men.
Customer Ratings
FAQ
How many shaves can I get from one cartridge?
We suggest using each cartridge until the blades dull, are no longer clean, or as long as you are satisfied with your shave results. How long a blade lasts also depends on hair type.
Are there any warnings or contraindications for this product?
Razors should be kept out of reach of children.
Avoid touching or wiping the blades
Keep razors in a dry place
---
Find Similar Products by:
* These statements have not been evaluated by the Food and Drug Administration.
* This product is not intended to diagnose, treat, cure or prevent any disease.
Shop Internationally