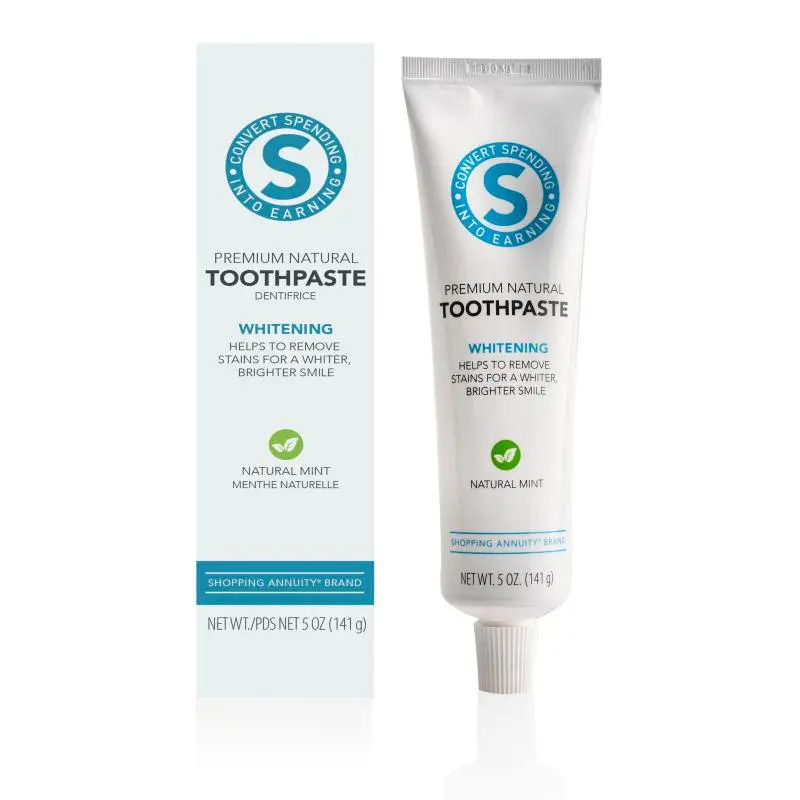 $9.99 USD
Single Tube (5oz.)
Earn $0.20 cash back!

Primary Benefits
Natural ingredients
Fluoride-free
No artificial colors and flavors
No artificial sweeteners
Helps clean and whiten teeth
Helps remove stains
What Makes This Product Unique?
Brushing your teeth is an essential part of healthy oral hygiene routines. We have to do it every day, at least twice a day. As often as you use toothpaste, do you know what is actually going into your mouth?
If you are looking to add a premium, natural product to your household for you and your family's oral health, Shopping Annuity Brand Premium Natural Toothpaste is a great solution to help clean your teeth, freshen your breath and whiten your teeth, with gentle ingredients.
Shopping Annuity Brand Premium Natural Toothpaste's whitening and brightening power is supported by bromelain and papain. Our toothpaste contains these two natural proteolytic enzymes that have been shown to help whiten teeth2. Natural calcium carbonate, a commonly used polishing agent, is also used to support teeth whitening.1
Another thing to consider is that many natural toothpastes are known to put taste on the back burner. Shopping Annuity Brand Premium Natural Toothpaste contains stevia, xylitol, and a blend of natural flavors to create a fresh, minty taste while you clean your teeth.
Our toothpaste contains no artificial colors, flavors or sweeteners. Just ingredients that gently clean and whiten your pearly whites.
Customer Ratings
Ingredients
Dicalcium Phosphate Dihydrate, Water (purified), Vegetable Glycerin, Calcium Carbonate, Organic Cocos, Nucifera (Coconut) Oil, Quillaja Saponaria Wood Extract,Organic Aloe Barbadensis Leaf, Xylitol, Carrageenan, Xanthan Gum, Stevia Rebaudiana Leaf/Stem Extract, Yucca Schidigera Leaf/Root/Stem Extract, Quillaja Saponaria Bark Extract, Smilax Aristolochiaefolia Root Extract, Dioscorea Villosa (Wild Yam) Root Extract, Papain, Bromelain, Natural Peppermint Flavor, Natural Menthol, Natural Spearmint Flavor, Natural Fennel Flavor, Iris Florentina (Orris) Root Powder, Propolis Extract, Organic Melaleuca Alternifolia (Tea Tree) Leaf Oil, Commiphora, Myrrha (Myrrh) Resin Extract.
FAQs
What are the key ingredients used in this toothpaste that will help clean and whiten my teeth?
Shopping Annuity Brand Premium Natural Toothpaste utilizes a combination of proteolytic enzymes (papain and bromelain) to help break down stains found on your teeth. Also, the combination of this with dicalcium phosphate and calcium carbonate within our formulation helps to safely and effectively remove stains and whiten teeth.
Is this toothpaste fluoride-free?
Yes, Shopping Annuity Brand Premium Natural Toothpaste is flouride-free.
Can Shopping Annuity Brand Premium Natural Toothpaste clean and whiten my teeth just as well as other toothpaste?
Our toothpaste uses a mild polishing agent, bromelain and papain, to gently remove materials from the surface of the teeth which can cause discoloration for clean teeth and a brighter smile.
What does Shopping Annuity Brand Premium Natural Toothpaste taste like?
Our toothpaste has a natural mint flavor.
Can both adults and children use this toothpaste?
Yes., Shopping Annuity Brand Premium Natural toothpaste can be used by both adults and children.
---
Find Similar Products by:
* These statements have not been evaluated by the Food and Drug Administration.
* This product is not intended to diagnose, treat, cure or prevent any disease.
Shop Internationally