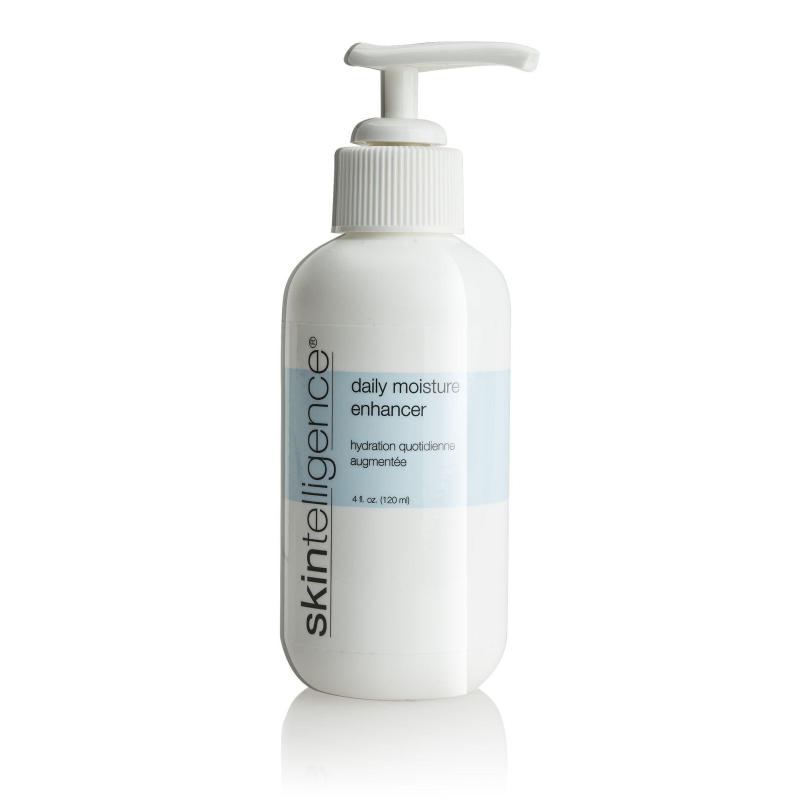 $24.95 USD
Earn $0.50 cash back!

Benefits
Carries five times its weight in water to hydrate skin cells
Plumps up skin cells to eliminate the appearance of fine lines
Contains antioxidants to combat the effects of free radicals
Protects the skin from premature aging
Works great under makeup
Leaves skin smooth and conditioned
Details
Skintelligence Daily Moisture Enhancer is a unique emulsion formula that protects and re-moisturizes the inner tissues to give your skin a smooth, firm and youthful-looking appearance. The formula is non-oily, naturally fragrant, pH balanced and may be applied under makeup. Skintelligence Daily Moisture Enhancer nourishes the skin with natural ingredients, including ginseng extract which helps soothe dry and irritated skin, and aloe extract helps keep your skin moisturized.
Customer Ratings
Ingredients
Dandelion Extract
Dandelion extracts contain a number of antioxidant and polyphenolic compounds, including luteolin. The compounds have been reported to protect against oxidative stresses, support normal antioxidant enzyme status and have soothing properties.
Bee Pollen Extract
Bee pollen contains a variety of vitamins, minerals and amino acids. Additionally, bee pollen extracts contain a number of antioxidant compounds. Together, these components make bee pollen extract an effective protector and nourishment for your skin.
Bladderwrack Extract
Made from seaweed, it contains trace minerals, amino acids and other vital nutrients. Bladderwrack extract has skin softening properties, promotes healthy blood circulations, and helps to balance and remineralize the skin.
Ginseng Extract
Made from the root of the Panax Ginseng plant and possesses skin-soothing benefits. Ginseng extracts can help protect the skin from photaging, soothe dry and irritated skin, and support healthy skin collagen.
Horsetail Extract
Horsetail extract is rich in saponins, flavonoids and plant-based silica. These natural plant compounds help to support healthy skin circulation and connective tissues, making your skin feel smoother, firmer and invigorated.
Aloe Extract
Aloe vera comes from the leaf of the aloe plant. Aloe vera helps to keep the skin moisturized and rejuvenates the skin, leaving it looking smooth and firm.
Avocado Oil
Avocado oil is a natural oil that is easily absorbed by the skin and transported deep into the tissue. Its wonderful hydrating properties make it ideal for dry, sun damaged, or mature skin.
Hydrolyzed Mucopolysaccharides
A complex of proteins and amino acids derived from plant extracts that moisturizes and lubricates the skin by binding moisture to the cells. These lubricating moisturizers can help maintain the skin's collagen, elasticity, flexibility, and texture.
Ergocalciferol (Vitamin D)
An important fat-soluble, antioxidant vitamin that promotes healthy skin.
Allantoin
Allantoin has anti-microbial and anti-irritant properties, which help to clean, protect and soothe your skin.
Geranium Extract
In addition to its cleansing action, geranium helps to maintain the balance between dry and oily skin, supports healthy circulation in the skin, and calms irritated skin, leaving your skin feeling invigorated.
Lavendar Oil
Lavendar extracts are good sources of phenolic acids and flavonoids that give lavender antioxidant and soothing benefits. These benefits help cleanse and protect the skin, while also helping to support normal skin tone and balance, and promote healthy skin cell growth.
FAQ
How do I use Skintelligence Daily Moisture Enhancer?
Apply a generous amount all over the face and neck in an upward motion.
How often should I use Skintelligence Daily Moisture Enhancer?
For best results, use twice daily — once in the morning and once at night.
Where does Skintelligence Daily Moisture Enhancer fall into my skincare regimen?
Start by cleansing with Skintelligence Hydra Derm Deep-Cleansing Emulsion and then apply Skintelligence pH Skin Normalizer. Follow with Skintelligence Daily Moisture Enhancer for a perfectly smooth and moisturized feel.
Who can use Skintelligence Daily Moisture Enhancer?
Skintelligence Daily Moisture Enhancer is ideal for normal, oily and sensitive skin types.
Was this product animal tested?
No, Skintelligence Daily Moisture Enhancer was not tested on animals.
---
Find Similar Products by:
* These statements have not been evaluated by the Food and Drug Administration.
* This product is not intended to diagnose, treat, cure or prevent any disease.
Shop Internationally