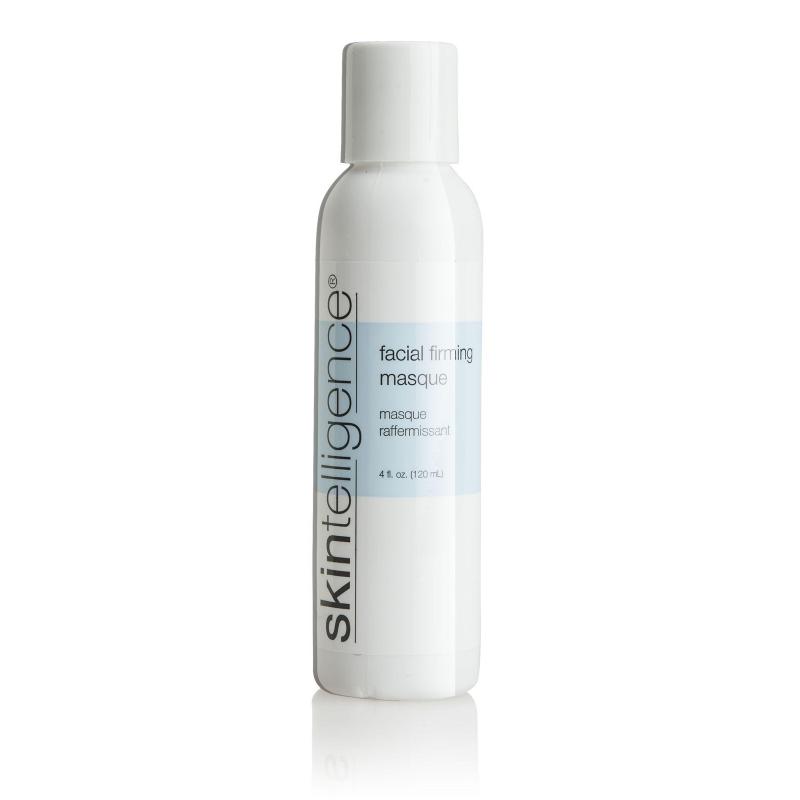 $27.95 USD
Earn $0.56 cash back!

Benefits
Deep cleanses the pores and removes sebaceous "pore-clogging" impurities
Skin appears tightened and toned
Reduces the appearance of fine lines and wrinkles
Leaves skin feeling soft and smooth
Easy to use; takes only 12 minutes
Details
All it takes is 12 minutes, twice a week for tighter, toned and smoother-looking skin! The Skintelligence Facial Firming Masque promotes circulation and helps improve skin texture while helping to temporarily reduce the visual effects of aging, stress and the environment. This firming mask deep cleans to remove extra oil and dirt from the pores while botanical ingredients such as aloe and lavender extract help to soothe irritated skin.
Customer Ratings
Ingredients
Aloe barbadensis (Aloe Vera) Leaf Juice
Contains enzymes, amino acids, vitamins, minerals, and natural plant compounds, aloe vera helps to keep the skin moisturized, maintain normal, healthy blood circulation, and soothes and rejuvenates the skin leaving it smooth and firmer-looking.
Geranium Maculatum Extract
In addition to its cleansing action, geranium helps to maintain the balance between dry and oily skin. Geranium extract also helps to soothe irritated skin leaving your skin feeling invigorated.
Lavandula angustifolia (Lavender) Extract
Lavendar extracts are good sources of antioxidant phenolic acids and flavonoids that give lavender antioxidant and soothing benefits for the skin. These benefits help cleanse and protect the skin, while also helping to promote a balanced skin tone while promoting healthy skin cell growth.
Humulus lupulus (Hops) Extract
Hops extracts contain a number of flavonoid antioxidant compounds including xanthohumol, isoxanthohumol, quercetin, and rutin. These natural plant compounds have been reported to support the skin's extracellular matrix and thus help maintain the skin's natural firmness and elasticity.
Cymbopogon Schoenanthus (Lemongrass) Extract
Acts as a soothing, skin-conditioning agent. Derived from the aromatic lemongrass plant, lemongrass extracts have natural properties that help to cleanse and protect your skin. Additionally, lemongrass helps to maintain the skin's normal oil balance.
Hamamelis virginiana (Witch Hazel) Extract
Witch hazel is a natural cleansing agent that helps to cleanse and invigorate your skin. Additionally, witch hazel can help support your skin's natural barrier function to control water loss and keep your skin hydrated.
Aqua/Water/Eau, Sodium Polystyrene Sulfonate, Aloe Barbadensis (Aloe Vera) Leaf Juice, PEG-8, Butylene Glycol, Geranium Maculatum Extract, Lavandula Angustifolia (Lavender) Extract,Hydrastis Canadensis (Goldenseal) Powder, Humulus Lupulus (Hops) Extract, Cymbopogon Schoenanthus Extract, Hamamelis Virginiana (Witch Hazel) Leaf Extract, Imidazolidinyl Urea, Methylparaben, Propylparaben.
FAQ
How do I use Skintelligence Facial Firming Masque?
After cleansing with Skintelligence Hydra Derm Deep-Cleansing Emulsion, apply with fingertips evenly across your face in a circular motion. Allow to dry for 12 to 14 minutes or until masque is completely dry and tight. Do not move face or talk during that time. Rinse with warm water. Pat dry.
How often do I use Skintelligence Facial Firming Masque?
For optimal results use the Skintelligence Facial Firming Masque one to two times per week. We recommend using this product at night after a warm bath or shower to open up pores for a deep clean and ultra hydration.
Who is this product intended for?
Skintelligence Facial Firming Masque works for dry, oily, normal, sensitive or combination skin.
When should I notice results from Skintelligence Facial Firming Masque?
Immediately after rinsing, skin feels softer and looks more radiant.
Is the Skintelligence Facial Firming Masque tested on animals?
Skintelligence does not conduct or commission animal testing of any finished product.
---
Find Similar Products by:
* These statements have not been evaluated by the Food and Drug Administration.
* This product is not intended to diagnose, treat, cure or prevent any disease.
Shop Internationally