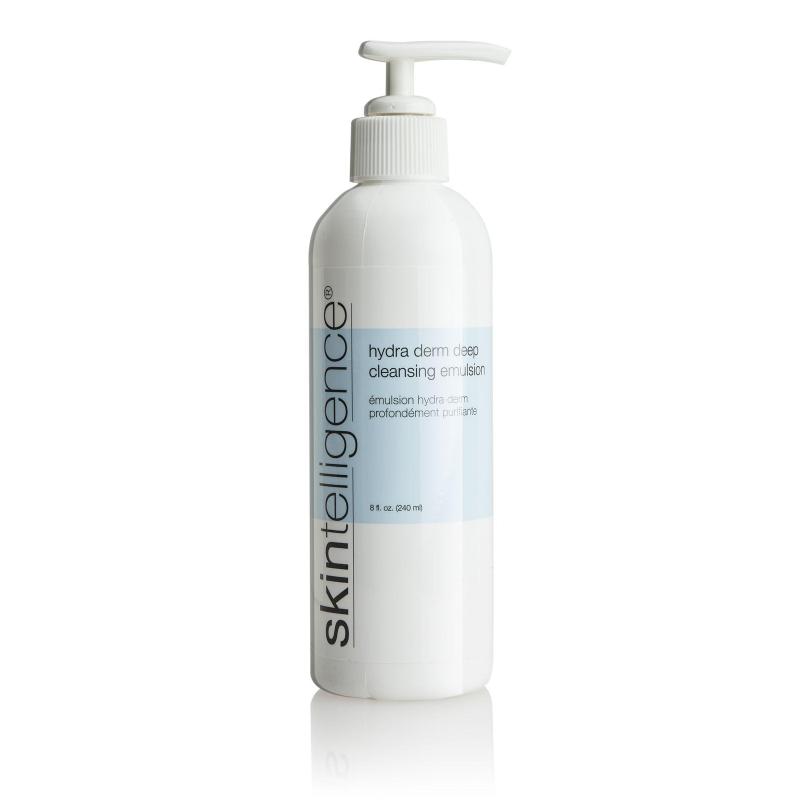 $18.95 USD
Earn $0.38 cash back!

Benefits
Loosens and cleans away dirt, makeup and oils
Gentle formula that effectively cleanses without stripping the skin of natural protective agents
Water soluble; will not clog pores
Fortified with aloe vera, chamomile and lavender to soothe skin while it cleans
Details
Skintelligence Hydra Derm Deep Cleansing Emulsion is a water-activated, deep cleansing emulsion that penetrates beneath the skin's surface to loosen and dissolve dirt, makeup and oil. Formulated with gentle, natural ingredients like aloe vera, chamomile extract and lavender extract, Skintelligence Hydra Derm Deep Cleansing Emulsion soothes the skin as it cleanses without clogging pores.
Customer Ratings
Ingredients
Aloe Vera
Aloe vera comes from the leaf of the aloe plant. Aloe vera helps to keep the skin moisturized and rejuvenates the skin, leaving it looking smooth and firm.
Allantoin
Allantoin has anti-irritant properties, which help to clean, protect and soothe your skin.
Chamomile Extract
Chamomile is well known for its antioxidant and soothing properties. Chamomile helps to cleanse and protect, calm and soothe your skin.
Lavender Extract
Lavender has calming benefits for the skin. These benefits help cleanse and protect the skin, while also helping to support normal skin tone and balance, and promote healthy skin cell growth.
Geranium Extract
In addition to its cleansing action, geranium helps to maintain the balance between dry and oily skin, supports healthy circulation in the skin, and calms skin, leaving your skin feeling invigorated.
FAQ
Who should use Skintelligence Hydra Derm Deep Cleansing Emulsion?
This cleansing system is ideal for those with skin that is prone to breakouts, acne and excess oil. However, it is a good cleanser for those with "normal" skin types, too.
If I have sensitive skin, can I use this product?
Yes, this product is non-irritating, gentle and effective.
Some cleansers leave my skin feeling dirty and/or oily. Does that happen with Skintelligence Hydra Derm Deep Cleansing?
No, this product will leave skin feeling clean without drying it out, as it is meant to hydrate and moisturize your skin.
Why is using a cleanser important?
Cleansing is one of the most important things you can do for your skin on a daily basis. It helps to remove impurities, unclog pores, prevents breakouts and dirt and oil buildup, and promotes brighter, healthier-looking skin.
Is Skintelligence Hydra Derm Deep Cleansing Emulsion tested on animals?|
No, this product is not tested on animals.
---
Find Similar Products by:
* These statements have not been evaluated by the Food and Drug Administration.
* This product is not intended to diagnose, treat, cure or prevent any disease.
Shop Internationally