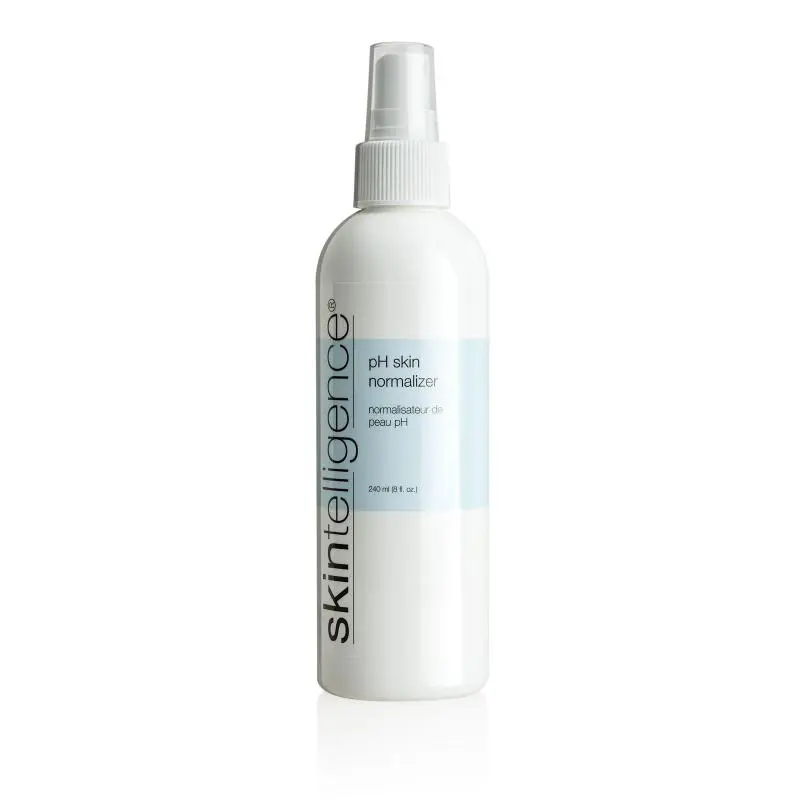 $22.00 USD
Single Bottle (8 fl. Oz./240 mL)
Earn $0.44 cash back!

Benefits
Exfoliates dead skin cells and removes traces of dirt and makeup
Conditions skin after cleansing
Assists your skin in maintaining a normal pH
Will not clog pores
Alcohol free
Details
Proper pH balance is essential for your skin to perform its primary function as a barrier. Under normal conditions, the surface of human skin is acidic with a pH ~5. This low pH value is maintained in several different ways including through the production of free fatty acids during cell maturation and secretion of fatty acids and lactic acid in sweat. This acidic pH helps to protect the skin and to maintain the skin's natural barrier function. Skintelligence pH Skin Normalizer assists your skin in maintaining a normal pH level and promotes your skin's natural ability to resist the effects of pollution and other environmental conditions.
Formulated and pH-balanced with botanical extracts, Skintelligence pH Skin Normalizer promotes clean, smooth, balanced and moisturized skin. This alcohol-free formula exfoliates dead skin cells and removes traces of dirt, makeup and other impurities which clog pores. Additionally, Skintelligence pH Skin Normalizer supports elasticity and an even skin tone.
Customer Ratings
Ingredients
A natural moisturizing agent found in human skin. It acts as a humectant to efficiently hydrate the skin, helping to give skin a softer and smoother appearance.
Horsetail extract contains saponins, flavonoids, and plant-based silica. These plant compounds help to support healthy looking skin.
Calendula extracts are derived from pot marigolds and have antioxidant and soothing properties. The properties of calendula may help to calm and soothe the skin as well as help the skin maintain a softer, smoother appearance.
Derived from the aromatic lemongrass plant, lemongrass extracts help to cleanse and protect your skin. Additionally, lemongrass has great properties that may help maintain the skin's healthy-looking complexion.
Bee pollen contains a variety of vitamins, minerals, and amino acids. Additionally, bee pollen extracts contain a number if antioxidant compounds. Together, these components make bee pollen extracts a wonderful way to rejuvenate the look of your skin.
Aqua/Water/Eau, Butylene Glycol, Polysorbate 20, Sodium Lactate, Pollen Extract, Disodium EDTA, Potassium Sorbate, Sodium PCA, Hydrolyzed Glycosaminoglycans, Sodium Benzoate, Citric Acid, Equisetum Hyemale Leaf/Stem Extract, Calendula Officinalis Extract, Cymbopogon Schoenanthus Extract, Phenoxyethanol, Geranium Maculatum Oil, Lavandula Angustifolia (Lavender) Oil, Prunus Serotina (Wild Cherry) Bark Extract, Eugenia Caryophyllus (Clove) Flower Extract, Citronellol, Geraniol, Linalool
FAQ
How do I use Skintelligence pH Skin Normalizer?
Spray over cleansed face and neck and allow to dry.
How often should I use Skintelligence pH Skin Normalizer?
For best results, use twice daily—once in the morning and once at night.
Is Skintelligence pH Skin Normalizer for all skin types?
Yes, Skintelligence pH Normalizer can be used for all skin types; especially sensitive skin.
During what part of my skincare regimen should I use Skintelligence pH Skin Normalizer?
Use Skintelligence pH Skin Normalizer after cleansing with Skintelligence Hydra Derm Deep Cleanising Emulsion. Follow with Skintelligence Skin Perfecting Complex for skin-hydration or Skintelligence Alpha 24 Triple Revitalizing Complex for exfoliation.
Is Skintelligence pH Skin Normalizer tested on animals?
Skintelligence does not conduct or commission animal testing of any finished product.
---
Find Similar Products by:
* These statements have not been evaluated by the Food and Drug Administration.
* This product is not intended to diagnose, treat, cure or prevent any disease.
Shop Internationally