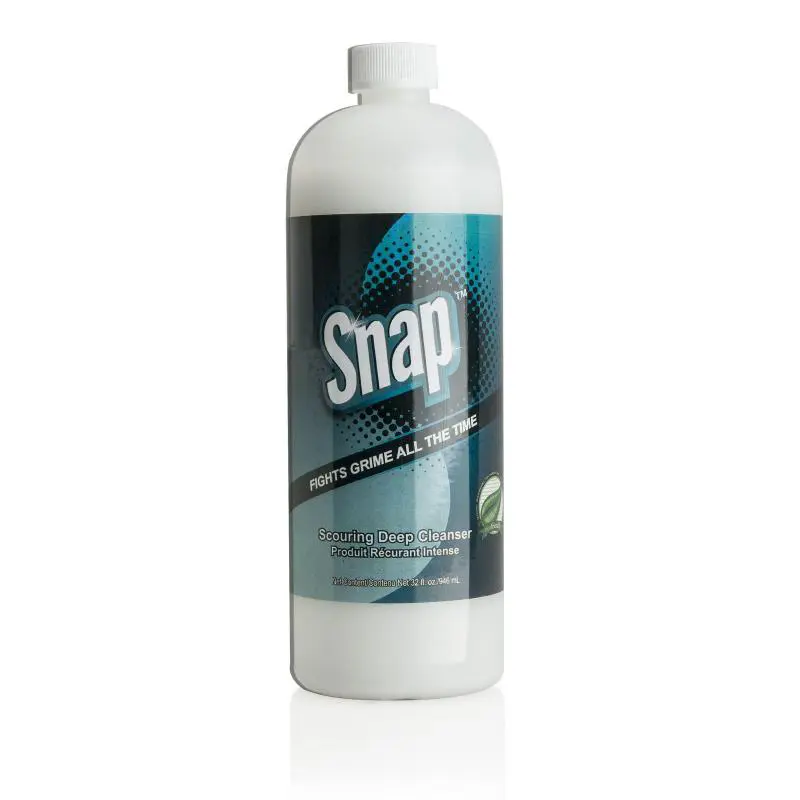 $12.95 USD
Single Bottle (32 fl. oz.)
Earn $0.26 cash back!

Outside the United States:

Primary Benefits
Safe, eco-friendly cleaner for showers, tubs, tile, toilets and other bathroom fixtures
Mild abrasive cleanser effectively cleans porcelain, tile, fiberglass, stainless steel, glass and other metal surfaces without scratching
Triple-action cleaning power removes soil and scum removal
Continues to clean through bio-enzymatic action to remove embedded soils
Polishes metal surfaces, chrome, stainless steel, pots and pans
Bleach free
Biodegradable
Non-toxic
*July 2016 U.S. prices at Harris Teeter (Greensboro, NC); cost may vary from store to store and by city and state.
What Makes This Product Unique?
Snap™ Scouring Deep Cleanser penetrates deep into surface pores to gently remove stains, grease and grime without scratching surfaces. With triple-action cleaning power, it deep-cleans and protects the luster of surfaces in your home, including tile, grout, enamel, glass, countertops, chrome and stainless steel. Snap Scouring Deep Cleanser keeps working through bio-enzymatic action for lasting protection from dirt and grime long after you clean. Make cleaning and polishing a SNAP with Snap Scouring Deep Cleanser! Snap Scouring Deep Cleanser is bleach free, non-toxic, biodegradable, phosphate free, safe for septic systems and eco-friendly.
Customer Ratings
Ingredients
Cleaning agents (anionic and nonanionic surfactants) water, softening and thickening agents, bacteria cultures, and fragrance
FAQs
Will Snap Scouring Deep Cleanser scratch surfaces?
Snap Scouring Deep Cleanser contains a very small amount of scouring matter and is safe for glass, countertops and metal surfaces.
Is Snap Scouring Deep Cleanser eco-friendly?
Yes. Snap Scouring Deep Cleanser is made from plant- and enzyme-based ingredients that are phosphate free, biodegradable, nontoxic and safe for septic systems. Snap uses recyclable bottles.
Where can I use Snap Scouring Deep Cleanser?
Snap Scouring Deep Cleanser works great on metal surfaces like faucets, shower fixtures, pots and pans, as well as chrome and stainless steel or hubcaps. Protect your surfaces from staining and the buildup of grime. Use on glass shower doors, fiberglass, tile, grout, porcelain, enamel and even marble. It is bleach free and removes soap scum.
---
Find Similar Products by:
* These statements have not been evaluated by the Food and Drug Administration.
* This product is not intended to diagnose, treat, cure or prevent any disease.
Shop Internationally