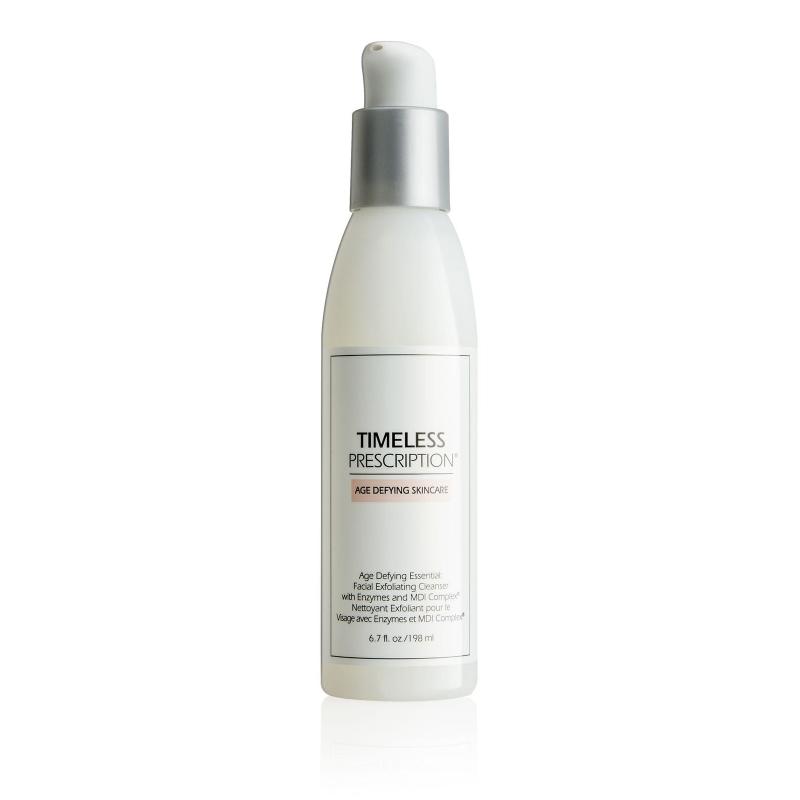 $43.50 USD
Earn $0.87 cash back!

Outside the United States:

Benefits
Cleans skin without tightness
Promotes smoother, softer skin
Provides noticeably firmer-looking and more supple skin
Gently removes dead skin cells
pH balanced
Ideal for all skin types
Details
Timeless Prescription Facial Exfoliating Cleanser with Enzymes and MDI Complex is a soap-free, fragrance-free and pH balanced product that provides all the desired components of an ideal cleanser. Based on a mild surfactant, enzyme-based mixture, it effectively removes dirt and excess oil from the skin.
Facial care and cleansing are essential in maintaining a healthy, youthful, and radiant appearance. In a time where beauty and youth are priceless, the average consumer is searching for skincare products that offer perceivable and lasting benefits. While many facial cleansers have the ability to remove sebum and dirt, they can be harsh and irritating, which can result in dry, flaky skin. Many of these products achieve cleansing with soap ingredients that are not compatible with the skin's pH. In addition, facial skin often consists of both dry and oily areas, which make gentle cleansing more desirable. This combination skin requires balanced moisturization from humectants, which draw moisture to the skin, while employing ingredients which maintain and reinforce the skin's natural barrier to reduce transepidermal water loss and exposure to environmental irritants. Ideally, a facial cleanser will provide mild surfactancy, moisturization, and soothing and smoothing without stripping the skin of essential lipids.
Customer Ratings
Ingredients
Aloe Barbadensis Gel
Aloe barbadensis, also known as aloe vera, helps to keep the skin moisturized, supports normal blood circulation, and rejuvenates the skin, leaving it looking smooth and firm.
MDI Complex
The MDI Complex helps to support your skin's foundation for a firmer, more youthful-looking appearance.
Panthenol
Vitamin B5 helps keep your skin hydrated by holding moisture to your skin, thereby helping to firm and tone while enhancing your skin's natural defenses.
Bromelain
A natural enzyme found in pineapples. Bromelain helps clear the skin of dead cells while also having soothing properties to calm the skin.
Papain
A natural enzyme found most commonly in papaya. Papain's ability to break down proteins helps to remove dead skin, making it an excellent exfoliant.
Salicylic Acid
Salicylic acid is a natural beta-hydroxy acid compound with cleansing properties. It helps to exfoliate the skin and clean the pores, thereby promoting clear, healthy-looking skin.
Chamomile Oil
Chamomile is well known for its antioxidant and soothing properties. The properties of chamomile help to cleanse, protect, calm and soothe your skin.
Lavender Oil
Lavender has soothing benefits for the skin. These benefits help cleanse and protect the skin, while also helping to support skin tone, balance the skin and promote normal skin cell growth.

Geranium Oil
In addition to its cleansing action, geranium helps to maintain the balance between dry and oily skin, support normal circulation in the skin and calm the skin, leaving your skin feeling invigorated.
FAQ
How do I use Timeless Prescription Facial Exfoliating Cleanser with Enzymes and MDI Complex?
Unlock pump by twisting slightly in a counter-clockwise direction. Moisten your face and neck with warm water. Pump product into hand, and gently massage over entire face and neck area. Avoid contact with the eyes. Remove with warm water and pat dry with a clean towel.
How often should I use a cleanser?
For best results, use twice a day.
Why is using a cleanser important?
Cleansing is one of the most important things you can do for your skin every day. This helps to remove impurities and unclog pores to prevent breakouts and buildup. After cleansing, it is important to follow with a toner, treatment and moisturizer.
Is Timeless Prescription Facial Exfoliating Cleanser with Enzymes and MDI Complex for all skin types?
Yes, it is pH balanced, which makes it an ideal cleanser for all skin types.
Is this product animal-tested?
No, Timeless Prescription Facial Exfoliating Cleanser with Enzymes and MDI Complex has not been animal tested.
---
Find Similar Products by:
* These statements have not been evaluated by the Food and Drug Administration.
* This product is not intended to diagnose, treat, cure or prevent any disease.
Shop Internationally