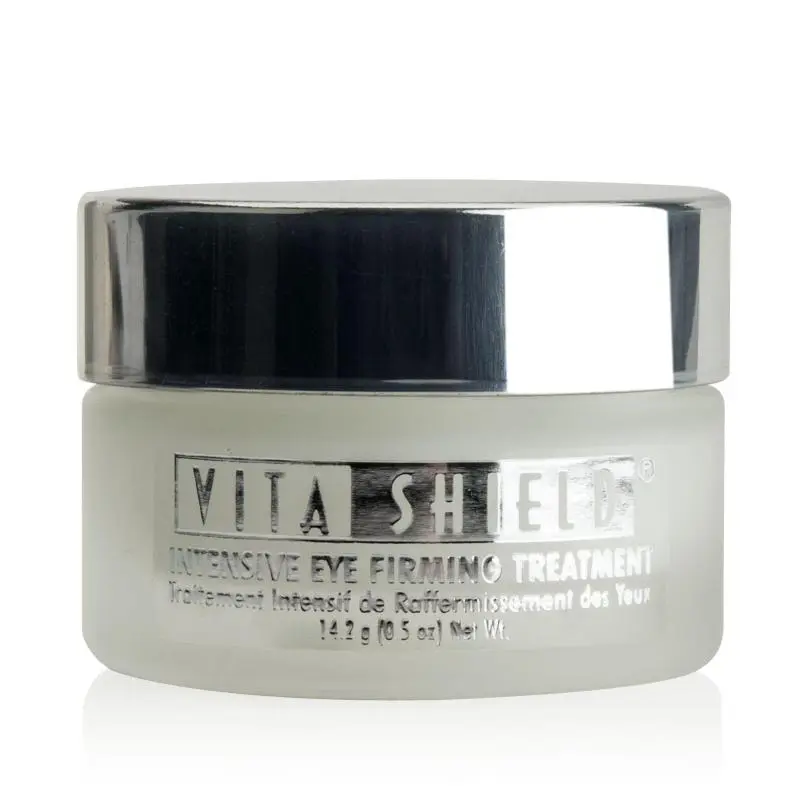 $49.95 USD
Single Jar (0.5 oz./14.2 g)
Earn $1.00 cash back!

Outside the United States:

Benefits
Designed to defend against and minimize the appearance of the visible effects of stress, fatigue and aging
Our formulation supports and enhances the delicate skin surrounding the eyes
This breakthrough topical treatment supports the process that stimulates firm, smooth, evenly colored and visually superior skin
Regular use can have a profound effect on your skin, and help minimize the appearance of fine lines, wrinkles, puffy skin and dark circles
Provides a microscopic film that firms and protects the delicate tissues surrounding the eyes
Details
A powerful blend of vitamins and coenzyme Q10 designed to lessen the appearance of fine lines and wrinkles. Vitamin A and other compounds provide added power for younger-looking skin. Added cucumber extract can tighten the skin and lessen under-eye puffiness. VitaShield Intensive Eye Firming Treatment is formulated with Matrixyl which has been clinically documented with the following results:
Reduction of the appearance of deep wrinkles
Enhances collagen IV synthesis
Enhances hyaluronic acid synthesis
Reduced the appearance of furrows
Customer Ratings
Ingredients
Palmitoyl Pentapeptide-3
This breakthrough ingredient supports healthy collagen in the skin.
Coenzyme Q10
A substance found naturally in the mitochondria of most cells, coenzyme Q10 is best known for its role in energy production and antioxidant benefits. It helps to refresh and energize your skin, while protecting your skin from free radicals.
Ascorbyl Palmitate (Vitamin C)
Ascorbyl palmitate is a stable form of vitamin C that has similar vitamin C activity to ascorbic acid. Vitamin C is an important antioxidant vitamin that is essential for maintaining your skin's natural collagen. By supporting your skin's natural collagen, vitamin C helps your skin achieve a firmer, suppler and more youthful glow.
Tocopheryl Acetate (Vitamin E)
Vitamin E is a powerful antioxidant vitamin that helps to protect and nourish your skin. Vitamin E helps to moisturize your skin while also protecting it from environmental factors, giving your skin a healthy and more youthful appearance.
Retinyl Palmitate (Vitamin A)
Vitamin A is an antioxidant vitamin that helps to protect and nourish your skin. Vitamin A helps to maintain healthy collagen in your skin and protect your skin from free radicals, giving your skin a supple, healthy and more youthful appearance
Coneflower Extract
Coneflower extract is an extract of echinacea (Echinacea angustofolia). When applied topically, echinacea can help soothe and hydrate the skin.
Cucumber Extract
Helps to smooth tighten and refresh tired and sagging skin. It contains a group of tetracyclic triterpenses, commonly referred to as a bitter principles of cucurbitae, which have antioxidant activity. It has a cooling, soothing effect on the skin and is credited with moisture-binding, moisture-regulating and soothing abilities. It may also help reduce the appearance of dark circles under the eyes.
Hyaluronic Acid
Normally found in skin and connective tissue, hyaluronic acid is made up of many sugar units. It has a high capacity for binding and holding water, making it an excellent choice for keeping your skin hydrated and supple.

FAQ
How do I use VitaShield Intensive Eye Firming Treatment?
Apply morning and evening after application of VitaShield Vitamin C & E Intensive Moisturizer. Simply scoop a small amount onto the spatula and swipe under the eye. Using your ring finger, lightly pat the treatment into an even layer. Allow product to fully absorb before applying your cosmetic products.
Why is there a small spatula included?
The included spatula is a tool designed to ensure you only scoop a small amount out of the jar, thereby creating less product waste.
Will I see results immediately?
The tightening properties of cucumber extract will instantly reduce the appearance of puffiness and dark, under-eye circles. Continuous use is recommended to help support normal collagen levels which lessen the appearance of fine lines and wrinkles.
Will this product reduce the appearance of fine lines and wrinkles?
Yes, this product is formulated with vitamins and coenzyme Q10, which make fine lines and wrinkles appear less visible.
---
Find Similar Products by:
* These statements have not been evaluated by the Food and Drug Administration.
* This product is not intended to diagnose, treat, cure or prevent any disease.
Shop Internationally