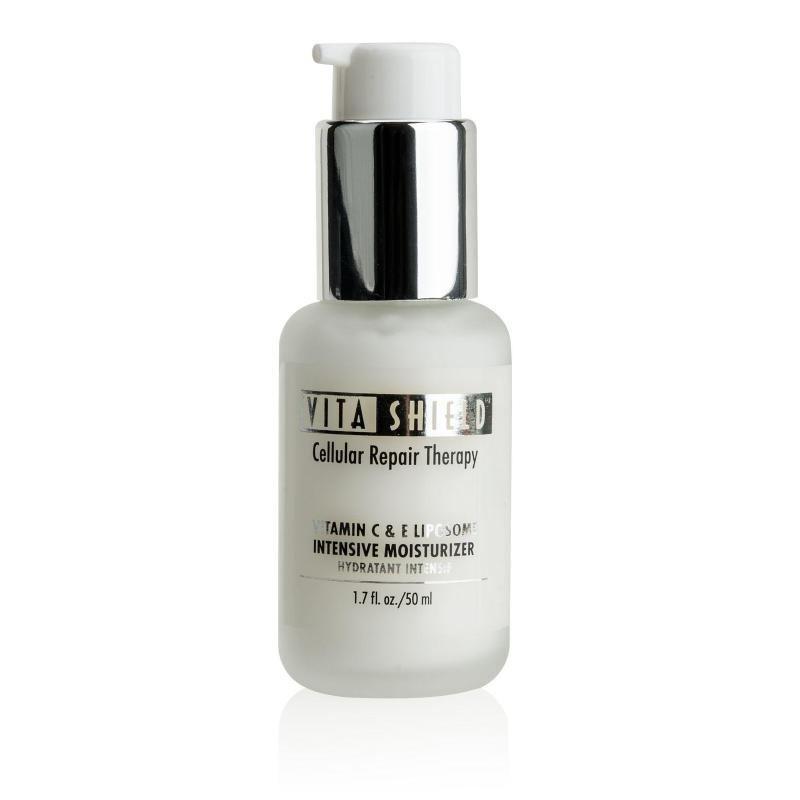 $57.50 USD
Earn $1.15 cash back!

Outside the United States:

Benefits
Instantly absorbs and gives the skin a silky, smooth texture
Plumps up cells and lessens the appearance of fine lines
Skin will look and feel younger; facial contours will look more youthfully defined
Minimizes the appearance of the effects of stress, fatigue, smoking, pollution and environmental damage
Has soothing properties
Details
VitaShield Vitamin C & E Intensive Moisturizerdrenches the skin with nutrients that keep it smooth and firm. Using a cutting-edge liposome delivery system, VitaShield Vitamin C & E Intensive Moisturizer penetrates the skin and distributes powerful antioxidants to the lower layers. These antioxidants, vitamins C and E, support normal collagen synthesis to diminish the appearance of wrinkles and moisturize deep within the skin for a silky, smooth feel.
VitaShield Vitamin C & E Intensive Moisturizer contains several other key ingredients that work together to provide you with superior skin health. Hyaluronic acid is a component in cartilage that attracts and retains hundreds of times it own weight in water, providing your skin with long-term moisturization. Combined with sodium PCA, it softens the skin. Natural heather extract helps to maintain collagen levels, while apple extract supports the skins elasticity. Working in unison, all of these ingredients smooth, hydrate and firm the skin for a more youthful appearance. Ease the visible signs of aging on your skin with VitaShield Vitamin C & E Intensive Moisturizer.
Customer Ratings
Ingredients
Vitamin C
Supports the normal synthesis and protection of collagen, the support structure of the skin. It is a powerful antioxidant that protects the skin's elastin and collagen from free radicals, and diminishes the appearance of dark circles caused by excess stress, pollution, fatigue and over-exposure to the sun.
Cyclomethicone
Cyclomethicone is a silicone with a drier finish then dimethicone.
Isopropyl Palminate
Isopropyl palminate is a widely used binder, skin-conditioning ingredient and emollient.
Apple Extract
Apple extract helps maintain healthy elastin.
Hyaluronic Acid
Hyaluronic acid provides superior, long-term moisturization. Hyaluronic acid is a component in cartilage that attracts and retains hundreds of times its own weight in water.
Sodium PCA
Sodium PCA helps to increase skin's softness and moisture content. It is a naturally-occurring component of skin that is responsible in part for its moisture-binding capacity.
Dimethicone
A substance derived from silica. The unique fluid properties of silicone give it a great deal of slip, impart emolliency and act as a water binding agent that holds up well, even when skin becomes wet.
Tocopheryl Acetate
Vitamin E is a powerful antioxidant for protection against free radicals. Vitamin E moisturizes and soothes the skin from within.
Ascorbyl Palminate
A stable and non-acidic form of Vitamin C that is effective as an anti-oxidant.
Heather Extract
An extract of Calluna vulgaris, also called Ling Extract. Natural heather helps maintain healthy levels of collagen. As collagen degrades, the skin loses its resilience and youthful appearance.
Disodium EDTA
A s">Phospholipids
A lipid composed of glycerol, fatty acids, and phosphate. They are essential to the function of cell membranes because they provide a stable surrounding structure.

FAQ
What benefits will I receive from the other ingredients?
VitaShield Vitamin C & E Intensive Moisturizer is fortified with green tea, gingko biloba, ginseng, horsetail and heather extracts. These ingredients support skin tone, help maintain skin's resistance to fatigue and stress, promote healthy collagen synthesis and skin firmness, protect the skin, and provide free radical protection.
Why does my complexion look dull and how can I achieve a healthy glow?
As we age, free radicals negatively impact the skin and regeneration slows, resulting in fewer new cells on the skin's surface. VitaShield Vitamin C & E Intensive Moisturizer helps protect from free radicals to promote normal skin cell regeneration to brighten your complexion for a healthy-looking glow.
What causes loss of elasticity, wrinkles, lines and furrows?
Collagen is a group of naturally-occurring proteins that bind our skin cells together. When collagen production is slowed, our skin becomes less toned and firm. Vitamin C helps keep skin firm, lessening the appearance of wrinkles and fine lines, while Vitamin E helps to moisturize skin for a smoother appearance.
Why is my skin so dry?
There are several factors that affect our skin health, most importantly our blood circulation. As we age, our blood vessels constrict, reducing blood flow to our skin. This causes the body to produce less oil and skin to become dryer. VitaShield Vitamin C & E Intensive Moisturizer helps moisturize the skin, while helping to keep skin smooth and healthy-looking.
Why does my skin feel so thin?
There are several factors that play a role in thinning the skin. Our fat is redistributed to the subcutaneous layer, leaving less under the epidermis. Also, when collagen production slows and cells are not regenerated, the skin begins to lose its structure and tone, creating skin sagging. VitaShield Vitamin C & E Intensive Moisturizer relies on its high concentration of vitamin C to support the normal synthesis of collagen and protect elastin. This supports the texture and firmness for healthier-looking skin.
What can I do to help slow the signs of aging?
All biological systems depend on antioxidants, such as vitamin C, A and E, beta-carotene and selenium for protection against free radicals, which has been shown to be one of the major causes of visible signs of aging. Vitamin C is a particularly important nutrient for the skin, as it helps promote and maintain collagen. With the best ingredients possible, all VitaShield products are meticulously formulated to keep the integrity of those ingredients - so you reap all of the benefits.

---
Find Similar Products by:
* These statements have not been evaluated by the Food and Drug Administration.
* This product is not intended to diagnose, treat, cure or prevent any disease.
Shop Internationally