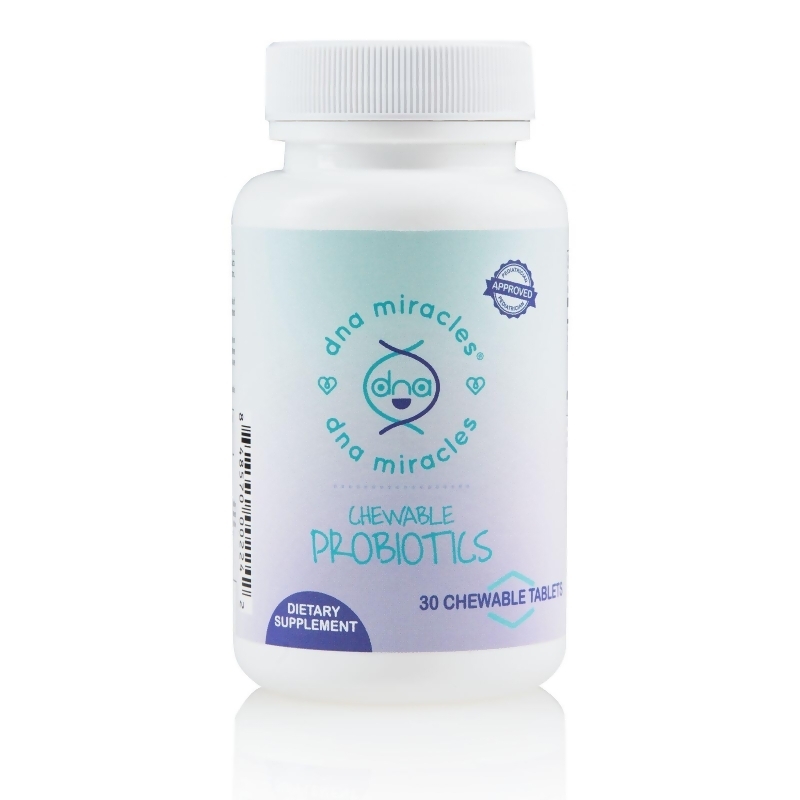 $33.95 USD
Earn $0.68 cash back!

Outside the United States:

Benefits
Delivers five billion bacteria in each chewable tablet
Utilizes the LiveBac® tableting process to ensure viability of the bacteria
Promotes a healthy immune system
Provides good bacteria to help maintain optimal bacterial balance
Provides beneficial bacteria to promote healthy digestion
Supports a healthy gastrointestinal tract
Promotes stomach comfort and bowel regularity
Supports a healthy digestive system
Supports healthy teeth and gums
Contains five unique bacterial strains for comprehensive digestive and immune support

Streptococcus salivarius
Lactobacillus rhamnosus
Lactobacillus salivarius
Lactobacillus paracasei
Lactobacillus plantarum
LiveBac® is a patented process and registered trademark of Nutraceutix, Inc.
Why Choose DNA Miracles Chewable Probiotics?
While there are many probiotics for children on the market today, it's important to know the probiotic supplement you're giving your child will work for their digestive health needs. DNA Miracles is committed to giving you the best probiotics for kids, and that's why we've created DNA Miracles Chewable Probiotics. Bacteria are naturally present within the body and are concentrated within the digestive tract. Both healthy bacteria (probiotics) and potentially unhealthy bacteria populate inside the digestive tract. Maintaining a balance of these two types of bacteria is essential to maintain optimal health. Such a bacterial balance is especially important for children, and research has shown that consuming probiotics, whether through foods or supplements, can promote children's balance of bacteria – and consequently, their health.
But not all probiotic supplements for children are created equal. A quality probiotics for children delivers effective strains of helpful bacteria to your child's digestive system. Plus, the best probiotics for kids also ensure these helpful bacteria are protected before use (to protect the delicate bacteria during shelf life) and through the digestive process.
DNA Miracles Chewable Probiotics contains five billion colony forming units from five carefully selected bacterial strains, and is formulated to help ensure your child receives the full benefits of the selected probiotics. Each probiotics strain used in DNA Miracles Chewable Probiotics has a unique, proven role to help support children's digestive health.
Getting your children to take their probiotics supplement will be easy thanks to the delicious, fruit-flavored chewable. It's just one of the many reasons DNA Miracles Chewable Probiotics is one of the best probiotics for kids on the market today, as we pledge a commitment to quality and care to give your children nothing but the best. Because Every Child is a Miracle ™ .
This product is sold with at least a 3 month shelf life remaining.

Customer Ratings
Ingredients
Clinical research has shown that probiotics have a positive impact on immunity, digestive health and much more. Probiotics help maintain a healthy balance of essential bacteria in the gastrointestinal tract and are increasingly important in the American diet as we continue to rely on processed foods and prescription medications.
Streptococcus salivarius
S. salivarius populates in the upper respiratory tract of healthy infants within first few hours of birth. This is the primary bacterium in the human oral cavity, oropharynx and upper respiratory tract. It is the first bacterium to form dental plaque before being joined by numerous other species. S. salivarius supports healthy gums and teeth.
Lactobacillus rhamnosus
L. rhamnosus is a strain of probiotics that aids in balancing the gastrointestinal microflora. It is one of the most intensely studied bacteria in the gastrointestinal tract. One of the remarkable things about L. rhamnosus is its ability to tolerate and even thrive in the harsh acidic conditions normally found in the stomach. L. rhamnosus has been shown to support immune function and help maintain the integrity of the stomach lining. A randomized clinical trial published in the British Medical Journal demonstrated that L. rhamnosus works better than other probiotics in relieving occasional diarrhea and supporting stomach comfort and regularity in children.
Lactobacillus salivarius
L. salivarius resides in the mouth and small intestine. It has been shown effective in minimizing unhealthy bacteria in the mouth, thus promoting dental health. L. salivarius may also support immune health.
Lactobacillus paracasei
Like other lactobacillus species, L. paracasei is acid and bile resistant. This aids in the bacteria's ability to travel, viably, from the mouth through the stomach and finally into the intestine. L. paracasei and L. rhamnosus have the ability to survive in the acidic conditions of the stomach.
Lactobacillus plantarum
L. plantarum promotes a healthy digestive tract by promoting bacterial balance in the mucosal lining and also by competing for nutrients with unhealthy. L. plantarum is able to preserve vital nutrients, antioxidants and vitamins. Children who do not eat a wide variety of fruits, vegetables or certain fermented foods may have a deficit of very beneficial enzymes that probiotics provide. This may be remedied by supplementation with L. plantarum. Another amazing talent of L. plantarum is its ability to synthesize L-lysine, an essential amino acid which is required for countless necessary functions in the body.

Ingredients Label
(click image to expland)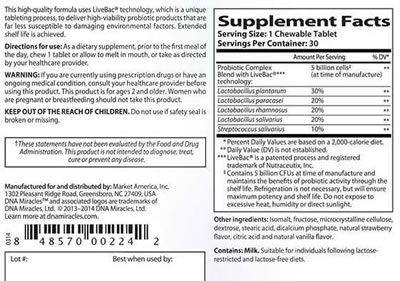 FAQs
Can DNA Miracles Chewable Probiotics be taken with DNA Miracles Isotonix Digestive Enzymes?
Yes, DNA Miracles Chewable Probiotics and DNA Miracles Isotonix Digestive Enzymes would complement each other when taken together as part of your daily nutritional supplement regimen. These products should not be taken concurrently. Digestive enzymes should be taken with a meal and Probiotics should be taken on an empty stomach at least two hours after a meal.
Can DNA Miracles Chewable Probiotics be taken with other DNA Miracles children's supplements? If so, which ones?
Yes. DNA Miracles Chewable Probiotics can safely be taken with other DNA Miracles children's supplements, provided one follows the recommended serving size for each product.
What is the difference between DNA Miracles Chewable Probiotics and DNA Miracles Probiotics Extra? Can my child continue using DNA Miracles Probiotics Extra?
While there is nothing to preclude children older than two years of age from using DNA Miracles Probiotics Extra, that product's formula is designed specifically for infants and newborns. As they get older, the makeup of gut flora in children changes. That is why we have created DNA Miracles Chewable Probiotics, which is designed specifically for children older than two years of age.
How should I take DNA Miracles Chewable Probiotics?
Take one tablet before the first meal of the day. The tablet can be chewed or allowed to dissolve in the mouth.
Are there any allergens in DNA Miracles Chewable Probiotics?
DNA Miracles Chewable Probiotics contains trace amounts of milk from the fermentation process. There are less than 2 parts per million (ppm) of milk in each serving. This product is safe for individuals with lactose sensitivity.
How long will it take before DNA Miracles Chewable Probiotics begins to support my child's digestive needs?
Each child is different, depending on their gastrointestinal tract and sensitivity, so results and timing will vary. In some cases, support will begin within a few days. In others, it may take weeks.
How will DNA Miracles Chewable Probiotics affect digestion?
There are many aspects to good digestion. They include enzymes (which start breaking down foods in the mouth and are found in the intestines), pH conditions, bile from the gall bladder, intestinal microflora and some digestive properties contained in the food that we eat. Diet and supplementing your intestines with probiotics can help support digestion. Well balanced intestinal micro flora will promote healthy digestion.
What is LiveBac®, and why is it important?
Probiotics are live microorganisms and must remain live while bottled and when ingested in order to be effective in the digestive tract. However, as sensitive organisms, many the probiotics in many products die off quickly when bottled. Furthermore, many probiotics die during the digestive process before reaching the large intestine because of the harshly acidic environment in the stomach. LiveBac® is a patented technology which protects the bacteria to help ensure that they stay alive and protected so they are optimally functional in the digestive tract.
---
Find Similar Products by:
* These statements have not been evaluated by the Food and Drug Administration.
* This product is not intended to diagnose, treat, cure or prevent any disease.
Shop Internationally