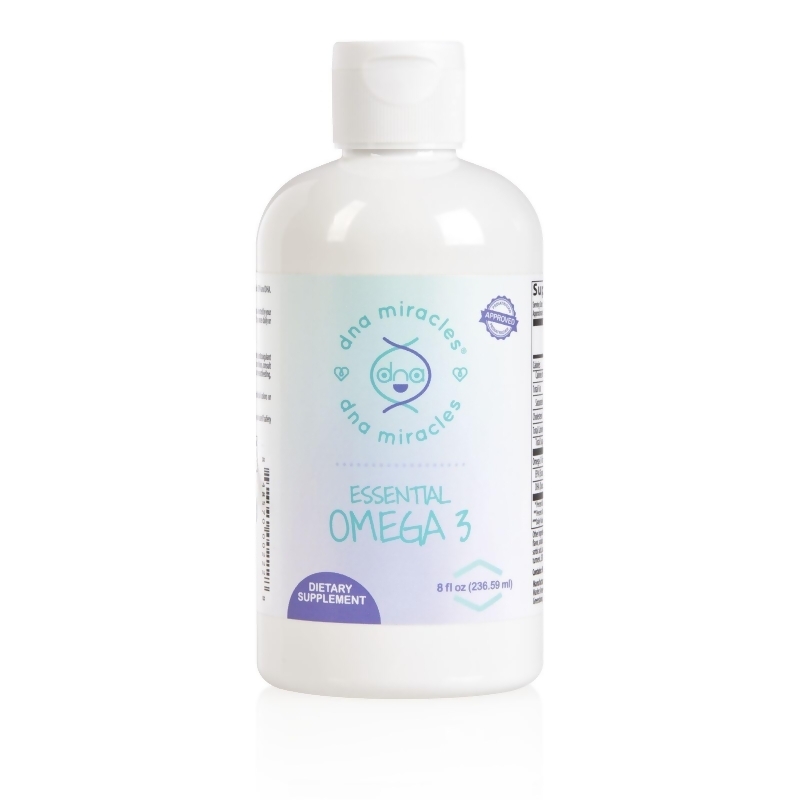 $39.95 USD
Earn $0.80 cash back!

Outside the United States:

Benefits
Supports brain health
Helps to promote a healthy immune response
Provides a healthy blend of two essential fatty acids, EPA and DHA
No fishy taste; great fruit flavor
Why Choose DNA Miracles Essential Omega 3?
Providing your children with balanced nutrition is sometimes difficult. One such area of concern is providing children with adequate amounts of omega-3 fatty acids. According to the American Dietetic Association, 90% of children do not receive adequate amounts of these nutrients through their food choices. This is important, as omega-3 fatty acids are considered "essential," since they are not produced by the body. Omega-3 fatty acids are especially important in childhood, when the brain – which is made up of approximately 60 percent fat – and immune system are developing. To help make sure your children are getting enough of these essential nutrients, give them DNA Miracles Essential Omega 3. Many omega 3 children's products contain lesser amounts of the essential fatty acids eicosapentaenoic acid (EPA) and docosahexaenoic acid (DHA), DNA Miracles Essential Omega 3 contains ideal amounts of EPA and DHA to properly support your child's brain health and immune function. Plus, instead of giving your child a product that leaves an unpleasant fishy taste, DNA Miracles Essential Omega 3 is a delicious fruit flavored emulsion that is easy to take and will keep your children wanting more. With no artificial colors, flavors or sweeteners, DNA Miracles Essential Omega 3 contain the omegas your children need to support their brain health and promote a healthy immune system. More of what your children need, less of what they don't need. Because Every Child is a Miracle .
Customer Ratings
Ingredients
Omega-3, omega-6 and omega-9 are all unsaturated fats. Omega-3s and omega-6s are polyunsaturated, while omega-9s are monounsaturated. Referring to their chemical structures, "unsaturated" refers to the double bonds of the molecules, "poly" means many and "mono" means one. The numbers represent the position of the final double bond in relation to the "omega," or tail end of the molecular chains. For example, omega-3 molecules have a double bond that is three carbons from the omega end.
Omega-3 Fatty Acids 1,000 mg
Omega-3 fatty acids are a family of essential fatty acids that play important roles in your body. They are fundamental to many aspects of health, including fetal development, brain function, heart health, and immune health. The three most important types of omega-3 fatty acids are ALA (alpha-linolenic acid), DHA (docosahexaenoic acid), and EPA (eicosapentaenoic acid). As the human body cannot naturally synthesize these fatty acids – and therefore are considered essential – they must come from the diet. Foods rich in omega-3 fatty acids fish – especially cold-water fatty fish such as salmon, mackerel, tuna, herring, and sardines – nuts and seeds, and plant oils.
Eicosapentaenoic acid (EPA) is a 20-carbon, polyunsaturated fatty acid. Its main function is to produce signaling molecules called eicosanoids, which play numerous physiological roles, including reducing inflammation. Docosahexaenoic acid (DHA) is a 22-carbon, polyunsaturated fatty acid. Given that it makes up about 8% of brain weight, it plays a very important role in contributing to brain development and function. DHA is an important structural component of the brain phospholipids, as well as the lipids in the nervous system. DHA is naturally found throughout the body and is most abundant in the brain, eyes and heart. Just as calcium is essential for building strong bones, DHA ensures that the cells in the brain, retina, heart and other parts of the nervous system develop and function properly throughout all stages of life. Its role of supporting brain health and normal neural function is extremely well documented and supported by clinical research. Current research suggests adequate levels of DHA may support the normal cognitive development of a fetus and have positive impact a woman's mood after pregnancy. The high demands of the fetus and maternal requirements for DHA seem to point to a decline of this nutrient during pregnancy and lactation. While omega-3s support normal fetal neurodevelopment, research also indicates that omega-3s may support a normal birth weight as well. Since breast milk naturally contains DHA, it is important that breastfeeding women consume this nutrient to support both their health and the health of their developing infant. Life's DHA is a fish-free and sustainable source of DHA from algae.*
Omega-6 Fatty Acids 50 mg
Like omega-3s, omega-6 fatty acids are polyunsaturated fatty acids and are also considered essential. The most common omega-6 is linoleic acid, which the body can convert into longer omega-6 fats such as arachidonic acid (AA), which is naturally found in meat and eggs. Linoleic acid is another omega-6 fatty acid, and sources include vegetable oils, nuts and seeds. Like eicosapentaenoic acid (EPA), AA also produces eicosanoids. However, rather than reducing inflammation like the eicosanoids produced from EPA, the eicosanoids products from AA are more pro-inflammatory. Although that may sound negative, pro-inflammatory eicosanoids play an important role in the immune system – therefore, balance is always key. A healthy ratio of omega-6 to omega-3 ranges between 1:1 and 4:1.
Omega-9 Fatty Acids 125 mg
Omega-9 fatty acids are monounsaturated, meaning they only have one double bond. Because the body is capable of producing omega-9s, they are considered nonessential fatty acids. However, just because your body doesn't need it, does not mean that it cannot reap its benefits. Oleic acid is the most common monounsaturated omega-9 fatty acid. Top sources of omega-9s in our diets include canola oils, olive oils and almonds. Like the other omega fatty acids, omega-9 fatty acids may contribute to cardiovascular health through supporting healthy cholesterol and insulin regulation.
Ingredients Label
(click image to expland)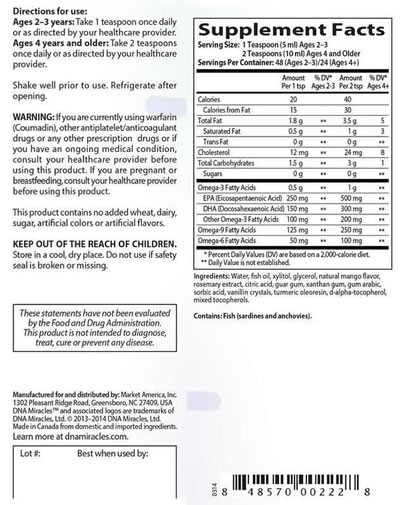 FAQs
Can adults take DNA Miracles Essential Omega 3?
While specifically formulated with children in mind, DNA Miracles Essential Omega 3 can be taken by both children and adults. This tasty emulsion serves as a great alternative for adults who have trouble swallowing pills. However, for adults who don't mind pills, we recommend Heart Health Essential Omega III Fish Oil with Vitamin E, which contains three grams of fish oil bodies, a clinically-studied amount shown to provide superior cardiovascular benefits for adults.
Can DNA Miracles Essential Omega 3 be mixed into juice, yogurt, ice cream or other food products?
Yes, the product can be easily mixed with juice or other foods, but it tastes great on its own!
Are there any benefits to taking omega 3 fatty acids in an emulsion instead of in a liquid or softgel?
Research has shown that emulsions of oil increase absorption of certain fatty acids, especially of EPA and DHA.
Can you take DNA Miracles Essential Omega 3 if you have a seafood allergy?
No. Since the product is derived from fish, you should not take it if you are allergic to seafood.
What is the source of fish in DNA Miracles Essential Omega 3?
The source of the fish oil is anchovies and sardines.
Does DNA Miracles Essential Omega 3 need to be taken on an empty stomach?
No, this product is not isotonic and, therefore, its absorption is not affected by an empty stomach.
What is the serving size for DNA Miracles Essential Omega 3?
Children ages 2-3 should take one (1) teaspoon daily or as directed by your healthcare provider. Children ages four and up should take two (2) teaspoons daily or as directed by your healthcare provider.
Can my children take DNA Miracles Essential Omega 3 in addition to other DNA Miracles products?
An assortment of DNA Miracles products – DNA Miracles Chewable Probiotics, DNA Miracles Isotonix® Digestive Enzymes, DNA Miracles Isotonix OPC-3, and DNA Miracles Isotonix Multivitamin or DNA Miracles Isotonix Multivitamin Plus – can be taken in addition to DNA Miracles Essential Omega 3.
---
Find Similar Products by:
* These statements have not been evaluated by the Food and Drug Administration.
* This product is not intended to diagnose, treat, cure or prevent any disease.
Shop Internationally