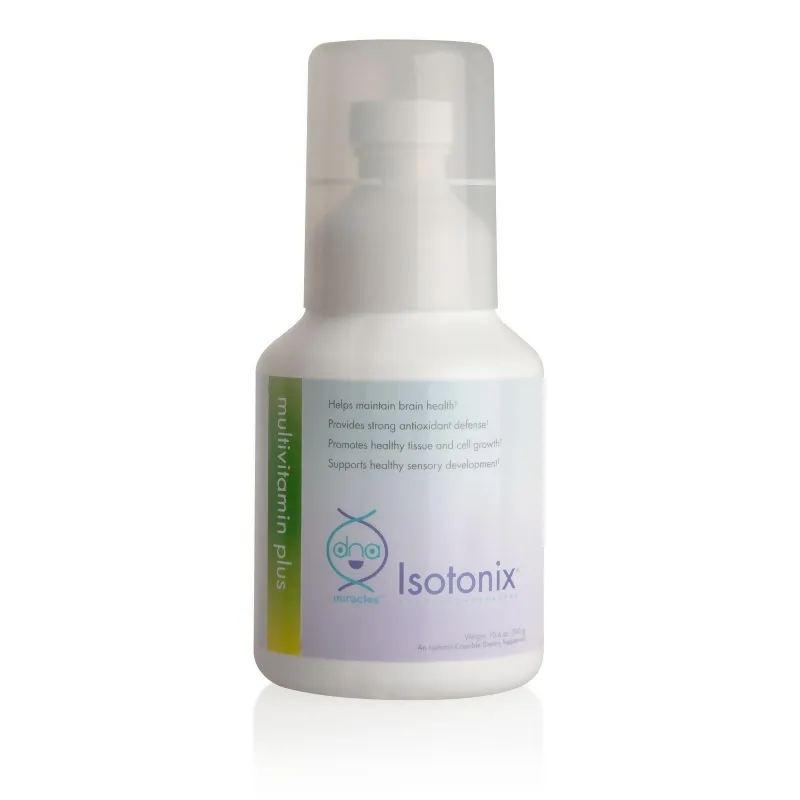 $53.95 USD
Single Bottle (90 Servings)
Earn $1.08 cash back!

Outside the United States:

Benefits
Helps promote normal levels of vitamins and minerals in individuals who need neurological, digestive or metabolic support
Helps maintain normal production of neurotransmitters
Promotes/supports a healthy nervous system
Helps support brain health and development
Promotes healthy sensory development
Provides strong antioxidant defense
Promotes normal tissue and cell growth
Provides nutrients essential for numerous body processes
Supports optimal immune functions
Supports skeletal health and growth
Supports healthy teeth and gums
Supports healthy vision and eyes
Supports a healthy heart
Isotonic-Capable Supplement
Why Choose DNA Miracles Isotonix Multivitamin Plus?
While there are many options to help support your child's nutritional needs, it's important to trust that the vitamin supplement you're giving them what works for their unique needs. For some children, they need something more. That's why we created DNA Miracles Isotonix Multivitamin Plus.

Unlike traditional children's multivitamins, DNA Miracles Isotonix Multivitamin Plus was formulated to support the needs of children needing particular nutritional support in the areas of digestive, neurological and metabolic health.
Not only does DNA Miracles Isotonix Multivitamin Plus provide children with necessary nutrients needed to grow and stay healthy, but it provides a carefully selected blend of vitamins and minerals chosen for their exceptional bioavailability. This is important, as these ingredients are more rapidly absorbed and therefore better utilized by the body, giving your child the nutrients they need, when they need them.
In addition, DNA Miracles Isotonix Multivitamin Plus uses the revolutionary Isotonix Delivery System, which delivers the benefits of this carefully-formulated multivitamin fast and effectively, maximizing results that can be felt quickly.
When your child needs extra support from their multivitamin, reach for DNA Miracles Isotonix Multivitamin Plus – created with your little one in mind. Because Every Child is a Miracle.
Customer Ratings
Key Ingredients
Vitamin A (Beta-Carotene): 563 mcg RAE
Beta-carotene is a nutrient found in plants that the body converts into vitamin A. Vitamin A promotes normal cell growth and differentiation in the tissues of the gastrointestinal tract and brain. Children who need neurological, metabolic or digestive support may benefit from beta-carotene because of its ability to promote normal tissue and cell growth and promote healthy sensory development.*

Thiamin HCI (Vitamin B1): 5 mg
Vitamin B1 is a water-soluble vitamin that promotes normal processing of carbohydrates, fat and protein. Every cell of the body requires vitamin B1 to form the fuel the body runs on, adenosine triphosphate (ATP). Vitamin B1 promotes normal functioning of nerve cells and plays an important role in carbohydrate metabolism. B1 helps maintain a healthy nervous system by supporting the normal production of the neurotransmitters acetylcholine and gamma-aminobutyric acid (GABA).

Riboflavin (Vitamin B2): 5 mg
Vitamin B2 is a water-soluble vitamin that promotes the normal processing of amino acids and fats, activation of vitamin B6 and folic acid, and supports the conversion of carbohydrates into the fuel the body runs on, adenosine triphosphate (ATP). It also promotes healthy red blood cell formation, supports the nervous system, respiration, antibody production and normal human growth.

Niacin (Niacinamide): 10 mg
Niacin, also known as vitamin B3, supports energy production in the body. It works with vitamin B1 and vitamin B2 to support the release of energy from carbohydrates. Similar to vitamin B6 and folic acid, niacin supports many pathways which help renew the body's tissues.

Vitamin B6 (P5P - Pyridoxal 5-Phosphate): 19 mg
Pyridoxal-5-phosphate is the active form of vitamin B6. Vitamin B6 is the master vitamin for numerous metabolic pathways in the body. One specific function is that it supports the normal synthesis of neurotransmitters in the brain and peripheral nerve cells, which are critical for the development of language, attention and alertness. B6 also promotes the normal production of glutathione, which is essential for detoxification. P5P promotes healthy sensory development by supporting the normal synthesis of neurotransmitters in the brains of children who need neurological support.*

Pantothenic Acid (D-Calcium Pantothenate): 8 mg
Pantothenic acid, also called vitamin B5, is a water-soluble vitamin involved in energy production and the formation of the neurotransmitter acetylcholine, which is important for brain health. Pantothenic acid works together with vitamin B1, vitamin B2, and vitamin B3 to make the fuel our body runs on, ATP. It also promotes the normal production, transport, and release of energy from fats.

Vitamin B12 (Methylcobalamin): 5 mcg
Vitamin B12 is a water-soluble vitamin that supports normal nerve cell activity, DNA replication, and production of the mood-affecting substance SAMe (S-adenosyl-L-methionine). B12 promotes normal conversion of sulfur-containing compounds to glutathione, a powerful antioxidant in the body. B12 provides strong antioxidant defense and combats free radicals in children who need neurological, metabolic or digestive support.*

Folate 81 mcg DFE
Folinic acid is the metabolically active form of folic acid. Folic acid is a B vitamin essential for numerous processes in the body and supports normal development of the nervous system. Additionally, folic acid supports the conversion of sulfur-containing compounds to glutathione. Children who need neurological support can benefit from folic acid's ability to help maintain the normal production of neurotransmitters and promotes a healthy nervous system.*

Biotin 75 mcg
Biotin, a water-soluble B-vitamin, acts as a coenzyme in the metabolism of protein, fats, and carbohydrates. Biotin also supports various metabolic chemical conversions. Children get the energy they need from food through metabolism, the chemical reactions in the body's cells that convert the fuel from food into the energy needed to do everything from moving to thinking to growing.

Vitamin C (Ascorbic Acid): 150 mg
Vitamin C, also known as ascorbic acid, is a water-soluble vitamin that has a number of biological functions. It supports normal tissue repair, healing and immune function. It is also a cofactor for dopamine production. Supplementing with a proven antioxidant, like vitamin C, is helpful in combating free radicals, especially in children who need neurological, metabolic or digestive support. Vitamin C supports glutathione levels, another important antioxidant in the body. Vitamin C's strong antioxidant protection can support optimal immune function in children who need neurological, metabolic or digestive support.*

Vitamin D3 (Cholecalciferol): 3 mcg
Vitamin D, a powerful antioxidant, promotes proper brain development. It is also helpful promoting normal glutathione levels which assist in detoxification of the body. In addition to supporting strong bone, vitamin D promotes muscle strength and neuromuscular function. The main function of vitamin D is to support normal regulation of serum calcium concentrations. Children who need neurological, metabolic or digestive support have growing bodies that can benefit from vitamin D3 because it promotes calcium absorption and retention, supports growth and strength of teeth and bones, and supports skeletal health and growth.*

Vitamin E (D-Alpha-Tocopheryl Acetate): 11 mg
Vitamin E is a fat-soluble vitamin proven to be a strong antioxidant. It supports the structural and functional maintenance of skeletal, cardiac and smooth muscle. It also promotes normal formation of red blood cells, supports cardiovascular function and promotes immune health.

Calcium (Carbonate): 50 mg
Calcium is an important mineral which supports numerous body processes including bone development and maintenance, nerve transmission, muscle contraction, vascular contraction, vasodilation, glandular secretion, cell membrane and capillary permeability, enzymatic reactions, respiration, renal function and blood coagulation. Children who need neurological, metabolic or digestive support have growing bodies that can benefit from calcium because it supports growth and strength of teeth and bones, skeletal health and growth, and healthy teeth and gums.*

Chromium (Nicotinate): 13 mcg
Chromium is an essential trace mineral that helps maintain normal glucose metabolism and helps maintain normal insulin and serum cholesterol levels. Chromium combines to form glucose tolerance factor, or GTF, in the body, which supports the actions of insulin in helping to maintain healthy blood sugar levels.

Iodine (Potassium Iodide): 25 mcg
The trace element is also present in more than a hundred enzyme systems such as energy production, nerve function and hair and skin growth. One of iodine's main functions includes supporting the thyroid gland in producing thyroid hormones thyroxin and tri-iodothyronine, which support the regulation of metabolic rate.

Magnesium (Lactate, Carbonate): 100 mg
Magnesium, an essential mineral, promotes normal function of over 300 enzymes, specifically those enzymes responsible for the production of neurotransmitters in the brain. Magnesium supports a number of other metabolic pathways including bone, protein and fatty acid formation, B vitamin activation, muscle relaxation, blood clotting and formation of adenosine triphosphate. Children who need neurological, metabolic or digestive support have growing bodies that can benefit from magnesium. Not only does it support bone formation, it promotes normal production of neurotransmitters.*

Manganese (Gluconate): 0.5 mg
Manganese supports normal formation of connective tissue, bones, and blood-clotting factors. It supports fat and carbohydrate metabolism, calcium absorption and blood sugar regulation. Manganese also promotes normal brain and nerve function. Manganese may promote the normal use of nutrients including biotin, thiamin, ascorbic acid and choline.

Selenium (Selenomethionine): 20 mcg
In the body, selenium functions as part of an antioxidant enzyme called glutathione peroxidase, as well as supporting normal growth and proper usage of iodine in thyroid functioning. Selenium also supports the antioxidant effect of vitamin E.

Potassium (Bicarbonate): 70 mg
Potassium, in the body, is classified as an electrolyte, and is involved in electrical and cellular functions in the body. It promotes the regulation of water balance and levels of acidity, helps maintain blood pressure, and supports normal transmission of nerve impulses, digestion, muscle contraction and heartbeat. Potassium can be found in foods, which help to maintain the body's internal balance of fluids and chemicals. Some potassium-enriched foods are fruits, vegetables and legumes, which are all commonly recommended for optimal heart health. Some symptoms of potassium deficiency include poor circulation, bluish tint to skin, head discomfort, sleeping problems, muscle weakness, and water retention.

Zinc (Lactate): 8 mg
Zinc is an essential mineral that is a cofactor in nearly 300 enzymes. It supports healing, protein synthesis, brain maintenance and development, cell reproduction, vision and the immune system, and protects against free radicals in children who need neurological, metabolic or and digestive support.*
Label Details
Supplement Facts

Serving Size: 1 Capful (3.3 g) Ages 2-3; 2 Capfuls (6.6 g) Ages 4 and Older

Servings per Container: 90 (Ages 2-3)/45 (Ages 4+)

Amount Per 3.3 g Serving

% Daily Value Ages 2-3

Amount Per 6.6 g Serving

% Daily Value Ages 4+

Calories

5

10

Total Carbohydrate

1 g

<1%**

3 g

1%*

Total Sugars

1 g

***

3 g

***

Includes Added Sugars

<1 g

3%**

2 g

4%*

Vitamin A (as beta-carotene)

563 mcg RAE

188%

1,125 mcg RAE

125%

Vitamin C (as ascorbic acid)

150 mg

1000%

300 mg

333%

Calcium (as calcium carbonate)

50 mg

7%

100 mg

8%

Vitamin D3 (as cholecalciferol)

3 mcg

20%

5 mcg

25%

Vitamin E (as d-alpha tocopheryl acetate)

11 mg

183%

22 mg

147%

Thiamin HCl

5 mg

1000%

10 mg

833%

Riboflavin

5 mg

1000%

10 mg

769%

Niacin (as niacinamide)

10 mg

167%

20 mg

125%

Vitamin B6 (as pyridoxal-5-phosphate)

19 mg

3800%

37.5 mg

2206%

Folate [as (6S)-5-methyltetrahydrofolic acid, glucosamine saltØ]

81 mcg DFE

54%

162 mcg DFE

41%

Vitamin B12 (as methylcobalamin)

5 mcg

556%

10 mcg

417%

Biotin

75 mcg

938%

150 mcg

500%

Pantothenic Acid (as d-calcium pantothenate)

8 mg

400%

15 mg

300%

Iodine (as potassium iodide)

25 mcg

28%

50 mcg

33%

Magnesium (as magnesium lactate, magnesium carbonate)

100 mg

125%

200 mg

48%

Zinc (as zinc lactate)

8 mg

267%

15 mg

136%

Selenium (as selenomethionine)

20 mcg

100%

40 mcg

73%

Manganese (as manganese gluconate)

0.5 mg

42%

1 mg

43%

Chromium (as chromium nicotinate)

13 mcg

118%

25 mcg

71%

Potassium (as potassium bicarbonate)

70 mg

FAQs

Why do children need to take a multivitamin?
Everyone needs vitamins and minerals, because they help release energy from our food and help build muscle, bone, blood and other vital tissue. Children need vitamins and minerals to maintain good health and normal growth. It is important to ensure that children receive all the vitamins and minerals they need every day, especially during their growing years. The body does not store all essential vitamins and minerals, therefore some need to be supplied on a regular basis.

What separates DNA Miracles Isotonix Multivitamin Plus from other children's multivitamins?
First, DNA Miracles Isotonix Multivitamin Plus is formulated using the Isotonix Delivery System, which allows for nutrients to be absorbed more rapidly into your child's system. This means less nutritional value is lost, and your child is getting a maximum benefit from this multivitamin.

Second, DNA Miracles Isotonix Multivitamin Plus has been specifically formulated to serve children in need of digestive, metabolic or neurological support. For many reasons, it is very important for such children to take a multivitamin. Children often have very particular tastes in food and are unlikely to eat a wide variety of items. It is crucial that children in need of digestive, metabolic or neurological support consume a specially-formulated multivitamin.

What is the serving size for DNA Miracles Isotonix Multivitamin Plus?
Children ages 2-3 should take one (1) level capful mixed with two ounces (2 oz.) of water once daily or as directed by your healthcare provider.

Children ages 4 and up should take two (2) level capfuls mixed with four ounces (4 oz.) of water once daily or as directed by your healthcare provider.

Can my children take DNA Miracles Isotonix Multivitamin Plus in addition to other DNA Miracles products?
An assortment of DNA Miracles products – DNA Miracles Chewable Probiotics, DNA Miracles Isotonix Digestive Enzymes, DNA Miracles Essential Omega 3 and DNA Miracles Isotonix OPC-3 – can be taken in addition to DNA Miracles Isotonix Multivitamin Plus.

Also: children can take their DNA Miracles Isotonix products at the same time, as long as they are mixed using the proper ratios (one level capful of DNA Miracles Isotonix powder for every two ounces of water).

What is the best way to store this product?
Keep Isotonix stored in a dry, cool place. If Isotonix are stored in the kitchen, keep them away from the stove, sink, heat-generating appliances or window ledges. If you live in a very humid area, you may store Isotonix products in the refrigerator – but not in the fruit and vegetables area.

---

Find Similar Products by:

---

Isotonix Vs. Standard Tablets, Capsules, or Soft Gels:

Isotonic, which means "same pressure," bears the same chemical resemblance of the body's blood, plasma and tears. All fluids in the body have a certain concentration, referred to as osmotic pressure. The body's common osmotic pressure, which is isotonic, allows a consistent maintenance of body tissues. In order for a substance to be absorbed and used in the body's metabolism, it must be in an isotonic state.

Isotonix dietary supplements are delivered in an isotonic solution. This means that the body has less work to do to obtain maximum absorption of the nutrients. The isotonic state of the suspension allows nutrients to pass directly into the small intestine and rapidly absorb into the bloodstream. With Isotonix products, little nutritive value is lost, making the absorption of nutrients highly efficient while delivering maximum results.

* These statements have not been evaluated by the Food and Drug Administration.
* This product is not intended to diagnose, treat, cure or prevent any disease.

Shop Internationally

---