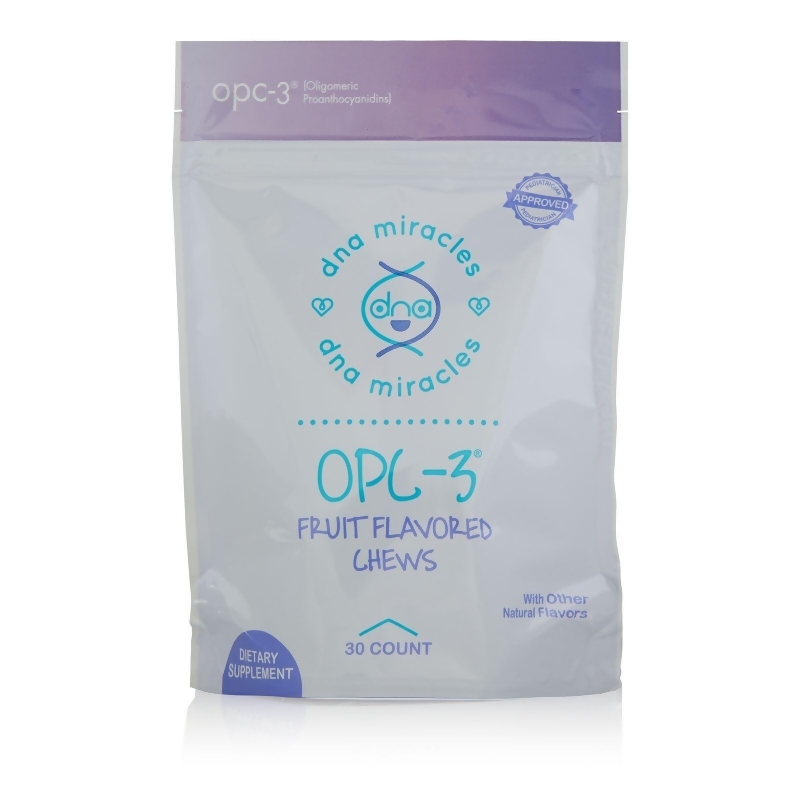 $31.95 USD
Earn $0.64 cash back!

Outside the United States:

Benefits
Provides strong antioxidant defense
Powerful free-radical scavenger
Helps maintain brain health
Supports the production of neurotransmitters
Helps maintain healthy circulation by strengthening capillaries, arteries and veins
Supports healthy blood vessel dilation
Promotes healthy nitric oxide levels
Why Choose DNA Miracles OPC-3 Chews?
Moms, dads and pediatricians understand how difficult it is to ensure their children get the nutrients they need – especially all-important antioxidants. That's why DNA Miracles is proud to offer DNA Miracles OPC-3 Chews, perfect for helping children get the antioxidant power of Pycnogenol ®† in a new, delicious chewable.*
These antioxidant chews are made with Pycnogenol – the same clinically-studied ingredient found in all of our OPC-3 products, including our popular children's supplement, DNA Miracles Isotonix OPC-3, our Isotonix OPC-3 and Isotonix OPC-3 Beauty Blend supplements for adults. This powerful antioxidant has been shown to support your children's health in numerous ways, including supporting your child's heart health. DNA Miracles OPC-3 Chews provide a strong antioxidant defense for every cell in your child's body, contributing to the maintenance of brain health and circulation.*
With DNA Miracles OPC-3 Chews, parents and pediatricians can feel confident they are not only giving them a nutritious and delicious chewable, but one that is good for them as well.* Because Every Child is a Miracle.
Customer Ratings
Ingredients
Grape (Vitis Vinifera) Seed Extract: 25 mg
Grape seed extract is typically extracted from the seeds of red grapes (instead of white), which have a high content of compounds known as oligomeric proanthocyanidins (OPCs). Grape seed extract contains polyphenols, compounds with high antioxidant activity. Children would benefit from grape seed extract because it helps to reduce the stress of free radicals and minimize oxidative stress caused by environmental toxins.*
Red Wine (Vitis Vinifera) Fruit Extract: 25 mg
Red wine extract is a potent antioxidant. This extract is found in grape vines, roots, seeds and stalks, with the highest concentration in the skins. The antioxidant properties of red wine extract contribute to maintaining healthy circulation by strengthening capillaries, arteries and veins, and promoting overall cardiovascular health.*
In the late 1990s, scientists took note of a phenomenon among the French. There were very low rates of cardiovascular problems in the provinces where residents consistently ate high fat foods and drank red wine. Scientists concluded that the protective properties of red wine have helped the French maintain cardiovascular health for years and subsequent scientific studies have further shown that the OPCs found in red wine are particularly beneficial for protecting the heart and blood vessels.*
Pine Bark Extract (Pycnogenol®‡): 25 mg
Pycnogenol is a plant extract from the bark of the maritime pine tree, which grows exclusively along the coast of southwest France in Les Landes de Gascogne. This unspoiled, natural environment is the unique source of this pine bark. Pycnogenol is one of the most researched ingredients in the natural product marketplace. Published findings have demonstrated Pycnogenol's wide array of beneficial effects on the body, specifically in the realm of antioxidant health. Pine bark extract is a combination of proanthocyanidins, bioflavonoids, and organic acids. The extract has three basic properties, it is a powerful antioxidant, selectively binds to collagen and elastin, and promotes normal production of endothelial nitric oxide, which promotes normal dilation of blood vessels.*
Pycnogenol is beneficial to children because it neutralizes many free radicals before they cause oxidative stress. Its antioxidant capabilities help support healthy blood platelet activity and promote cardiovascular health.*
‡ Pycnogenol® is the registered trademark of Horphag Research Ltd., and is protected by U.S. Patent #5,720,956; 6,372,266; and pending applications and international patents.
Bilberry (Vaccinium Myrtillus L. and Vaccinium Angustifolium Aiton) Extract: 25 mg
Bilberry extract is derived from the leaves and berry-like fruit of a common European shrub closely related to the blueberry. Extracts of the ripe berry contain flavonoid pigments known as anthocyanins, which are powerful antioxidants. Scientific studies confirm that bilberry extract supports healthy vision and venous circulation. Bilberry extract helps maintain healthy circulation by strengthening capillaries, arteries, and veins. Children may benefit from bilberry extract because of its ability to support healthy vision and venous circulation as well as helping to maintain brain health.*
Citrus Bioflavonoids Extract: 25 mg
Bioflavonoids are antioxidants found in certain plants that act as light filters, which protect the plant's DNA and other important macromolecules by absorbing ultraviolet radiation. They have been found to promote cardiovascular health and help maintain healthy circulation by strengthening capillaries, arteries, and veins. The ability for citrus bioflavonoids to maintain healthy circulation by strengthening capillaries, arteries, and veins is also beneficial for helping maintain brain health and supports the production of neurotransmitters in children.*
Ingredients Label
(click image to expland)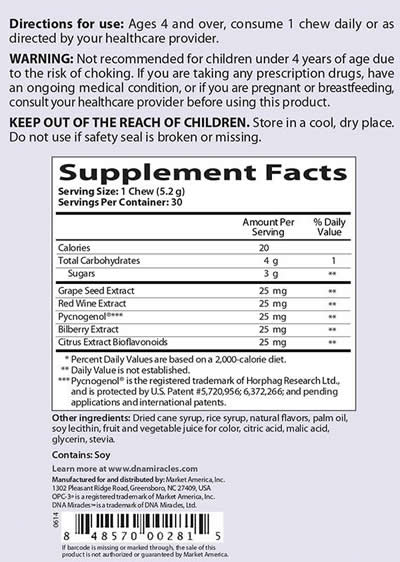 FAQs
What are OPCs?
The formula for DNA Miracles OPC-3 Chews includes some of the most powerful bioflavonoids – biologically-active members of plant-derived compounds – currently known to research scientists. These bioflavonoids are scientifically termed oligomeric proanthocyanidins , commonly abbreviated OPCs. The purest and best-researched OPCs include grape seed, red wine, grape skin, bilberries, citrus fruit, and pine bark extract, or Pycnogenol®† .*
Are DNA Miracles OPC-3 Chews safe?
Yes. OPCs are among the most valuable constituents of a healthy human diet. OPCs have been researched and used for over 30 years throughout Europe. DNA Miracles OPC-3 Chews are free of harmful chemicals, preservatives and alcohol.*
Are there any allergens in DNA Miracles OPC-3 Chews?
DNA Miracles OPC-3 Chews is a vegetarian product and contains no wheat, yeast, gluten, artificial flavors, starch, salt, preservatives or milk.
What is the serving size for DNA Miracles OPC-3 Chews?
Consume one (1) chew daily or as directed by your healthcare provider.
Can my children take DNA Miracles® OPC-3 Chews in addition to other DNA Miracles products?
An assortment of DNA Miracles products – DNA Miracles Chewable Probiotics, DNA Miracles Essential Omega 3, DNA Miracles Isotonix Digestive Enzymes, and DNA Miracles Isotonix Multivitamin or DNA Miracles Isotonix Multivitamin Plus – can be taken in addition to DNA Miracles OPC-3 Chews.
Can adults take DNA Miracles OPC-3 Chews?
Yes! DNA Miracles OPC-3 Chews are great for both children and adults. A single DNA Miracles OPC-3 Chew contains 25 grams of Pycnogenol ®† – the same amount found in a single serving of our Isotonix OPC-3 product.
---
Find Similar Products by:
* These statements have not been evaluated by the Food and Drug Administration.
* This product is not intended to diagnose, treat, cure or prevent any disease.
Shop Internationally