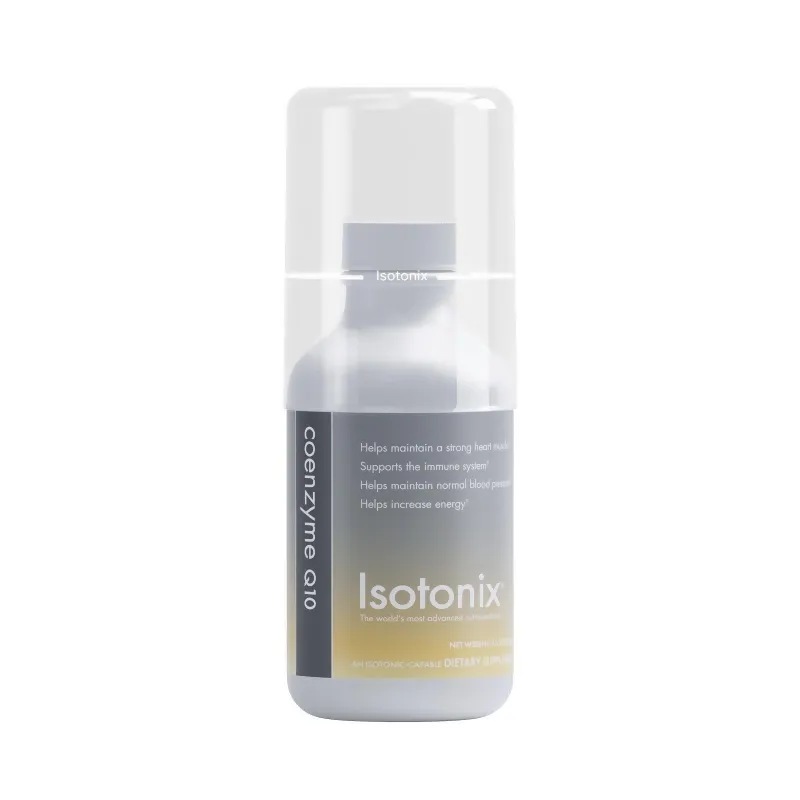 Also available
Heart Health™ Advanced Co-Q10
$59.95 USD
Single Bottle (30 Servings)
Earn $1.20 cash back!

Benefits
Promotes cardiovascular health
Provides antioxidant protection for the cardiovascular system
Helps maintain normal blood pressure
Helps maintain heart muscle strength
Enhances traditional support of cardiovascular health
Promotes healthy cholesterol levels
Promotes head comfort
Helps maintain healthy blood sugar levels
Studies have found CoQ10 deficiencies in overweight people
Helps maintain brain health
Vital for ATP production and supports muscle endurance
Promotes the immune system
Promotes gum health
Isotonic-Capable Supplement
Why Choose Isotonix Coenzyme Q10?
Coenzyme Q10 is a nutrient that plays a vital role in health maintenance. It contributes to a healthy cardiovascular system, periodontal health, healthy blood sugar levels, and maintenance of cholesterol and triglyceride concentrations. It also helps sustain vitamin E levels in cell membranes, supporting the immune system and helping to maintain a healthy weight.
A person's heart beats, on average, 100,000 times each day, which adds up to about 36 million times per year. CoQ10 is the vital nutrient that initiates energy production at the cellular level that powers the heart and acts as a powerful antioxidant when combined with vitamin E. Within a cell it serves as a carrier of electrons in the electron transport chain, neutralizes free radicals and helps protect the integrity of the mitochondrial membrane.
As individuals age, the ability to synthesize coenzyme Q10 begins to decline. Sometimes this is due to poor eating habits or stress, but the main challenge for most people is the ability to choose the right foods containing CoQ10 and other nutrients needed to manufacture CoQ10 within the body. It is a combination of both that provides the body with the best possible amount of CoQ10 for optimal health.
Absorption and efficacy of nutritional supplements are two important features to examine when selecting a nutritional supplement and Isotonix Coenzyme Q10 delivers both. This supplement is in the form of an isotonic fluid, which helps the nutrients to be absorbed into your system more quickly. When the isotonic fluid enters the body, it is delivered to the small intestine nutritionally concentrated. Then, it is naturally absorbed into the blood stream at a rapid pace, and little nutritive value is lost. Since the antioxidants are in an isotonic solution, it minimizes the chance that important nutrients will be trapped by fats, fibers and tannins, or inactivated by the highly acidic environment of the stomach.
Customer Ratings
Ingredients
Coenzyme Q10 (100 mg)
Coenzyme Q10 belongs to a family of substances called ubiquinones and is a water-insoluble, wax-like substance, that is part of the respiratory chain. It is synthesized in the cells, and is involved in electron transport and energy production in mitochondria. In the cellular system, it functions to generate energy from oxygen, in the form of ATP, for bodily processes. CoQ10 also exhibits activity as a free radical scavenger and an antioxidant. The antioxidant activity in the mitochondria and cell membranes protects against peroxidation of lipid membranes. Combining CoQ10 with vitamin E generates a synergistic antioxidant effect on lipoprotein and spares the vitamin E.
Coenzyme Q10 can be found in spinach, broccoli, nuts, meats and fish. In the body, it is found in the highest concentration in the cells of the heart, liver, kidney and pancreas. Supplementation of CoQ10 might be beneficial mostly to adults, because the levels of it in the body tend to peak around the age of twenty, and then decline with age. The effects of supplementation with CoQ10 have shown to be especially helpful in maintaining heart health.
Vitamin E (D-Alpha Tocopheryl Acetate) 134 mg
Since vitamin E is one of the most powerful fat-soluble antioxidants in the body, it helps protect cell membranes from the effects of free radicals. High intake of vitamin E have been found support a healthy heart. Vegetable oils, margarine, nuts, seeds, avocados, wheat germ, and safflower oil are all good food sources of vitamin E. Vitamin E is linked to a healthy heart, support of immune system function and support of healing.
Lipase (5 mg)
Lipase is a fat-digesting enzyme that supports the body's ability to break down dietary fats into an absorbable form. It is a water-soluble enzyme that catalyzes the hydrolysis of ester bonds in water-insoluble, lipid substrates. Lipase, such as human pancreatic lipase, support the conversion of triglyceride substrates found in oils from food to monoglycerides and free fatty acids. Lipases are ubiquitous in living organisms, and most are built on an alpha/beta hydrolase fold and employ a chymotrypsin-like hydrolysis mechanism involving a serine nucleophile, an acid residue and a histidine. Some lipases also work within the interior spaces of living cells to promote the normal degradtion of lipids.
Riboflavin (Vitamin B2) 3 mg
Vitamin B2, also known as Riboflavin, is a water soluble vitamin that's primary function is as a coenzyme to support metabolic processes in the body. It promotes healthy red cell formation, nervous system function and also acts as an antioxidant. Another key function of the vitamin is in the production of energy, where it acts as part of the electron transport chain that produces cellular energy. In the mitochondrial electron transport chain, vitamin B2 is an intermediate hydrogen acceptor of foodstuffs, and then passes the electrons onto the cytochrome system, where the cellular energy is produced.
Requirements for vitamin B2 are associated with calorie intake, because with an increase food intake your body also needs an increase of vitamin B2 to carry out the metabolic processes that will convert the food into usable energy. Nutritional inaccuracy is a common cause of vitamin B2 deficiency, which can occur in the elderly. Foods that are rich in the vitamin B2 are organ meats, eggs, milk, cheese, yogurt, leafy, green vegetables, and whole grains.
Potassium (120 mg)
Potassium, in the body, is classified as an electrolyte and is involved in electrical and cellular functions in the body. It promotes normal water balance, levels of acidity, and maintenance of blood pressure, transmission of nerve impulses, digestion, muscle contraction and heartbeat. Potassium can be found in foods, which help to maintain the body's internal balance of fluids and chemicals. Some potassium-enriched foods are fruits, vegetables and legumes, which are all commonly recommended for optimal heart health.
Sodium (bicarbonate) 70 mg
To combat fatigue, athletes in sprint-type sports take a form of sodium bicarbonate. During very intense exercise, lactic acid accumulation in the muscle cells can lead to premature fatigue and may reduce athletic performance. Sodium bicarbonate also improves endurance performance.
Calcium (Sulfate) 30 mg
The highest concentration of calcium is found in milk. Other foods rich in calcium include vegetables such as collard greens, Chinese cabbage, mustard greens, broccoli, bok choy and tofu. Calcium is an essential mineral with a wide range of biological roles. Calcium exists in bone primarily in the form of hydroxyapatite (Ca10 (PO4)6 (OH)2).
Hydroxyapatite accounts for approximately 40 percent of bone weight. The skeleton has a structural requisite and acts as a storehouse for calcium. Apart from being a major component of bones and teeth, calcium supports normal muscle contraction, nerve health, heart rhythms, blood coagulation, glandular secretion, energy production and immune system function.*
Sufficient daily calcium intake is necessary for maintaining optimal bone density, healthy bones and teeth and has been shown to ease the discomfort of PMS in women. When the body does not get enough calcium per day, it draws calcium from your bones.
The amount of calcium in the blood is regulated by PTH (parathyroid hormone). High levels of calcium in the body correlate with normal cardiovascular health and normal cholesterol levels. In the American Dietetic Association Journal, a study revealed that calcium helped middle-aged women to maintain healthy weight levels.
Label Details
Supplement Facts

Serving Size: 1 Capful (3.3 g)

Servings per Container: 30

Amount Per Serving

% Daily Value

Total Carbohydrates

1 g

<1%*

Total Sugars

1 g

**

Includes <1 g Added Sugars

2%*

Vitamin E

(D-Alpha Tocopheryl Acetate)

134 mg

893%

Riboflavin (Vitamin B2)

3 mg

231%

Calcium (Sulfate)

29 mg

2%

Sodium (Bicarbonate)

68 mg

3%

Potassium (Bicarbonate)

115 mg

2%

Coenzyme Q10

100 mg

**

Lipase

5 mg

**

* Percent Daily Values are based on a 2,000-calorie diet.

** Daily Value not established.
Other ingredients: Fructose, malic acid, citric acid, lemon juice powder, apple fiber, silicon dioxide, maltodextrin, Lo Han fruit extract, rebaudioside A (stevia leaf), lemon flavor, lime flavor and stearic acid.
Directions for use: Pour 1 level, white bottle capful of powder into the overcap. Add water to the line on the overcap (2 fl. oz./60 mL) and stir. As a dietary supplement, take once daily or as directed by your healthcare provider. Maximum absorption occurs when taken with a meal. This product is isotonic only if the specified amounts of powder and water are used.
WARNING: If you are currently using prescription drugs, have an ongoing medical condition, or if you are pregnant or breastfeeding, consult your healthcare provider before using this product.
This vegetarian product contains no added wheat, soy, yeast, gluten, artificial flavor, starch, preservatives or milk.
FAQs
What is Coenzyme Q10?
Coenzyme Q10 is actually a two-part compound that is composed of (1) a long, fat-soluble isoprenoid tail that anchors the molecule in the inner membrane of the mitochondria and (2) a quinone that is capable of accepting and transferring electrons through a portion of the respiratory chain. A coenzyme is a non-protein substance that helps enzymes carry out their metabolic function and is not consumed in the reaction. The "Q" stands for quinone and the "10" stands for the number of isoprenoid units in the tail portion of the molecule. Mammals generally have 10 isoprenoid units in the tail portion, but other non-mammalian species may have fewer units. Coenzyme Q10 is a critical biochemical link in the production of energy in the cell. Coenzyme Q10 is found in the cell membranes of all cells in our body, particularly in the inner mitochondrial membranes, and it is especially concentrated in highly active organs such as the heart, lungs, kidneys, spleen, and adrenal glands.
The mitochondria produce large amounts of adenosine triphosphate (ATP), which helps cells perform work. Since the manufacture of adenosine triphosphate (ATP) in the mitochondria is known to generate many harmful oxygen radicals, coenzyme Q10 serves an antioxidant function in that location by neutralizing radicals. Coenzyme Q10 is also required by a key enzyme in the Kreb's cycle (Citric Acid Cycle), which converts both carbohydrates and fat into usable energy for the cell.
Besides these functions within all cells, coenzyme Q10 also works with vitamin E outside of the cell when both compounds are dissolved in circulating low-density lipoprotein (LDL) particles carrying cholesterol. These two fat-soluble antioxidants help to prevent the cholesterol from oxidizing. Oxidized cholesterol is highly toxic to the endothelial cells and the smooth muscle cells that comprise the blood vessels. Oxidized cholesterol can contribute significantly to arterial plaque formation.
What is the source of Coenzyme Q10?
While our livers produce small amounts of coenzyme Q10 and this small amount is distributed to the rest of the body, we get most CoQ10 from foods, such as organ meats, muscle meats, fish, peanuts, spinach, soy and nuts. In the past, it was difficult and very expensive to isolate sufficient amounts of coenzyme Q10 from these food sources for the purpose of dietary supplementation. However, a Japanese company succeeded in synthesizing coenzyme Q10 in 1977, thus making an important nutrient available to the world.
What is a safe and effective serving of supplemental Coenzyme Q10?
A variety of clinical studies has demonstrated that daily intake as low as 30 mg and as high as 300 mg of coenzyme Q10 are safe and can promote a healthier life. The circulating levels of coenzyme Q10 take about 60-90 days to reach steady state, depending on the amount taken. Granular coenzyme Q10, as used in Isotonix, is about equal to the oil-based form in terms of uptake from the small intestine and distribution throughout the body.
What is the best way to store this product?
Keep Isotonix stored in a dry, cool place. If Isotonix are stored in the kitchen, keep them away from the stove, sink, heat-generating appliances or window ledges. If you live in a very humid area, you may store Isotonix products in the refrigerator – but not in the fruit and vegetables area.
---
Find Similar Products by:
---
Isotonix Vs. Standard Tablets, Capsules, or Soft Gels:

Isotonic, which means "same pressure," bears the same chemical resemblance of the body's blood, plasma and tears. All fluids in the body have a certain concentration, referred to as osmotic pressure. The body's common osmotic pressure, which is isotonic, allows a consistent maintenance of body tissues. In order for a substance to be absorbed and used in the body's metabolism, it must be in an isotonic state.
Isotonix dietary supplements are delivered in an isotonic solution. This means that the body has less work to do to obtain maximum absorption of the nutrients. The isotonic state of the suspension allows nutrients to pass directly into the small intestine and rapidly absorb into the bloodstream. With Isotonix products, little nutritive value is lost, making the absorption of nutrients highly efficient while delivering maximum results.
* These statements have not been evaluated by the Food and Drug Administration.
* This product is not intended to diagnose, treat, cure or prevent any disease.
Shop Internationally