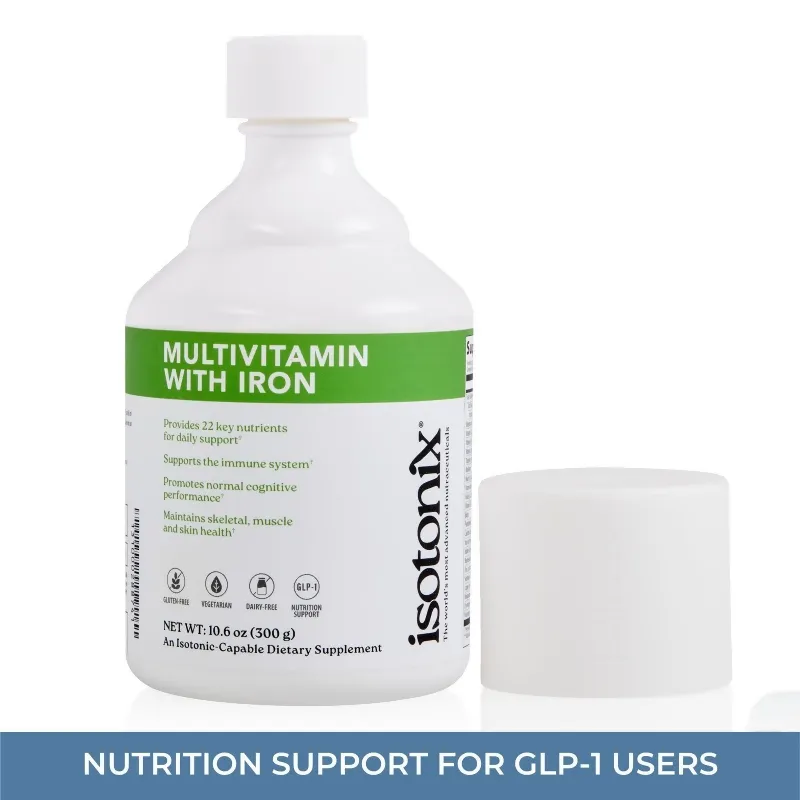 Also available
Isotonix Multivitamin Without Iron
$29.95 - $62.95 USD
Earn up to $1.26 cash back!

Options:
$29.95: Single Bottle (30 Servings)
$62.95: Single Bottle (90 Servings)
Benefits
Get Total Nutrition
Contains 100% or more of the Recommended Daily Value of essential vitamins & minerals
Supports a strong immune system
Supplements dietary deficiencies
Additional Benefits -
Promotes normal cognitive performance and mental clarity
Promotes skeletal, muscle & skin health
Promotes the conversion of food into energy
Supports a healthy cardiovascular system
Supports strong bones
Helps maintain normal blood pressure
Supports a healthy thyroid
Promotes healthy growth and repair of tissue
Contains vitamins and minerals that support the body's ability to metabolize fats and carbohydrates and support a healthy body weight
Isotonic-Capable Supplement
Why Choose Isotonix Multivitamin?
A good quality vitamin and mineral supplement creates a sound micronutrient foundation to accompany a balanced diet. Certain products are considered essential for everyone because they help establish a foundation for optimal health. One of these products is a multivitamin, since it is important for helping provide vitamins and minerals that may be lacking in our diet. There is no substitute for a healthy, well-balanced diet; however, in today's fast-paced lifestyles it is important to ensure the body is getting the fuel it needs.
Isotonix Multivitamin is an isotonic-capable food supplement containing 100 percent or more of the daily value of essential vitamins and minerals. Isotonix Multivitamin is a great supplement choice for all adults and especially for athletes, growing teenagers and pre-menopausal women. Isotonix Multivitamin is available with and without iron for differing nutritional needs.*
When adding a multivitamin, it is important to realize that a multivitamin should be delivered in a way where little nutritive value is lost, making the absorption of nutrients important. It is this reason why Isotonix Multivitamin sets itself apart from the competition. Isotonix Multivitamin includes the rapid absorption made possible by the Isotonix delivery system, eliminating the need to swallow a pill. Also, by removing binders and fillers, Isotonix Multivitamin is a great tasting, all-natural alternative to your everyday multivitamin.
*These statements have not been evaluated by the Food and Drug Administration. This product(s) is not intended to diagnose, treat, cure or prevent any disease.
Customer Ratings
Ingredients
Vitamin A (Beta-Carotene/Vitamin A pre-cursor) 3,000 mcg
Vitamin A is a fat-soluble vitamin. Sources of vitamin A include organ meats (such as liver and kidney), egg yolks, butter, carrot juice, squash, sweet potatoes, spinach, peaches, fortified dairy products and cod liver oil. Vitamin A is also part of a family of compounds including retinol, retinal and beta-carotene.

Vitamin C (Ascorbic Acid) 150 mg
Vitamin C is found in peppers (sweet, green, red, hot red and green chili), citrus fruits and brussel sprouts, cauliflower, cabbage, kale, collards, mustard greens, broccoli, spinach, guava, kiwi fruit, currants and strawberries. Nuts and grains contain small amounts of vitamin C. It is important to note that cooking destroys vitamin C activity.

Iron Phosphate† (SunActive Fe™)‡ 15 mg
Iron is mainly found in citrus fruits, tomatoes, beans, peas, fortified bread and grain products such as cereal (non-heme iron sources). Beef, liver, organ meats and poultry comprise the heme iron sources. The heme iron sources are more absorbable than the non-heme type of iron. Iron is an essential mineral. It is a component of hemoglobin, the protein that carries oxygen in the blood, and myoglobin, another protein that carries oxygen in muscle tissue. Iron is required in red blood cell formation.*

Thiamin (thiamin HCI) 2.6 mg
Thiamin plays an important role in carbohydrate metabolism and nerve function. Thiamin is required for a healthy nervous system and assists in the production of the neurotransmitter acetylcholine and gamma-aminobutyric acid (GABA). It is used in the manufacture of hydrochloric acid and, therefore, plays a part in digestion, increases energy and helps promote mental clarity.*

Pantothenic Acid (D-calcium pantothenate) 20 mg
Pantothenic acid (B5) is the transfer agent for choline to acetylcholine, which promotes proper neurotransmitter activity in the brain. Pantothenic acid is also known as the anti-stress vitamin because it detoxifies brain tissue, helps relieve physical and emotional stress and plays a very important role in the secretion of hormones.*

Niacin (Vitamin B3) 40 mg
Niacin is a water-soluble vitamin necessary for many aspects of health, growth and reproduction. It is part of the vitamin B complex. Niacin supports the functioning of the digestive system, skin and nerves. It is also important for the conversion of food to energy. Niacin (also known as vitamin B-3) is found in dairy products, poultry, fish, lean meats, nuts and eggs as well as legumes and enriched breads and cereals.*

Vitamin B12 (methylcobalamin) 75 mcg
Vitamin B12 is naturally found in meats, liver, beef, pork, eggs, whole milk, cheese, whole wheat bread and fish. Vitamin B12 can only be found in animal products, with small amounts derived from fermented soy products such as miso and tempeh, and peanuts. It is essential that vegetarians consume a vitamin B12 supplement to maintain optimal health.

Folate [as (6S)-5-methyltetrahydrofolic calcium] (215 mcg)
Folic acid is mainly found in fruits and vegetables. Dark, leafy greens, oranges, orange juice, beans, peas and Brewer's yeast are the best sources. Folic acid plays a key role by boosting the benefits of B12 supplementation.

Riboflavin 5-Phosphate (Vitamin B2) 3 mg
Vitamin B2 is found in liver, dairy products, dark green vegetables and some types of seafood. Vitamin B2 serves as a co-enzyme, working with other B vitamins. It promotes healthy blood and supports both the nervous system and normal human growth.

Pyridoxine HCl (Vitamin B6) 4 mg
Poultry, fish, whole grains and bananas are the main dietary sources of vitamin B6. Vitamin B6 is a co-factor required for protein and amino acid metabolism and helps maintain proper fluid balance. It also assists in the maintenance of healthy red and white blood cells. Vitamin B6 is required for hemoglobin synthesis.

Vitamin D3 (Cholecalciferol) 25 mcg
Regular sunlight exposure is the main way that most humans get their vitamin D. Food sources of vitamin D are vitamin D-fortified milk (100 IU per cup), cod liver oil, and fatty fish such as salmon. Small amounts are found in egg yolks and liver. Vitamin D promotes the absorption of calcium and phosphorus and supports the production of several proteins involved in calcium absorption and storage.

Vitamin E (d-alpha-Tocopherol Succinate) 45 mg
The most valuable sources of dietary vitamin E include vegetable oils, margarine, nuts, seeds, avocados and wheat germ. Safflower oil contains large amounts of vitamin E (about two thirds of the RDA in ¼ cup) and there are trace amounts in corn oil and soybean oil.

Calcium (Lactate, Tricalcium Phosphate) 50 mg
Calcium is found in milk, cheese, yogurt, corn tortillas, Chinese cabbage (Napa), kale and broccoli. Calcium is an essential mineral with a wide range of biological roles. Calcium exists in bone primarily in the form of hydroxyapatite (Ca10 (PO4)6 (OH) 2).

Chromium (Nicotinate) 120 mcg
Chromium is found naturally in some cereals, meats, poultry, brewer's yeast, broccoli, prunes mushrooms, fish and beer. Chromium is an essential trace mineral that promotes normal glucose metabolism and regulation of insulin levels, and helps the body maintain healthy blood levels of cholesterol and other fats.

Copper (Gluconate) 0.1 mg
The richest sources of dietary copper derive from organ meats, seafood, nuts, seeds, wheat bran cereal, whole grain products and cocoa products. Copper may have some antioxidant properties and acts as a component of enzymes in iron metabolism. It is an essential trace mineral.

Iodine (Potassium Iodide) 150 mg
Iodine is found in most seafood and in iodized salt. It is a necessary component of thyroid hormones and helps regulate and maintain a properly functioning metabolism.*

Magnesium (Carbonate) 25 mg
Foods rich in magnesium include unpolished grains, nuts and green vegetables. Green leafy vegetables are potent sources of magnesium because of their chlorophyll content. Meats, starches and milk are less rich sources of magnesium.

Manganese (Gluconate) 2 mg
Manganese is a mineral found in large quantities in both plant and animal matter. The most valuable dietary sources of manganese include whole grains, nuts, leafy vegetables and teas. Manganese is concentrated in the bran of grains, which is often removed during processing. There are several forms of supplementary manganese including manganese gluconate, manganese sulfate, manganese ascorbate, and manganese amino acid chelates.

Potassium (Bicarbonate) 110 mg
Foods rich in potassium include fresh vegetables and fruits such as bananas, oranges, cantaloupe, avocado, raw spinach, cabbage and celery. Potassium is an essential macromineral that helps to keep fluid balance. It also plays a role in a wide variety of biochemical and physiological processes.

Selenium (Amino Acid Chelate) 55 mcg
The best dietary sources of selenium include nuts, unrefined grains, brown rice, wheat germ, and seafood. In the body, selenium functions as part of an antioxidant enzyme called glutathione peroxidase as well as promoting normal growth and proper usage of iodine in thyroid functioning.

Zinc (Lactate) 7.5 mg
Zinc is largely found in fortified cereals, red meats, eggs, poultry and certain seafood, including oysters. It is a component of multiple enzymes and proteins. It is also involved in the regulation of gene expression. Zinc is an essential trace mineral that has functions in approximately 300 different enzyme reactions.

Biotin (Vitamin B7) 300 mcg
Biotin can be found in food sources, such as egg yolks, peanuts, beef liver, milk (10 mcg/cup), cereals, almonds and Brewer's yeast. Biotin is used in healthy cell growth, the production of fatty acids, metabolism of fats and amino acids. It plays a role in the Citric acid cycle, which is the process in which biochemical energy is generated during aerobic respiration.
Label Details
Supplement Facts

Serving Size: 1 Capful (3.3 g)

Servings Per Container: 90

Amount Per Serving

% Daily Value

Calories

5

Total Carbohydrates

<1 g

<1%*

Total Sugars

<1 g

**

Includes <1 g Added Sugars

1%*

Vitamin A (100% beta-carotene)

1,576 mcg RAE

175%

Vitamin C (as ascorbic acid)

150 mg

167%

Calcium (as lactate, phosphate)

54 mg

4%

Iron (as ferric pyrophosphate, SunActive®‡ Fe)

15 mg

83%

Vitamin D3 (as cholecalciferol)

25 mcg

125%

Vitamin E (as d-alpha-tocopheryl succinate)

45 mg

300%

Thiamin HCl (vitamin B1)

2.6 mg

217%

Riboflavin (vitamin B2)

3 mg

231%

Niacin (as niacin/niacinamide 4:1)

40 mg NE

250%

Vitamin B6 (as pyridoxine HCl)

4 mg

235%

Folate [as (6S)-5-methyltetrahydrofolic acid, glucosamine salt, Quatrefolic®Ø]

216 mcg DFE

54%

Vitamin B12 (as cyanocobalamin)

75 mcg

3125%

Biotin

300 mcg

1000%

Pantothenic Acid (as d-calcium pantothenate)

20 mg

400%

Iodine (as potassium iodide)

150 mcg

100%

Magnesium (as carbonate)

25 mg

6%

Zinc (as lactate)

7.5 mg

68%

Selenium (as amino acid chelate)

55 mcg

100%

Copper (as gluconate)

0.1 mg

11%

Manganese (as gluconate)

2 mg

87%

Chromium (as amino nicotinate)

120 mcg

343%

Potassium (as bicarbonate)

110 mg

2%

* Percent Daily Values are based on a 2,000-calorie diet.

** Daily Value not established.
Other ingredients: Fructose, citric acid, natural mango flavor, natural orange flavor, natural passion fruit flavor, malic acid, rebaudioside A (stevia leaf), silicon dioxide, maltodextrin, luo han guo fruit extract, natural vanilla flavor and stearic acid.
‡Sunactive® Fe is a registered trademark of Taiyo International, Inc.
ØQuatrefolic® is the registered trademark of Gnosis S.p.A. and is protected by U.S. Patent No. 7,947,662.
Directions for use: Pour 1 level, white bottle capful of powder into the overcap. Add water to the line on the overcap (2 fl. oz./60 mL) and stir. As a dietary supplement, take once daily or as directed by your healthcare provider. Maximum absorption occurs when taken on an empty stomach. This product is isotonic only if the specified amounts of powder and water are used.
Note: If you are currently using any prescription drugs, have an ongoing medical condition, or if you are pregnant or breastfeeding, consult your healthcare provider before using this product.
WARNING: Accidental overdose of iron-containing products is a leading cause of fatal poisoning in children under 6. Keep this product out of reach of children. In case of accidental overdose, call a doctor or poison control center immediately.
This vegetarian product contains no added wheat, soy, yeast, gluten, artificial flavor, starch, salt, preservatives or milk.
FAQs
Why is taking a vitamin supplement important?
A vitamin may be broadly defined as a substance that is essential for the maintenance of normal metabolic function, but which is not produced in the body and therefore must be consumed from a source outside the body. They are necessary elements in the process of converting food to energy and in the growth and repair of body tissue. Reduction of vitamin levels over extended periods can result in vitamin deficiency. These shortages may lead to symptoms, which can include loss of appetite and loss of body weight.
Why is there vitamin D3 in Calcium Plus and Isotonix Multivitamin?
Vitamin D3 has been added to the Calcium Plus and the Isotonix Multivitamin to facilitate the uptake of calcium. Vitamin D3 is initially activated further in the skin in the presence of sunlight and then it is activated further in the kidney and liver. Vitamin D3 is a hormone that can stimulate the production of calcium-binding proteins, which aid in transporting this essential mineral through cells. The 1,2,5-dihydroxy-vitamin D3 is then transported to critical sites in the body to facilitate calcium uptake. The intestine and bone cells are two of these critical sites. There are groups of people who are not out in the sun for significant lengths of time. Certain racial groups have significant problems in the higher latitudes, especially during the winter, in producing substantial amounts of vitamin D3 and subsequently taking up enough calcium. Even with intense phototherapy for those people requiring significant calcium nutrition, the blood levels of 1,25-OH-vitamin D3 are highly regulated.
What is the best way to store this product?
Keep Isotonix stored in a dry, cool place. If Isotonix are stored in the kitchen, keep them away from the stove, sink, heat-generating appliances or window ledges. If you live in a very humid area, you may store Isotonix products in the refrigerator – but not in the fruit and vegetables area.
---
Find Similar Products by:
---
Isotonix Vs. Standard Tablets, Capsules, or Soft Gels:

Isotonic, which means "same pressure," bears the same chemical resemblance of the body's blood, plasma and tears. All fluids in the body have a certain concentration, referred to as osmotic pressure. The body's common osmotic pressure, which is isotonic, allows a consistent maintenance of body tissues. In order for a substance to be absorbed and used in the body's metabolism, it must be in an isotonic state.
Isotonix dietary supplements are delivered in an isotonic solution. This means that the body has less work to do to obtain maximum absorption of the nutrients. The isotonic state of the suspension allows nutrients to pass directly into the small intestine and rapidly absorb into the bloodstream. With Isotonix products, little nutritive value is lost, making the absorption of nutrients highly efficient while delivering maximum results.
* These statements have not been evaluated by the Food and Drug Administration.
* This product is not intended to diagnose, treat, cure or prevent any disease.
Shop Internationally