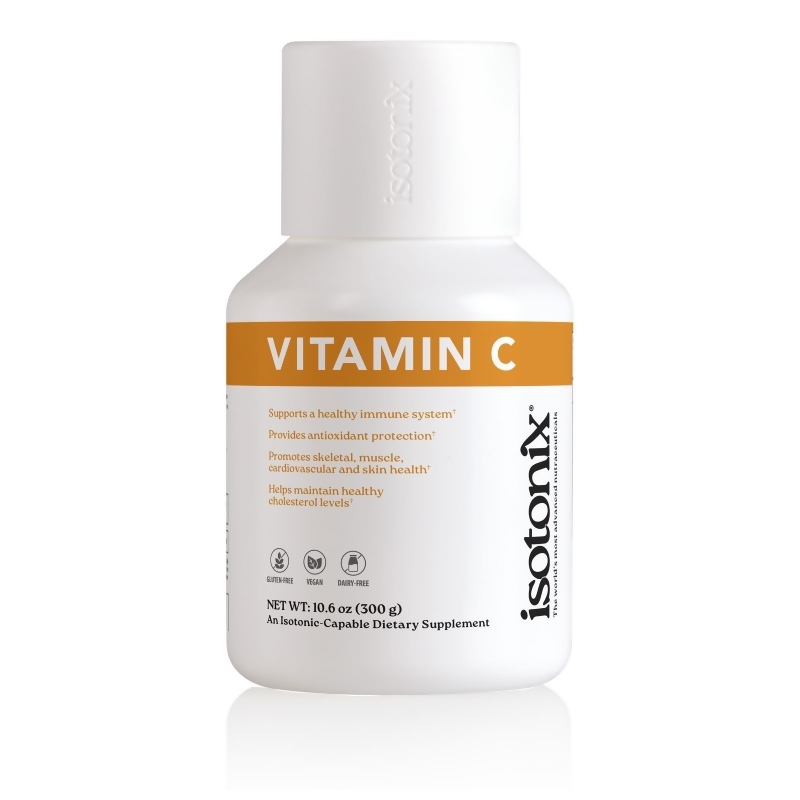 $15.95 - $34.50 USD
Earn up to $0.69 cash back!

Benefits
Promotes optimal immune functions
Provides antioxidant protection
Promotes normal regulation of heart functions
Promotes cognitive health
Promotes skeleton, muscle and skin health
Helps maintain healthy cholesterol levels

Why Choose Isotonix Vitamin C?
The two most important factors when searching for the best quality nutritional supplements are absorption and potency. Isotonix supplements, when mixed with water, have the same pH and osmotic pressure as the bodys fluids, such as tears, plasma and blood. In order for meaningful absorption of nutritional content to take place, all food must be converted into an isotonic state. This process could take up to three hours. This time consuming process limits the amount of nutrients absorbed by the body. However, our Isotonix Vitamin C sets itself apart from other products on the market providing you with the maximum absorption of the nutrients within the product in the shortest amount of time. All in all, Isotonix Vitamin C provides superior delivery of the nutrients your body needs in the most cost effective way. According to researchers at the University of Leeds, Guys Hospital in London, Baylor University and the Mayo Clinic, among others, have shown that not only do isotonic solutions leave the stomach faster, but also that the osmotic pressure of the stomach contents is one of the controlling mechanisms for the rate at which the stomach empties leading to more efficient assimilation by all of the bodys systems. The liquid composition of Isotonix Vitamin C Formula places the vitamins and minerals in an optimal position for absorption and superior delivery to the bodys systems. Isotonix Vitamin C is an exemplary product that leaves you with peace of mind, knowing that you are doing the most and the best for your health.*
Customer Ratings
Ingredients
Vitamin C (Ascorbic Acid) 500 mg
Around 90 percent of vitamin C in the typical diet comes from fresh fruits and vegetables. Peppers- sweet green and red peppers and hot red and green chili peppers- are especially rich in vitamin C. Other good sources include citrus fruits and juices, brussels sprouts, cauliflower, cabbage, kale, collards, mustard greens, broccoli, spinach and strawberries. It is important to note that cooking destroys vitamin C activity.
Vitamin C, justifiably so, has become the worlds most popular vitamin. The reasoning behind this vitamins grand reputation is at once multi-faceted as well as amazing. The bodily functions promoted by this vitamin create an extensive list.*
Ascorbic acid is best known for its antioxidant properties. Ascorbic acid may be the most important water-soluble antioxidant in the body.*
The capacity of vitamin C to support the immune system seems to be common knowledge. In support of an elevated vitamin C intake, an expert scientific panel recently recommended increasing the current RDA for vitamin C from 60 mg to at least 100-200 mg per day. Next, vitamin C may promote normal pulmonary health. Part of the protective action of vitamin C appears to be due to its antioxidant properties. Finally, some studies suggest that vitamin C supplementation will help to maintain healthy vision.*
Vitamin C helps support cardiovascular health in a few different ways. It assists in promoting normal levels of cholesterol and normal blood pressure and promotes normal platelet activity. It also promotes healthy triglyceride levels. Vitamin C protects against LDL peroxidation by scavenging free radicals. Vitamin C helps maintain endothelial cell function by promoting the synthesis of nitric oxide (also known as NO and EDRF for endothelium-derived relaxing factor).*
As mentioned above, vitamin C helps preserve intracellular reduced glutathione concentrations. This activity likely helps maintain nitric oxide levels and potentiates its vasoactive effects, helping to maintain the integrity of blood vessels.*
Vitamin C may promote normal modulation of prostaglandin synthesis, which in turn promotes normal vasodilatory activity. As observed above, vitamin C helps maintain nitric oxide levels and supports its ability to preserve the integrity of the blood vessels. There is an indication that vitamin C supports endothelial-dependent vasodilation.*
Vitamin C plays a crucial role in maintaining healthy connective tissues including collagen, elastin, fibronectin, proteoglycans, bone matrix and elastin-associated fibrillin. Also, a lack of vitamin C can cause general fatigue. Next, vitamin C helps moderate healthy iron absorption, transport and storage. It promotes the normal intestinal absorption of iron.*
Beta Carotene (Vitamin A Precursor) 240 mcg
Vitamin A is a fat-soluble vitamin that is part of a family of compounds including retinol, retinal and beta-carotene. Beta-carotene is also known as pro-vitamin A because it can be converted into vitamin A. The best sources of vitamin A includes organ meats (such as liver and kidney) egg yolks, butter, carrot juice, squash, sweet potatoes, spinach, peaches, fortified dairy products (such as milk and some margarines) and cod liver oil.
Vitamin A has exhibited anti-aging and antioxidant activities. Vitamin A helps to maintain vision. It promotes normal bone growth and also contributes to a healthy immune system. Vitamin A supports normal epithelial differentiation, growth, reproduction, pattern formation during embryogenesis, bone development, hematopoiesis and brain development. Children are particularly susceptible to the effects of vitamin A deficiency.*
Potassium (Bicarbonate) 101 mg
Foods rich in potassium include fresh vegetables and fruits, such as bananas, oranges, cantaloupe, avocado, raw spinach, cabbage and celery. Potassium is an essential macromineral that helps to keep fluid balance. It also plays a role in a wide variety of biochemical and physiological processes. Among other things, it promotes the normal transmission of nerve impulses, the normal contraction of cardiac, skeletal and smooth muscle, the normal production of energy, the normal synthesis of nucleic acids, the maintenance of intracellular tonicity and the maintenance of normal blood pressure. Potassium promotes muscle relaxation, and supports normal insulin release. It also promotes normal glycogen and protein synthesis. Potassium is an electrolyte that promotes proper heartbeat, and it is important in supporting the normal release of energy from protein, fat and carbohydrates during metabolism.*
Potassium also promotes the normal regulation of water balance. Potassium promotes the normal elimination of wastes and generally contributes to a sense of well-being. Potassium is stored in the muscles.*
Some symptoms of potassium deficiency include poor circulation, earaches, inability to sleep, muscle weakness and water retention.
Sodium and potassium are two of the most important ions in helping the body maintain the homeostatic equilibrium of fluids.*
Ingredients Label
(click image to expland)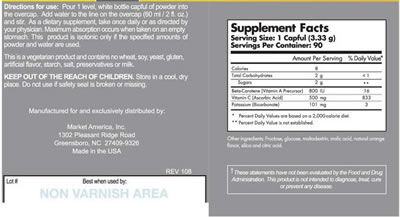 FAQs
What is the recommend daily allowance of Vitamin C?
The RDA for the average adult male is 90 mg a day and for adult females it is 75 mg a day.
Does Isotonix Vitamin C provides the recommended daily allowance?
Yes, Isotonix Vitamin C contains 500 mg of vitamin C per serving, which is an optimal amount for immune system maintenance.
Will Isotonix Vitamin C support my immune system?
Yes, in several ways actually. Vitamin C has been heralded for quite possibly being the best immune system supporter and antioxidant available today. People who take daily doses of vitamin C can support their immune system. Vitamin C supports the immune system by protecting the body from free radical damage. As a water-soluble vitamin, ascorbic acid performs its antioxidant functions within the aqueous compartments of the blood and inside cells and can help restore the antioxidant potential of vitamin E (a fat-soluble antioxidant). Support of immune cell function is also a key role performed by vitamin C.*
Is Isotonix Vitamin C safe for children and their delicate systems?
Children should take DNA Miracles Isotonix Multivitamin which has a lower serving of vitamin C in the formulation. Vitamin C supplementation is especially beneficial for children.*
Who needs to supplement with Isotonix Vitamin C Formula?
Basically, everyone over 18 should use Isotonix Vitamin C Formula to add vitamin C to their diet because very few of us get the recommended five servings of fruits and vegetables in our daily diets.
Is it possible to take too much Isotonix Vitamin C Formula?
Ascorbic acid is extremely safe even at relatively high levels (because most of the excess is excreted in the urine). At high doses (over 1000 mg/day), some people can experience gastrointestinal side effects such as stomach cramps, nausea and diarrhea. It is recommended that you take vitamin C supplements in gradual servings throughout the day to achieve maximum benefits.*
How does Isotonix Vitamin C Formula aid in cardiovascular health?
It helps maintain healthy cholesterol and triglyceride levels. It promotes healthy arterial walls and supports normal blood pressure. It helps the body maintain vitamin E, which has known benefits for the cardiovascular system. Finally, vitamin C supports normal platelet activity.*
What is the best way to store this product?
Keep Isotonix stored in a dry, cool place. If Isotonix are stored in the kitchen, keep them away from the stove, sink, heat-generating appliances or window ledges. If you live in a very humid area, you may store Isotonix products in the refrigerator – but not in the fruit and vegetables area.
---
Find Similar Products by:
---
Isotonix Vs. Standard Tablets, Capsules, or Soft Gels:

Isotonic, which means "same pressure," bears the same chemical resemblance of the body's blood, plasma and tears. All fluids in the body have a certain concentration, referred to as osmotic pressure. The body's common osmotic pressure, which is isotonic, allows a consistent maintenance of body tissues. In order for a substance to be absorbed and used in the body's metabolism, it must be in an isotonic state.
Isotonix dietary supplements are delivered in an isotonic solution. This means that the body has less work to do to obtain maximum absorption of the nutrients. The isotonic state of the suspension allows nutrients to pass directly into the small intestine and rapidly absorb into the bloodstream. With Isotonix products, little nutritive value is lost, making the absorption of nutrients highly efficient while delivering maximum results.
* These statements have not been evaluated by the Food and Drug Administration.
* This product is not intended to diagnose, treat, cure or prevent any disease.
Shop Internationally