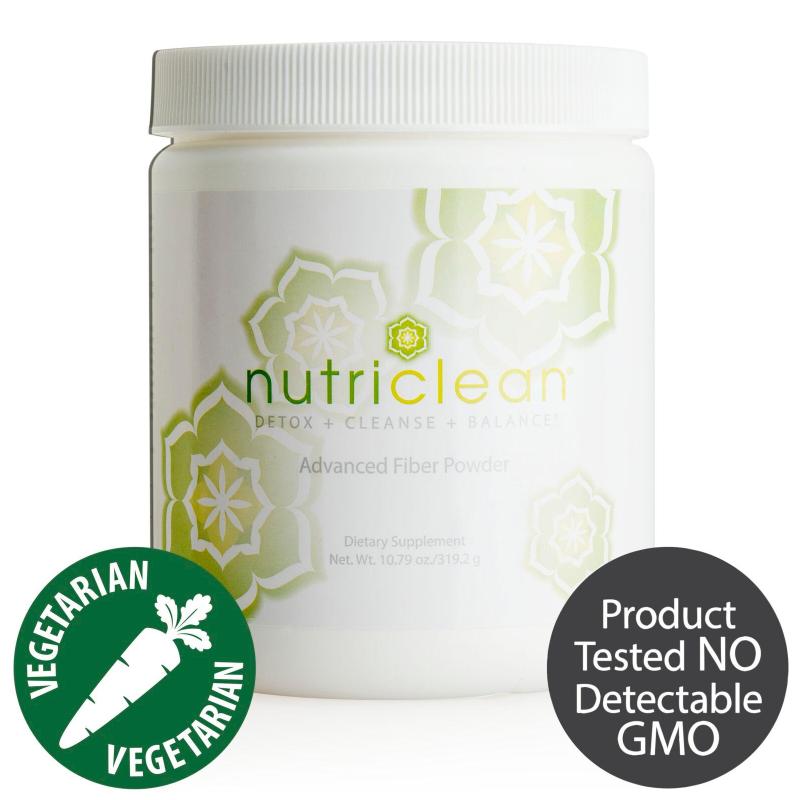 $54.50 USD
Earn $1.09 cash back!

Benefits
Helps cleanse the colon
Helps maintain balanced bowels
Supports healthy nutrient absorption
Helps maintain digestive health
Helps maintain proper levels of intestinal microflora
Helps relieve occasional constipation†
Helps support normal bowel regularity and fecal volume
Promotes colon health
Promotes healthy growth of beneficial bacteria in the colon
Provides fuel for cells lining the small intestine
Supports healthy intestinal function
Supports overall health by helping to maintain normal cholesterol levels, helping to maintain normal blood glucose levels and promoting immune health
*These statements have not been evaluated by the Food and Drug Administration. This product(s) is not intended to diagnose, treat, cure or prevent any disease.
†This product is not intended to treat chronic constipation, which could be a symptom of a serious disease. If you experience chronic constipation, you should consult your physician.
Details
NutriClean Advanced Fiber Powder has been shown to relieve occasional constipation†, thereby balancing the activity of the bowel. The bowel is the major point of excretion from the digestive system and a major determinant in overall digestive system health. This blend of fibers and probiotics team up to deliver optimum cleansing by purifying the colon as it balances the bowel, and promotes a healthy immune system. NutriClean Advanced Fiber Powder delivers top quality soluble fiber with beneficial probiotics, which promotes the growth of good bacteria in the colon, keeping things in balance in terms of microorganisms. Verified by our in-house scientists, NutriClean Advanced Fiber powder contains one of the most advantageous mixtures of L-glutamine, inulin, Fibersol-2 and probiotics. NutriClean Advanced Fiber Powder's probiotic blend supplies 1.5 billion healthful microorganisms. Taking a good-quality colon and digestive cleansing system and detoxification regimen may be beneficial to clear out waste products and balance the bowel.*
Customer Ratings
Ingredients
Fibersol-2®± (soluble fiber flucose polymer complex)
Fibersol-2 is a soluble fiber having a positive impact on the elimination of wastes and colon cleansing, as well as helping to maintain balanced bowels, helping support normal bowel regularity and fecal volume, and supporting healthy digestive function.*>±Fibersol®-2 is a registered trademark of Matsutani Chemical Industry Co. Ltd.
Inulin Fiber (fructo-oligosaccharide extract of chicory root)
Inulin fiber delivers prebiotic, which is a subset fiber. Inulin or fructo-oligosaccharides (FOS) are fibers in the form of starches that the human body cannot fully digest. When a person consumes prebiotics, the undigested portions provide nourishment for beneficial bacteria in the digestive tract. Inulins may promote the growth of favorable bacterial populations, such as bifidobacteria, in the colon. Bifidobacteria may help balance bacteria in the digestive tract.*
Probiotic Blend (Lactobacillus acidophilus, Lactobacillus plantarum, Bifodobacterium bifidum, Lactobacillus casei)
Probiotics are beneficial bacteria that work to help maintain an optimal bacterial balance in the digestive tract. The digestive system naturally houses trillions of these good bacteria that directly help the body digest, modify and convert the foods we eat. Disruptions to these populations of probiotics are common and should remain at adequate levels in order to overwhelm other bacteria, which may begin to run rampant in the event the good bacteria levels decrease. In displacing other bacteria and yeast, beneficial bacterial - like acidophilus, plantarum, bifidum and casei – may help maintain a healthy immune system and colon. Foods like cultured yogurts and kefir contain such beneficial bacteria naturally.*
Both human and animal studies have demonstrated direct benefits of regular probiotic ingestion on immune system function. Overall, probiotic bacteria support the ability of the immune system to recognize and destroy invading organisms. Several key fighters of the immune system, including macrophages, immunoglobulins and cytokines, may benefit from regular intake of beneficial bacteria. Consuming beneficial bacteria also helps maintain healthy white blood cell counts.*
L-glutamine 1,000 mg
L-glutamine is an amino acid derived from another amino acid, glutamic acid. Glutamine is a restorative amino acid that the GI tract uses as its source of fuel. Glutamine supports overall health by helping to maintain normal cholesterol and blood glucose levels, and promoting immune health. Heavy exercise can contribute to depleting the body's glutamine reserves, particularly in muscle cells. Since cells of the intestine use glutamine for fuel, use of supplemental L-glutamine may be beneficial to promote digestive health.*
Ingredients Label
(click image to expland)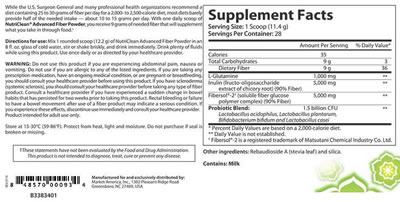 FAQs
Why is maintaining colon health so important?
Few people notice their digestive system until there seems to be a problem (e.g. gas, indigestion, irregularity, diarrhea). The average American diet tends to be high in calories and fat. Over time, a diet lacking in certain nutrients and fiber can cause undigested food to slow down its transit time in the colon. Moreover, toxins and bacteria from leftover, undigested food can lead to occasional constipation. For these reasons, regular maintenance of sound colon health is a viable reason to cleanse the colon.
Why is fiber so important to overall health?
The average American doesn't get nearly enough fiber in their daily diet. This is unfortunate because this often-forgotten nutrient should be among one of the most important components of your diet. Fiber benefits include the ability to help maintain healthy levels of cholesterol, triglycerides, glucose, intestinal regularity and healthy intestinal microflora (food for good bacteria).*
What is Fibersol®-2?
Fibersol®-2 is an innovative, dynamic type of soluble fiber made. It is made from corn starch and digestion resistant, which means it is not absorbed into the blood stream. Fibersol®-2 may assist in maintaining healthy blood glucose levels, bowel regularity and intestinal health. The average American who consumes a typical diet, which is often laden with processed foods of little to no nutritional value, may benefit from additional fiber and supplemental Fibersol-2.*
What are probiotics?
Widely believed to provide numerous benefits for your digestive system, probiotics are live "good," or helpful bacteria that help maintain the natural balance of microflora in your GI tract. *
What makes NutriClean® Advanced Fiber Powder different from something I can find in a local store?
While many fibers on the market may help to promote a laxative effect, Advanced Fiber Powder goes several steps further to support healthy intestinal function. Unlike common fibers, which supply only simple laxative fibers, Advanced Fiber Powder contains L-Glutamine, which fuels the digestive system. Next, only the highest quality, well-researched and cutting-edge fibers are in our special formula – inulin fiber and Fibersol®-2. Additionally, Advanced Fiber Powder contains 1.5 billion probiotic microorganisms that help maintain the balance of gut flora, which is integral for overall body health. *
Who should use NutriClean Advanced Fiber Powder?
While the U.S. Surgeon General and many professional health organizations recommend a diet containing 25 to 30 grams of fiber per day for a 2,000 to 2,500 calorie diet, most diets barely provide even half of the needed intake, which is about 10-15 grams per day. So, it appears that almost all of us fall short on average when it comes to getting an adequate amount of fiber in our diets. Next, because fiber and probiotics contribute to the health of other major body systems, including the heart, immune and digestive systems, it would be quite advantageous for all who consume the typical American diet laden with processed foods of little to no nutritive value to supplement their normal diet with Market America's NutriClean Advanced Fiber Powder.
---
Find Similar Products by:
* These statements have not been evaluated by the Food and Drug Administration.
* This product is not intended to diagnose, treat, cure or prevent any disease.
Shop Internationally