$36.95 USD
Earn $0.74 cash back!

Outside the United States:

Benefits
10 billion active Colony Forming Units (CFUs)
10 scientifically chosen probiotic strains:

Lactobacillus plantarum
Lactobacillus acidophilus
Lactobacillus rhamnosus
Lactobacillus salivarius
Lactobacillus casei
Bifidobacterium bifidum
Bifidobacterium longum
Bifidobacterium breve
Bifidobacterium infantis

BIO-tract® technology
LiveBac® technology
Helps maintain optimal bacterial balance
Promotes a strong immune system
Supports a normal immune response
Promotes bowel regularity and stomach comfort
Promotes colon health
Supports healthy teeth
Promotes healthy vaginal flora
Promotes healthy vaginal pH
Supports a healthy urinary tract
Supports the body's normal resistance to yeast
Supports a healthy upper digestive tract
LiveBac® is a patented process and registered trademark of Nutraceutix, Inc. BIO- tract ®is a patented technology and registered trademark of Nutraceutix, Inc.
Why Choose Nutriclean Probiotics?
Probiotics are beneficial bacteria that work to help maintain an optimal bacterial balance in the digestive tract. Nutriclean Probiotics promotes healthy digestion by providing beneficial bacteria to help balance the GI tract, while also promoting a healthy immune system. NutriClean Probiotics provides 10 different strains and 10 billion active probiotic organisms. Each strain has a unique purpose, and the strains work synergistically to promote numerous areas of health, from immune health to stomach comfort and bowel regularity.
While other probiotics products may deliver large amounts of Colony Forming Units (CFUs) and probiotic strain variety, they do not deliver the complete support that NutriClean Probiotics offers. This could be for a number of reasons. First, the number of CFUs in other products may be coming from a small number of strains. But NutriClean probiotics delivers its 10 billion CFUs from 10 probiotics strains, specifically targeting numerous areas of digestive and immune health.
Second, many of these products' strains and CFUs can easily become less viable due to their manufacturing process and extended shelf life. By the time you take the product, it may be significantly less effective. NutriClean Probiotics utilizes LiveBac® technology – a unique tableting process that delivers highly viable probiotic organisims far less susceptible to the effects of damaging environmental factors. This extends the active shelf life of our product.
Third, probiotics can become ineffective when they come in contact with stomach acids during the digestive process. This means that when you take a probiotics product, the number of viable strains and CFUs can become greatly reduced by the time they are absorbed into the body. To combat this, NutriClean Probiotics utilizes BIO-tract® technology, a patented delivery system that protects probiotic organisms from stomach acid on their way to the intestinal tract, ensuring a significantly higher percentage of organisms reaches the intestine alive.
NutriClean Probiotics has 10 carefully selected probiotics strains, each with unique roles to help you maintain bacterial balance and optimal digestive health:
Lactobacillus plantarum was selected because of its unique ability to promote an optimal balance of bacteria in the gastrointestinal tract
Lactobacillus acidophilus for a number of reasons, perhaps most notably its ability to synthesize lactase, an enzyme which breaks down lactose
Lactobacillus rhamnosus plays a major role in immune support
Lactobacillus salivarius has been shown to promote bacterial balance to support digestive health and promote healthy teeth, and fight off at least five dangerous bacteria that are involved in the formation of plaque on teeth and peptic ulcers
Lactobacillus casei promotes overall digestive comfort
Lactobacillus paracasei supports the increase of beneficial bacteria
Bifidobacterium bifidum supports the protective barrier in the digestive tract to help maintain a healthy bacterial balance
Bifidobacterium longum helps promote a healthy bacterial balance by competing for attachment sites in the intestines
Bifidobacterium breve was included because research has been shown to promote overall health
Bifidobacterium infantis supports overall digestion and metabolism
This product is sold with at least a 3 month shelf liferemaining.
Customer Ratings
Ingredients
Proprietary Probiotic Blend 10 Billion CFUs‡‡: 300 mg

Lactobacillus plantarum has been used in the process of fermenting foods for hundreds of years. It promotes a normal digestive tract. It is able to promote the proper balance of bacteria destroy pathogens while preserving vital nutrients, antioxidants and vitamins. One of the most amazing talents of L. plantarum is its ability to synthesize L-lysine, an essential amino acid. L. plantarum is able to promote a proper balance of bacteria in the intestine by neutralizing unhealthy bacteria and also by competing for nutrients which the unhealthy bacteria live on. By doing so, harmful bacteria pass harmlessly through the body.
Lactobacillus acidophilus is one of the most highly studied and widely used probiotic organisms. It is a strain of lactic acid producing, rod-shaped microbes that have numerous benefits for digestive health. L. acidophilus produces vitamin K, lactase and acidolin, acidolphilin, lactocidin and bacteriocin. Multiple human trials report benefits of L. acidophilus for maintaining vaginal health. Due to the multiple functions of this microorganism, scientists have discovered that administering L. acidophilus orally helps maintain the healthy colonization of bacteria within the digestive tract. L. acidophilus has been shown to support digestive functions and support the immune system. The lactase that L. acidophilus creates is an enzyme that supports the normal breakdown of lactose into simple sugars.
Lactobacillus rhamnosus is a strain of probiotics that aids in balancing the gastrointestinal microflora. It is one of the most intensely studied bacteria in the gastrointestinal tract. One of the remarkable things about L. rhamnosus is its ability to tolerate and even thrive in the harsh acidic conditions normally found in the stomach. L. rhamnosus is believed to be of considerable assistance with immune function in healthy adults, particularly in the urinary tract system (acidic condition). Research has shown that L. rhamnosus helps maintain gastric epithelial cell health, supporting the integrity of the stomach lining.
Lactobacillus salivarius resides in the mouth and small intestine. It has been shown effective in supporting dental health. L. salivarius has the unique ability to support a healthy gastrointestinal tract. Therefore, L. salivarius may also support immune health.
Bifidobacterium are rod-shaped microbes that have been identified as the most important organisms in the intestine for providing barrier protection. Like Lactobacillus, Bifidobacterium are lactic acid-producing microbes found in fermented foods such as yogurt and cheese. Despite the fact that when we are born Bifidobacterium makes up approximately 95 percent of the total gut population, the Bifidobacterium population decreases in our intestines as adults and declines further as we advance in age. B. bifidum is the predominant bacteria strain found in the microflora of breast-fed infants. It is believed that B. bifidum contributes to the gastrointestinal health of breast-fed infants. In addition to barrier protection, research has shown that Bifidobacterium help to support the immune system by promoting normal lymphocyte and phagocyte activity.
Bifidobacterium breve is another branched, rod-shaped bacterium. B. breve promotes health of the gastrointestinal tract. B. breve is also present in the vagina, where it helps support the body's normal resistance to yeast. The job of B. breve in the digestive tract is to ferment sugars and produce lactic acid, as well as acetic acid. B. breve is like a champion among probiotic bacteria due to its superior ability to metabolize many types of food.
Bifidobacterium infantis is a probiotic bacterium that inhabits the intestine of both infants and adults. According to a study sponsored by P&G Health Sciences Institute and published in the American Journal of Gastroenterology, B. infantis may be beneficial to promote stomach health and comfort. B. infantis plays an important role in basic digestion, proper metabolism and overall well-being.
Bifidobacterium longum is a branched, rod-shaped bacterium that is among the first to colonize the sterile digestive tract of newborn infants. There is evidence that B. longum competes for attachment sites on the intestinal mucosal membrane, promoting the balanced colonization of bacteria. It has a high resistance to gastric acid and shares similar functions as B. bifidum, such as supporting the immune system and providing barrier protection.
Lactobacillus casei is a rod-shaped species of Lactobacillus found in milk, cheese, and dairy. It is a lactic acid producer like other species within the Lactobacillus genus and has been found to assist in the colonization of beneficial bacteria. L. casei is active in a broad temperature and pH range and can be found naturally in the mouth and intestine of humans. It is a lactase producer which supports the normal breakdown of lactose and promotes optimal digestive health.
Similar to Lactobacillus rhamnosus and Lactobacillus casei, Lactobacillus paracasei is also a rod-shaped, lactic acid producing species of bacteria. It is found in the human mouth as well as in meats, vegetables, dairy products, and fermented cereals. L. paracasei may provide beneficial support for a healthy gut microbiota, as it may support the increase of the beneficial bacteria Bifidobacteria and Lactobacilli. In addition, L. paracasei may help maintain a healthy upper respiratory tract and skin barrier function.
‡‡ Contains 10 billion CFUs (colony-forming units) at time of manufacture and maintains probiotic benefits throughout shelf life.
Principales ingredientes de NutriClean Probióticos:
Mezcla patentada de probióticos con 10,000 millones de UFC‡‡: 300 mg

Lactobacillus plantarum ha sido utilizado en el proceso de fermentación de alimentos durante cientos de años. Favorece la buena salud del tracto digestivo. Además, mantiene el equilibrio bacteriano y destruye agentes patógenos mientras preserva los nutrientes vitales, los antioxidantes y las vitaminas. Una de las propiedades más asombrosas de este probiótico L. plantarum es su capacidad de sintetizar la L-lisina, un aminoácido esencial. El L. plantarum puede propiciar el equilibrio bacteriano en el intestino neutralizando bacterias perjudiciales y compitiendo contra ellas por los nutrientes que necesitan. Al hacerlo, las bacterias nocivas se transitan por el organismo sin causar daños.
La cepa L. acidophilus es uno de los probióticos más estudiados y más ampliamente usados. Es una cepa de microbios con forma de bastoncillos que producen ácido láctico y que aportan numerosos beneficios para la salud del aparato digestivo. La cepa L. acidophilus produce vitamina K, lactasa y acidolina, acidofilina, lactocidina y bacteriocina. Según numerosos estudios realizados en seres humanos, la cepa L. acidophilus es beneficiosa para mantener la salud vaginal. Los científicos han descubierto que, debido a las múltiples funciones de este microorganismo, su administración oral ayuda a mantener la colonización bacteriana adecuada dentro del tracto digestivo. Se ha demostrado que la L. acidophilus estimula las funciones digestivas y fortalece el sistema inmunitario. La lactasa que crea la cepa L. acidophilus es una enzima que ayuda a degradar de manera natural la lactosa en azúcares simples.
L. rhamnosus es una cepa de probióticos que ayuda a equilibrar la microflora gastrointestinal. Es una de las bacterias del tracto gastrointestinal estudiadas más exhaustivamente. Una de las características notables del probiótico L. rhamnosus es su capacidad para tolerar e incluso desarrollarse en las adversas condiciones ácidas del estómago. Se considera que el L. rhamnosus es de gran ayuda para el sistema inmunitario en adultos saludables, particularmente en las vías urinarias (medio ácido). Los estudios han demostrado que el L. rhamnosus ayuda a mantener la salud de las células epiteliales gástricas, lo que mantiene la integridad de la membrana que recubre las paredes del estómago.
La cepa L. salivarius reside en la boca y el intestino delgado. Se ha demostrado que es beneficiosa para la salud dental, y tiene la capacidad notable de proteger la salud del tracto digestivo, lo cual puede favorecer la salud del sistema inmunitario.
La cepa Bifidobacterium, microbios con forma de bastoncillo, ha sido señalada como el organismo más importante en la barrera que protege el intestino. Como la cepa Lactobacillus, la Bifidobacterium la constituyen microbios que producen ácido láctico, y que se encuentran en alimentos fermentados como el yogur y el queso. A pesar de que cuando nacemos el Bifidobacterium constituye aproximadamente el 95 por ciento de la población total en el intestino, la población disminuye cuando somos adultos y se reduce aún más a medida que envejecemos. La B. bifidum es la que predomina en la microflora de los bebés amamantados. Se considera que contribuye a la salud gastrointestinal de los bebés que se alimentan con leche materna. Las investigaciones han demostrado que la Bifidobacterium, además de ser una barrera de protección, ayuda a respaldar el sistema inmunitario al estimular la actividad normal de los linfocitos y los fagocitos.
La Bifidobacterium breve es otra bacteria ramificada con forma de bastoncillo. La cepa B. breve favorece la salud del tracto gastrointestinal. También se encuentra presente en la vagina, donde estimula la resistencia natural del organismo a los hongos levaduriformes. Su función en el tracto digestivo consiste en fermentar los azúcares y producir ácido láctico y ácido acético. Es una de las bacterias probióticas más importantes debido a su gran capacidad de metabolizar muchos tipos de alimentos.
La cepa Bifidobacterium infantis es una bacteria probiótica que habita en el intestino de niños y adultos. Según un estudio patrocinado por el P&G Health Sciences Institute y publicado en el American Journal of Gastroenterology, la cepa B. infantis puede ser beneficiosa para la salud y el bienestar estomacales. Esta bacteria desempeña una importante función en los procesos de la digestión y el metabolismo, y favorece el bienestar general.
La cepa Bifidobacterium longum es una bacteria ramificada con forma de bastoncillo; una de las primeras en colonizar el tracto digestivo estéril de los bebés recién nacidos. Hay indicios de que la cepa B. longum compite por sitios de adherencia en la membrana mucosa intestinal, lo que fomenta un equilibrio saludable de bacterias. Es altamente resistente al ácido gástrico y sus funciones, tales como mantener la salud del sistema inmunitario y crear una barrera protectora, son similares a las de la cepa B. bifidum.
La cepa L. casei es una especie de Lactobacillus en forma de bastoncillo que se encuentra en la leche, el queso y los productos lácteos. Produce ácido láctico como otras especies del género de Lactobacillus y se ha demostrado que ayuda en la colonización de las bacterias beneficiosas. La cepa L. casei es activa en una amplia gama de valores de pH y de temperatura, y puede encontrarse en su forma natural en la boca y en los intestinos. Produce lactasa, que contribuye a la degradación de la lactosa y favorece la salud digestiva.
Lactobacillus paracasei también es una especie de bacteria productora de ácido láctico con forma de bastoncillo similar a Lactobacillus rhamnosus y Lactobacillus casei. Se encuentra en la boca y en alimentos como carnes, verduras, lácteos y cereales fermentados. L. paracasei puede proporcionar apoyo para la salud de la microbiota y para el aumento de las bacterias beneficiosas Bifidobacteria y Lactobacilli. Además, L. paracasei puede ayudar a mantener la salud del tracto respiratorio y favorecer la función de barrera protectora de la piel.
‡‡En el momento de su elaboración contiene diez mil millones de UFC (unidades formadoras de colonias) y mantiene los beneficios de la actividad probiótica durante todo su período de validez.
*Estas afirmaciones no han sido evaluadas por la Administración de Alimentos y Medicamentos de EE. UU. (FDA).
Este producto no está destinado a diagnosticar, tratar, curar o prevenir ninguna enfermedad.
Ingredients Label
(click image to expland)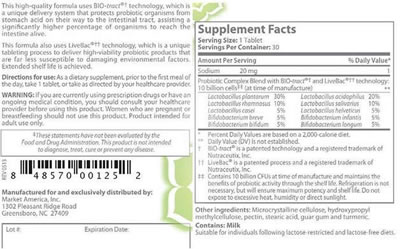 FAQs
Can I just eat some yogurt and get the same benefits?
Yogurt is an excellent source of probiotics, but it's not for everyone. Some people can't tolerate dairy, and others simply don't like the taste. NutriClean Probiotics provides the goodness of yogurt without the fat, sugar or calories. Plus, the benefits don't disappear because they encounter stomach acid. That's because these beneficial bacteria are protected by BIO-tract® technology. Because of this protection, more of our probiotics move through the intestinal tract unharmed to deliver a significantly greater number of active cultures. They support the growth of beneficial bacteria where it's needed most, to help digest food and promote a healthy immune system.

How many viable micro-organisms are in NutriClean Probiotics?
There are 10 billion active probiotic organisms from 10 different strains at time of manufacture.

How do I store NutriClean Probiotics?
Refrigeration is not necessary, but will ensure maximum potency and shelf life. Do not expose to excessive heat, humidity or direct sunlight.

Why is BIO-tract® and LiveBac® important for this product?
NutriClean Probiotics uses BIO-tract and LiveBac technologies. These clinically-tested methods help deliver probiotic organisms into the body so that they may work most effectively. BIO-tract is a unique delivery system that protects the probiotic organisms throughout your digestive system. This helps ensure that more organisms reach the intestine alive. LiveBac technology is a tableting process that helps extend the active shelf life of NutricCean Probiotics.

How do the bacteria live in NutriClean Probiotics? Is there any food for them inside?
The bacteria are in a state of suspended animation. They are dry enough that all biological processes are in a resting state. Once consumed, they rehydrate and biological processes including growth and reproduction resume. So a food source in the tablet is not necessary.

Can NutriClean Probiotics be taken with Isotonix® Digestive Enzymes?
Yes, NutriClean Probiotics and Isotonix Digestive Enzymes would complement each other when taken together as part of your daily nutritional supplement regimen. These products should not be taken concurrently. Isotonix Digestive Enzymes should be taken with a meal, and Probiotics should be taken on an empty stomach between meals.

What other products complement NutriClean Probiotics?
There are many products which can complement NutriClean Probiotics, depending on your unique goals and needs. For overall digestive health, try the NutriClean 7-Day System with NutriClean Probiotics. For daily digestive health, try pairing NutriClean Probiotics with NutriClean Advanced Fiber Powder. To support immune health, you could have a regimen of Isotonix OPC-3®, Isotonix Vitamin C and NutriClean Probiotics.

How should I take NutriClean Probiotics?
Take one tablet before the first meal of the day.

Are there any allergens in Nutriclean Probiotics?
NutriClean Probiotics contains trace amounts of milk from the fermentation process. There are less than two parts per million (ppm) of milk in each serving. This product is safe for individuals with lactose sensitivity.

How does NutriClean Probiotics affect digestion?
There are many components which impact optimal digestive health. They include enzymes (which start breaking down foods in the mouth and are found in the intestines), pH conditions, bile from the gall bladder, intestinal microflora, probiotics and some digestive properties contained in the food that we eat. Diet and supplementing your intestines with probiotics can help support digestion. Well balanced intestinal micro flora will promote healthy digestion.*
---
Find Similar Products by:
* These statements have not been evaluated by the Food and Drug Administration.
* This product is not intended to diagnose, treat, cure or prevent any disease.
Shop Internationally