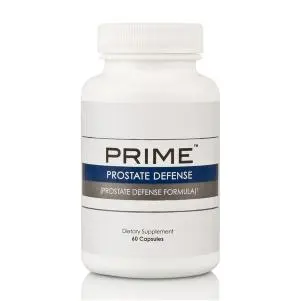 $57.95 USD
Single Bottle (30 Servings)
Earn $1.16 cash back!

Outside the United States:

Benefits
Promotes a healthy prostate gland.
Helps to maintain normal, healthy prostate size.
Helps to maintain normal, healthy prostate function.
Helps maintain proper urinary function.
Promotes healthy cell function.
Helps support cardiovascular health.
Why Choose Prime Prostate Defense Formula?
For young men, maintaining a healthy prostate sets the foundation for a lifetime of well-being. For a maturing man, taking proactive measures to maintain a healthy prostate can have a significant impact on overall well-being and peace of mind. Supporting health through all decades means taking our genetics, age and lifestyle habits (such as exercise and diet) into consideration. In areas of heart health, libido, virility and prostate health, nutrients and botanicals that are part of a well-rounded approach to healthy aging can play a meaningful role. How you treat your body now matters now and later. Prime Prostate Defense Formula provides a unique combination of botanicals and nutrients that works synergistically to help maintain normal prostate size and function. The formula's specific botanicals were carefully selected to support multiple areas of health. Aging is a natural process, and so is the evolution of your prostate health. Our prostate support formula is formulated to promote health at every stage of life. From youthful energy to the golden years, this formula promotes vitality and well-being with each serving. You do not want a formula created only to support healthy prostate tissue, but also to support age, metabolism and endocrine function in a way that supports quality of life.
Prime Prostate Defense Formula provides antioxidant protection. Other herbs and nutrients in Prime Prostate Defense Formula promote healthy cell response to hormones such as dihydrotestosterone (DHT), a hormone that impacts prostate health. Antioxidants such as grape-seed extract are also of benefit to the prostate, from a man's 20s and 30s to his middle age. Antioxidants not only support a healthy cardiovascular system, but they also support healthy blood flow through the body while neutralizing free radicals that impact aging and prostate health. Nettle is often thought of as an energy tonic similar to ginseng and ashwagandha.
By selecting and combining specific herbs known for their potential benefits, our formula aids in the maintenance of normal DHT levels, which play a significant role in prostate health. This combined effect contributes to prostate well-being. There are several unique components that impact overall prostate health and, unlike many other prostate products on the market, Prime Prostate Defense Formula addresses each of them through its powerful combination of ingredients. Maintaining optimal prostate health is essential in maintaining overall health, sexual function and quality of life. It is critical for men to take steps to promote prostate health throughout their lives. Take the next step to a healthier prostate with Prime™ Prostate Defense Formula.* It's never too early or late to start giving your prostate the maximum care; size matters.
*These statements have not been evaluated by the Food and Drug Administration. This product(s) is not intended to diagnose, treat, cure or prevent any disease.
Customer Ratings
Ingredients
Understanding the prostate: The prostate is a small gland about the size of a walnut, situated below the bladder in men. Maintaining a healthy prostate is critical in maintaining reproductive health, quality of life and more.

Zinc (as zinc citrate)
Zinc helps to maintain healthy cells within the prostate. Within the body, zinc accumulates more in prostate tissue than in any other soft tissue, so supplementation is helpful in maintaining cellular health within the prostate.

Plant Sterols (44% beta-sitosterol)
Research has shown that supplementing with beta-sitosterol helps to maintain optimal prostate size and urinary function. Research suggests beta-sitosterol might help to promote normal prostate cell production and size. Plant sterols are rich in fatty acids and have traditionally been used for a variety of indications related to the promotion of prostate health. Research indicates plant sterols may help to maintain urinary health, including frequency of urination. Plant sterols appear to inhibit an enzyme known to convert testosterone to dihydrotestosterone (DHT). Plant sterols appear to promote normal lipoxygenase (LOX) and cyclooxygenase (COX).

Nettle Extract (Root)
Nettle extract, or common nettle (Urtica dioica), is an herbaceous perennial flowering plant native to Europe, Asia, northern Africa and North America.. When taken in combination with pumpkin-seed extract, stinging nettle appears to promote urinary tract health.

Pumpkin Extract (Seed)
Pumpkin-seed extract aids in prostate health by promoting normal urinary flow and helping to maintain bladder comfort.

Grape Extract (Seed) (95% proanthocyanins)
Grape-seed extract is typically extracted from the seeds of red grapes (instead of white), which have a high content of compounds known as oligomeric proanthocyanins (OPCs). Grape-seed extract is extremely rich in polyphenols, compounds with high antioxidant activity.

Genistein
Genistein is a flavonoid that may help support male well-being.

The ingredients in this formulation were carefully selected to support prostate health. Working synergistically, each of these plays a role in promoting healthy cell function, all helping to maintain normal prostate size and function.
Ingredients Label
(click image to expland)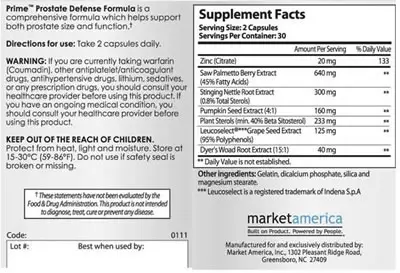 FAQs
What are the key ingredients of Prime™ Prostate Defense Formula?
The key ingredients are nettle extract, beta-sitosterols, grape-seed extract, pumpkin-seed extract, genistein and zinc, which all may help promote a healthy prostate.


Is Prime Prostate Defense Formula only for older men?
The ingredients in this product are beneficial for men of all ages. With that said, men should take care of their health when they are younger to help maintain overall well-being in the future. In combination with consulting with a physician, other important steps a man can take to help maintain health include supplementing with a multivitamin that contains zinc, vitamin D and Co-Q10.


I think I might have an enlarged prostate; what should I do? 
You should see your doctor if any of the following symptoms appear: weak or interrupted flow of urine, frequent urination (especially at night), difficulty with urination, painful or burning urination, blood in the urine, or a nagging pain in the back, hips or pelvis. These could all be signs of a medical condition, and you should see your doctor immediately.

How does Prime Prostate Defense Formula work?
Prime Prostate Defense Formula is composed of multiple herbs and select nutrients that work together synergistically to promote a healthy prostate. Each ingredient alone is beneficial in promoting overall well-being, but in order to promote the health of the prostate, they must be taken together in the right quantities.


Are there any contraindications or warnings for Prime™ Prostate Defense Formula?
Yes. For adult male use only. Seek advice from a physician prior to use if you suffer from a chronic condition or if you are taking medication.


What types of food may help to support prostate health?
Supporting evidence suggests that consuming an adequate quantity of vegetables daily can promote prostate health. Cruciferous vegetables have been shown to be the most beneficial.
---
Find Similar Products by:
* These statements have not been evaluated by the Food and Drug Administration.
* This product is not intended to diagnose, treat, cure or prevent any disease.
Shop Internationally