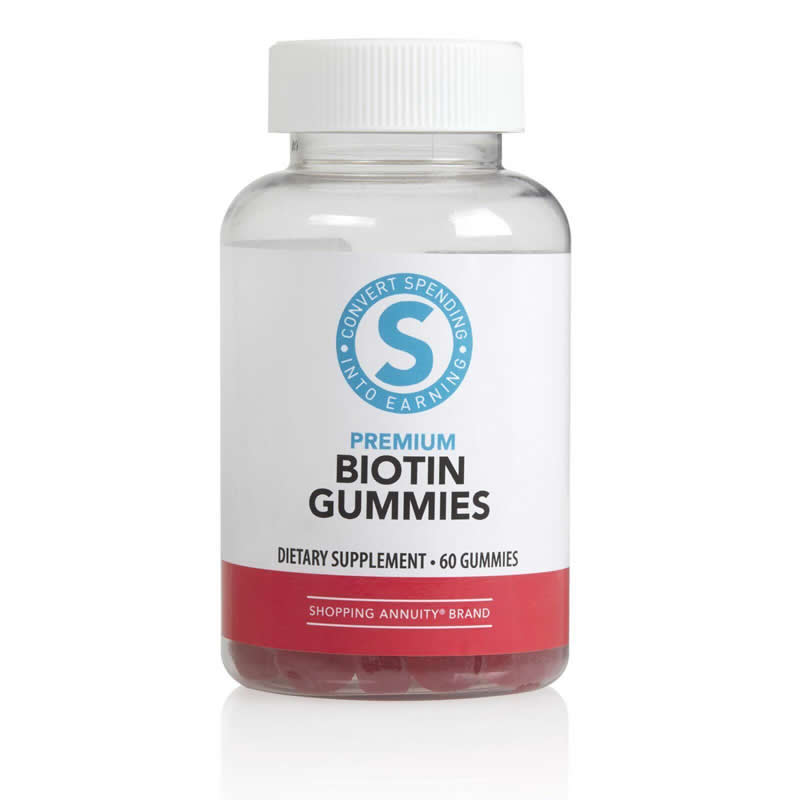 $14.50 USD
Earn $0.29 cash back!

Outside the United States:

Primary Benefits
Supplies essential B-vitamin biotin
Helps maintain healthy hair and nail quality
Supports the healthy utilization of carbohydrates, proteins and fats
Supports healthy metabolic energy
Offers a convenient way to supplement nutritional intake of biotin
Aids in supplementing the body with biotin cofactor enzymes to help maintain healthy blood glucose
May help support healthy biotin levels/activity in pregnant women
What Makes This Product Unique?
Getting your daily vitamins can be challenging but taking supplementation does not have to be. Vitamins are essential for the body. However, our bodies are not capable of producing some vitamins, like B vitamins, which are only acquired through diet or supplementation. Biotin, sometimes referred to as Vitamin B7 or Vitamin H, (originating from the German, words haar and haut, meaning hair and skin) is known for its hair, skin and nail health benefits. Shopping Annuity® Brand Premium Biotin Gummies offers a non-GMO, gluten-free and vegetarian dietary supplement, with a generous 10 mg of Biotin to support healthy cells associated with metabolic energy, beautification and utilization of carbohydrates and proteins, which can contribute to healthy nervous system functioning.
Biotin, often associated with beauty, is specifically known for its hair, skin and nail health benefits. This is because it supports the natural production of keratin, a structural protein that is key for supporting the shine in the hair and helping to maintain the health of the epidermis (the outermost layer of the skin) and nail health. However, keratin production begins to dwindle with age, creating a need for supplementation to help maintain normal levels of biotin. One study, looking at the potential benefits of Biotin on nail health, suggests that 2.5 mg of Biotin supplementation taken for an average of five months may support the firmness and toughness of the nails. Biotin has also been shown to support the transfer of oxygen to the hair follicles, thus helping the body with free radical buildup within the hair follicles, which can be linked to brittle hair.
Our bodies also require Biotin because it acts as a precursor to our body's essential metabolic energy production and the synthesis of fatty acids. The B vitamin family helps maintain energy and various studies provide evidence suggesting B vitamins may offer help to support healthy nervous system functioning. However, many supplement options do not offer biotin at levels often required for targeted tissue support that you can find with a select biotin supplement. Biotin supports energy distribution to our cells through the metabolism of macronutrients (fats, proteins and carbohydrates) from the foods we consume. The energy created helps aid the body's ability to synthesize fatty acids, which is crucial to the healthy production and maintenance of the layer of myelin or the protective coating that covers the nerve fibers in the central nervous system (CNS). Maintaining homeostasis of B vitamins reaching the CNS may support the functioning of the brain. Additional benefits of adequate biotin include the support and healthy use of carbohydrates, proteins and fats for energy and the enzymes to help maintain healthy blood glucose.
Shopping Annuity® Brand Premium Biotin Gummies can help support your beauty from the inside out by supporting the delivery of oxygen to the cells for healthy skin, hair and nail growth. Providing your body with a daily serving of vitamin B can be made easy with this delightful berry-tasting gummy, perfect for those looking to maintain beauty longevity and support energy.
Providing 10 full milligrams of Biotin in a convenient gummy to support your inner health and outer beauty.
*These statements have not been evaluated by the Food and Drug Administration. This product(s) is not intended to diagnose, treat, cure, or prevent any disease.
Customer Ratings
Key Ingredients
Biotin 10 mg:
Biotin comes from the Greek word "biotis," which means life or sustenance. Sometimes known as vitamin H or B-7, biotin is part of the B-complex groups of vitamins. B vitamins are important cofactors that support the normal metabolism of fats (which are key players in skin function), carbohydrates, and protein, which ultimately fuel the body. Biotin serves as a cofactor of enzymes that catalyze key reactions in fatty acid synthesis and metabolism. Fatty acids are vital for the proper functioning of the epidermis and sebaceous glands, contributing to the barrier and signaling keratinocytes to regulate epidermal homeostasis. Because of its role in keratin production, biotin may help maintain hair, skin and nail health.
Ingredients Label
(click image to expland)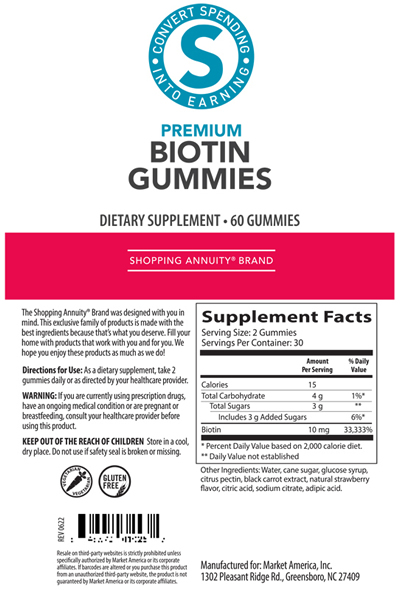 FAQs
Why should I take a Biotin supplement that promotes keratin production as opposed to taking a supplement that provides a direct source of keratin?
Biotin supplementation both enables one to get a source of vitamin B and supports keratin production. Supplementing with a direct source of keratin can help the body by supporting the synthesis of keratin, but it does not provide a source of vitamin B.


How popular is Biotin supplementation?
Market trends on Biotin supplementation in the U.S., alone, forecast an 11% growth from 2022 to 2023, with a total estimated market spend of $3.85 billion.


Is this product safe for children?
Yes, children older than 4 may take this product.


Are there warnings associated with this product?
Do not take this product if you are allergic to any of its ingredients. Those who are vitamin B intolerant may experience a rash.


What may affect the body's absorption of Vitamin B?
Pregnancy may cause lower Biotin levels, taking antibiotics or anti-seizure drugs, chronic intestinal issues, or long-term strict dieting that does not provide a balanced diet.


What foods serve as a natural source of Biotin?
Some foods that contain Biotin are eggs, organ meats (such as liver and kidney), seafood, peas, beans, lentils, nuts, mushrooms, sweet potatoes, yeast, bananas, broccoli, carrots, cauliflower, dairy products, avocados and whole grains.


Who would benefit from taking this product?
Someone seeking the benefits of Biotin but wanting an alternative to swallowing capsules or tablets.


How do I know if I have taken too much Biotin?
Most often, the body gets rid of extra Biotin through bodily waste. Side effects may include upset stomach, skin rash, digestive and insulin release difficulties.


Why do pregnant women need an increase in Biotin supplementation?
Biotin is good for the expecting mother and fetus. Changes in appetite and other complications may occur later in pregnancy and it is important to eat a balanced diet in addition to taking prenatal supplements that contain Biotin.
---
Find Similar Products by:
* These statements have not been evaluated by the Food and Drug Administration.
* This product is not intended to diagnose, treat, cure or prevent any disease.
Shop Internationally