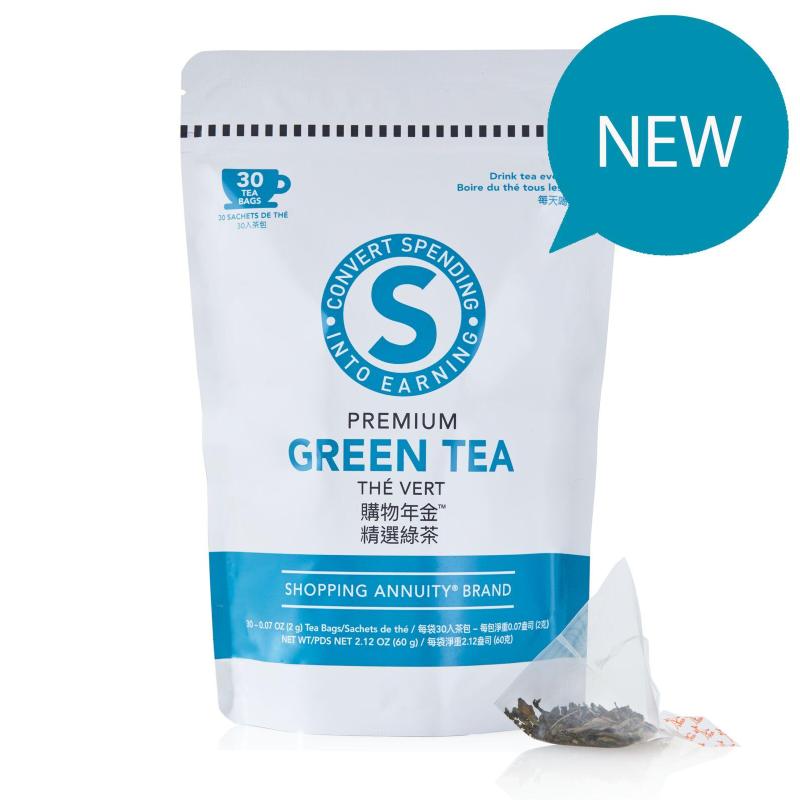 $9.49 USD
Earn $0.19 cash back!

Benefits
Convenient pyramid shaped tea bag
Carefully selected tea leaves
Features freshness and rich aroma
Great taste in hot or cold water
Can be re-brewed one time
Details
Shopping Annuity Brand Premium Green Tea is made with pure, even and fresh leaves to ensure its quality. It features a rich and delicious chestnut-like aroma. Whether it is in the morning, afternoon or after a meal, having a cup of our Premium Green Tea will be your best choice. Get Shopping Annuity Brand Premium Green Tea for your home or office and make it part of your daily routine.
Customer Ratings
FAQs
How many tea bags are in one package? How much does each tea bag weigh?
There are 30 tea bags in one package of Annuity Brand Premium Green Tea, and each bag contains 2 grams of tea leaves.
How many times can a tea bag be used?
It is recommended that you steep a tea bag twice, but you can adjust the number of re-steeping to suit your preference.
How to use this product?
Take out the tea bag, add about 600 ml cold water or mineral water, refrigerate six hours or allow to sit at room temperature for 30 minutes, and enjoy!
Take out the tea bag, add about 300 ml 90°C hot water, and let the tea steep for 3–5 minutes before removing the tea bag, and enjoy! This tea bag can be re-brewed 1 time.
Why does the tea bag need infusion time of 3-5 minutes?
This tea bag contains tea leaves. Please allow sufficient time for the leaves to infuse and unfold in the water to get richer tea aroma. Three minutes of infusion time is recommended. If you prefer a stronger taste, extend this time to five minutes for better flavor!
How to store tea leaves?
Store unopened tea pouch at room temperature. After opening, please keep them tightly sealed and place in a cool, dry place. Use all bags as soon as possible.
What kind of materials are used for our Shopping Annuity Premium Green Tea Bag?
The material used for our tea bags is PLA, or Poly Lactic Acid. This is also known as polylactic acid, aliased as corn fiber. It is a green and eco-friendly material primarily derived from natural starch or sugar (such as corn, sugar beet, wheat and sweet potato) through the processes of fermentation, dehydration and polymerization.
They are nontoxic and free of heavy metals, plastics and any other food safety concerns. Please use them with ease of mind.
---
Find Similar Products by:
* These statements have not been evaluated by the Food and Drug Administration.
* This product is not intended to diagnose, treat, cure or prevent any disease.
Shop Internationally