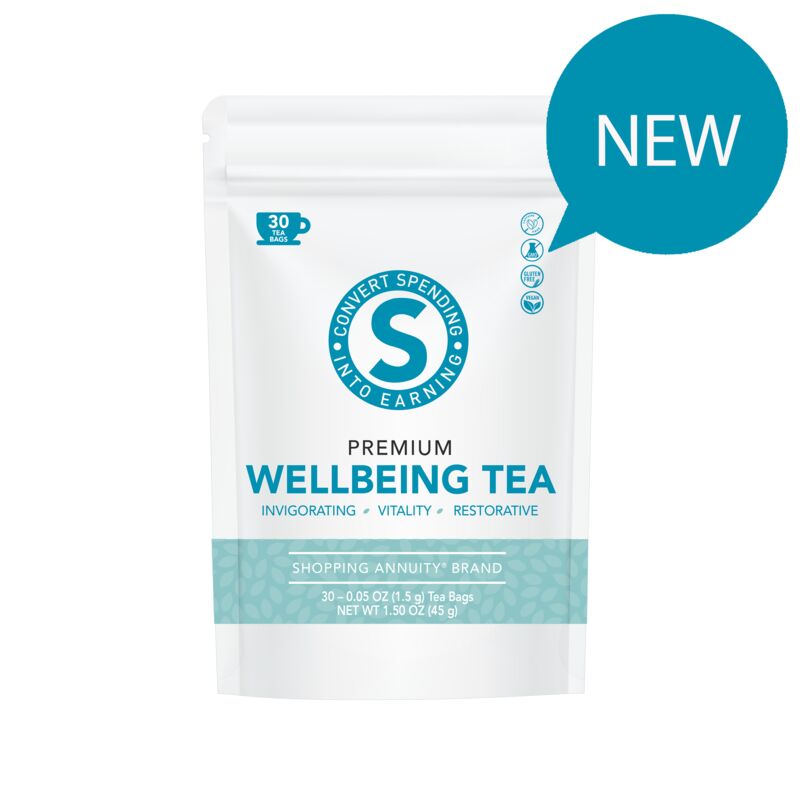 $14.75 USD
Earn $0.30 cash back!

Outside the United States:

Primary Benefits
Uses high quality organic and wildcrafted herbs
Naturally contains antioxidants and beneficial polyphenols
Subtle taste with a soothing spice to enjoy all day long
Biodegradable pyramid teabags
CONTAINS NO yeast, corn, wheat, dairy, egg, MSG
No artificial color or artificial flavor
Free of preservatives & aroma additives
What Makes Shopping Annuity® Brand Premium Wellbeing Tea Unique?
Shopping Annuity® Premium Wellbeing Tea, an invigorating and refreshing herbal tea with a balance of botanicals like ashwagandha and licorice for helping push through the day-to-day routine. Ideal for those that want a supportive tea to enhance their health practice and keep up with the demands of the day. Shopping Annuity Premium Wellbeing Tea is a beneficial tea that can be used daily by all people above the age of 18.*
The concept of tea originated in China, recognized as the term "Cha," and was specifically named to symbolically represent the balance between human beings and nature. Shopping Annuity Premium Wellbeing Tea represents just that, as it encompasses all organic herbal and botanical ingredients, all of which are grown naturally in the environment and promote positive physiological functions of the human body. Hot or cold - this distinctive tea offers a crisp, yet subtle earthy taste suitable for drinking anytime. Its eclectic assortment of ingredients acts as a natural decoction with the provided benefits of promoting energy and vitality.
Today more and more consumers are looking for natural health alternatives. Shopping Annuity Premium Wellbeing Tea offers 8 organic-sourced functional herbs for an invigorating and refreshing tea. Adaptogen botanicals help provide mental clarity and tranquility. We know daily health practices should seamlessly fit into your busy day – That is why we made the herbal tea consumers will want to drink every day.
The unique ingredient of red rooibos tree leaves make it caffeine-free while containing a lower amount of tannins than its black and green tea counterparts; higher levels of tannins may counteract the absorption of iron and other minerals and vitamins. This exclusive product not only serves as a great alternative for those looking to enjoy an herbal tea free of preservatives and artificial flavors, but also offers plant and environmental enthusiasts the added value of repurposing its biodegradable tea bags for compost and organic fertilizers.
Shopping Annuity Premium Wellbeing Tea contains various roots and herbs that are known to have been historically utilized for health and wellbeing, such as Ashwagandha and ginger root. These roots can deliver natural tranquil and energizing rejuvenation benefits. This tea is a great option for women who are pregnant or looking to become pregnant as many of the botanicals are used in women's blend teas. Make this part of your healthy practices and notice the difference in your overall health.*
Optimize the traditional way to use botanicals. Premium loose-leaf tea blends in a biodegradable tea sachet.
*If you are pregnant or breastfeeding please speak to your health care provider before use.
Customer Ratings
Key Ingredients
Organic Red Rooibos 300 mg
Rooibos, meaning "red bush"; is a member of the plant family Fabaceae that grows in South Africa's fynbos. It is low in tannins and free from caffeine and oxalic acid. The Rooibos plant contains health-promoting antioxidants such as aspalathin and quercetin.
Organic Ginger Root 150 mg
Originating in warmer parts of Asia and now used across the globe, ginger has a long history in both traditional and alternative health practices, not to mention in cuisine. Ginger contains gingerol, a phenolic compound responsible for support metabolic response and antioxidant properties. Among its vast historical uses, ginger is most known for helping aid digestive comfort. Its aromatic properties make for healthy circulation and energy without stimulants found in many tea formulations.
Organic Lemon Peel 270 mg
Lemon peel contains antioxidants, including D-limonene and vitamin C. Vitamin C is regarded as a highly beneficial nutrient for health and wellness.
Organic Spearmint Leaf 225 mg
Spearmint gets its name from its characteristic spear-shaped leaves. In addition to being used in hygiene products such as toothpaste, mouth wash and soap, spearmint is also added to foods and candy for its distinct taste and bright aroma. It is commonly used to help support digestion and stomach comfort, due to its carvone constituent.
Organic Ashwagandha Root 180 mg
Ashwagandha has antioxidant, adaptogenic, and sedative properties making it ideal for day-to-day needs. It has been proven to act as an adaptogen by helping support energy, promote emotional well-being, and help maintain a healthy stress response. Studies have shown that ashwagandha may help support healthy cortisol levels – a hormone released by adrenal glands in response to stress.
Organic Chaste Tree Berries 150 mg
The chaste tree, or Vitex agnus-castus, grows anywhere from 3 to 18 feet high and produces dark purple, aromatic berries about the size of peppercorns. Chaste tree berries are popularly known for their use to support women's health, blood flow and a healthy physical and emotional well-being, which is critical to quality of life.
Organic Licorice Root 150 mg
The main active compound of licorice root is glycyrrhizin, which is responsible for its sweet taste and antioxidant properties. Licorice root has been used for centuries due to nutrients which aid in function of the liver and adrenal health.
Organic Raspberry Leaf 52.50 mg
Red raspberry leaves contain vitamin C, B vitamins, and minerals such as zinc, potassium, magnesium, iron, and phosphorus. Red raspberry leaves have antioxidant properties, thanks to their polyphenol content, like tannins and flavonoids.
Ingredients Label
(click image to expland)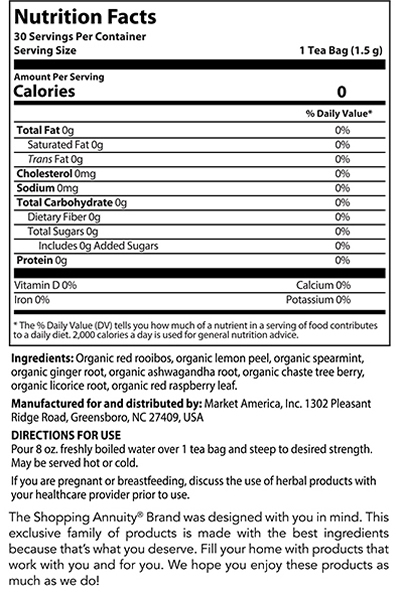 FAQs
Is this tea only for women?
No, men can also benefit from drinking Shopping Annuity Premium Wellbeing Tea because the organic ingredients are blended to offer a refreshing adaptogenic daily tea. Drinking 2 cups daily may also improve overall health.
Is there anyone that should avoid Shopping Annuity Premium Wellbeing Tea?
If you are allergic to, or sensitive to any of the ingredients in Shopping Annuity Premium Wellbeing Tea you should not consume this product. This product does not contain any known allergens. This makes it suitable for anyone looking to enjoy the flavor of a wellbeing tea.
Is this safe for women, even if they are pregnant or nursing?
Shopping Annuity Premium Wellbeing Tea was formulated to offer an herbal tea to everyone, including pregnant women and those who are breastfeeding.* Ashwagandha root supports emotional well-being and functions as an adaptogen for a healthy stress response. Ginger and licorice root add a rejuvenating quality to this tea.
Can I use more than one tea bag per day?
Yes. Shopping Annuity Premium Wellbeing Tea is made with red rooibos, which is naturally caffeine-free and a source of antioxidants. It's a great beverage choice any time of day – even right before going to sleep.
Who is this product for?
This is a great tea for those looking for a natural alternative to supplementation, consumers looking for a traditional approach to health, women looking for a supportive product during pregnancy and breastfeeding, consumers looking for healthy lifestyle practices, and customers who want a functional food product and looking for a tea that contains all organic products.*
Should I consume this tea hot or cold? What are the best practices for preparing this product?
Shopping Annuity Premium Wellbeing Tea can be enjoyed hot or cold. For hot tea: Steep one bag for 5-8 minutes in 6 ounces of boiling water (212°F or 100°C). Letting the bag steep longer allows all the flavors to infuse and may create a stronger flavor. For cold tea: Prepare following the instructions for hot tea, then pour 6 ounces in a glass over ice. Allow to cool before drinking.
How many servings are included?
Includes 30 biodegradable tea bags per pouch. After steeping, throw the used tea bag into your flower bed or garden. Tannins and other nutrients from the tea will increase the nitrogen level in the soil and attract earthworms to help till the soil. In addition, the odor may prevent other bugs and pests from munching on your plants.
What are the benefits of drinking a tea with low levels of tannin in it?
Tannins are what contribute to the very bitter taste of some herbal teas, a tea with low tannins can offer a naturally sweet taste and spice of the botanical chosen for the blend. In addition, low tannin teas still offer antioxidant benefit without compromising mineral utilization in the body.
Is this tea recommended for children?
Children who are under the age of 18 are not recommended to consume this tea.
*If you are pregnant or breastfeeding please speak to your health care provider before use.
---
Find Similar Products by:
* These statements have not been evaluated by the Food and Drug Administration.
* This product is not intended to diagnose, treat, cure or prevent any disease.
Shop Internationally